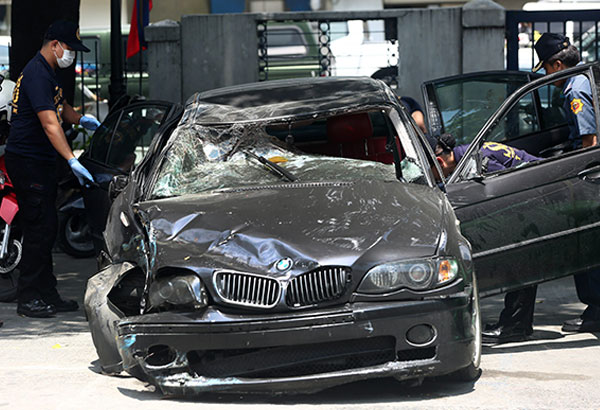 Crime scene investigators collect evidence from the damaged vehicle of lawyer Elmer Mitra Jr. and former policeman and casino financier Alvin Cruzin who were killed in a shooting incident in Paco, Manila hours before the Resorts World attack on June 1. MIGUEL DE GUZMAN
Resorts World gunman behind murder of cop-turned-casino financier?
Rey Galupo
(The Philippine Star) - June 8, 2017 - 4:00pm
MANILA, Philippines - Police investigators are looking into the possibility that Resorts World (RW) gunman Jessie Javier Carlos was the one who killed a lawyer and former policeman turned casino financier in Paco, Manila on June 1.
Closed-circuit television (CCTV) footage showed Carlos along with Elmer Mitra Jr., 38, and Alvin Cruzin, 43, in a gray BMW (XDX-993) at the corner of Perez and Belen streets two hours prior to the Resorts World attack, according to a source at the Manila Police District (MPD).
Witnesses said shots were fired before the car turned over and hit the gutter.
CCTV footage from Barangay 674 showed a man crawling out of the car from the backseat, then running with a visible limp toward Apacible street at 9:52 p.m.
Police officers said the man – believed to be Carlos – was wearing a blue T-shirt and cargo pants. He was of medium build and about 5'9" tall.
Probers said they recovered four 9mm casings, six bullets and a 9mm pistol with serial number Z04575 in the car.
Cruzin was formerly assigned with the MPD. He retired from the police service in 2009 and became a casino financier.
Mitra is the son of former Pasay City prosecutor Elmer Mitra Sr.
Prior to the Resorts World rampage, reports said that Carlos was kidnapped by two casino financiers to whom he owed millions of pesos.
Carlos, a former employee of the Department of Finance, was seized apparently to force him to pay his debt.
Carlos arrived at the corner of Felix Huertas and San Lazaro streets, where he lived, at exactly 10:18 p.m. as shown on CCTV footage of Barangay 339.
He left the house carrying a black bag an hour later and was seen on CCTV at 11:19 p.m. crossing the street toward a gasoline station where he bought three liters of gasoline before boarding a taxi on his way to Resorts World.
Carlos arrived at the casino at exactly 12:03 a.m.
The taxi driver who brought Carlos to Resorts World said that he was limping. He had apparently sustained a gunshot wound to his leg in the earlier encounter, contrary to reports that he was wounded during a shootout with security guards of Resorts World.
Sources said that Carlos was wounded in the scuffle in the BMW. He then went home and got an M-4 carbine and a pistol before proceeding to the casino.
Bloodied pants
A team from the MPD intelligence and homicide sections went to the house of Carlos on Wednesday and recovered bloodied khaki cargo pants – the same pants that the Paco gunman wore, according to a source.
Scene of the crime operatives collected blood samples and hair from the BMW for cross matching.
The source told The STAR that the cargo pants and other evidence were turned over to Camp Crame.
The source, who knew Cruzin, confirmed that the casino financier was with Carlos and Mitra before the Paco shooting occurred.
Senior Insp. Rommel Anicete, MPD homicide chief, would not confirm these findings. But there were reports that an investigator was reprimanded for saying that the case was considered closed.
Autopsy belies shootout
The suspect in the Resorts World attack that left 37 people dead suffered only one gunshot wound, the Philippine National Police (PNP) Crime Laboratory said yesterday.
PNP Crime Laboratory director Chief Supt. Aurelio Trampe said Carlos did not sustain other gunshot wounds aside from the one he inflicted on himself.
Carlos died from a gunshot to the chin, which exited his head.
Trampe said this was the conclusion of the medico legal officer, who conducted an autopsy on Carlos.
He added that Carlos did not have a gunshot wound in his leg. – With Emmanuel Tupas