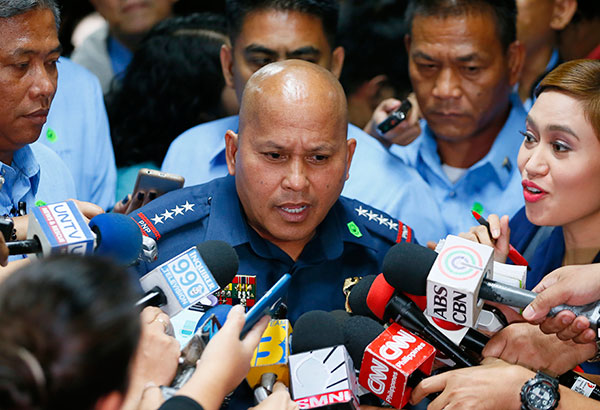 The Philippine National Police is conducting a case buildup against narco-politicians who are reportedly helping the Maute group occupy Marawi City, PNP chief Director General Ronald dela Rosa said yesterday. AP/Bullit Marquez, File
Narco politicians backing IS – PNP
Rody: IS planned Marawi attack, Mindanao takeover
MANILA, Philippines - The Philippine National Police is conducting a case buildup against narco-politicians who are reportedly helping the Maute group occupy Marawi City, PNP chief Director General Ronald dela Rosa said yesterday.
Dela Rosa revealed the matter when asked by journalists whether the PNP has information on politicians who have been supporting the Islamic State (IS)-inspired terror group.
"We will not divulge those details for the meantime because our work is ongoing. We are doing a case buildup, that's all," Dela Rosa said in an interview at Camp Crame.
The PNP chief earlier backed a statement of President Duterte that politicians involved in illegal drugs are supporting the Maute group.
He said some drug lords from Metro Manila, Luzon and the Visayas held a drug summit in Marawi last year.
Some of these politicians are no longer in power but others are incumbent, he said.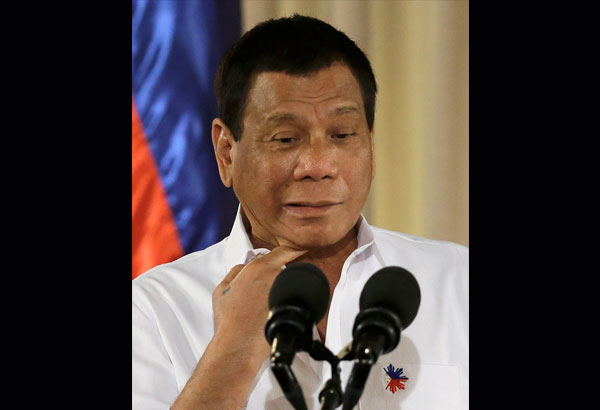 Philippine President Rodrigo Duterte gestures during his speech at the swearing in of municiple at the Malacanang presidential palace in Manila, Philippines on Thursday, June 1, 2017. Duterte declared martial law in the Mindanao region, the southern third of the Philippines, and poured in troops backed by airstrikes, artillery fire and tanks to crush the urban insurrection. AP/Aaron Favila
Dela Rosa did not provide a specific number, but he said these personalities are local chief executives based in Mindanao – "not only in Marawi; some are from Maguindanao and other provinces."
Some of these politicians reportedly even engaged Maute fighters in shooting competitions, Dela Rosa said, adding that this could be one of the ways the terrorists obtained ammunition.
With the privilege of the writ of habeas corpus suspended in Mindanao because of martial law, Dela Rosa said the PNP would take advantage of the situation to arrest politicians with links to the Maute.
"This is our chance to hunt down and arrest these narco-politicians," he said over dzMM radio.
Three police officers have been killed, three were wounded and six remain missing since the Marawi crisis broke out on May 23.
Dela Rosa said the six police non-commissioned officers are believed trapped in downtown Marawi, where the fighting is still intense.
"They are trapped and could not come out because of the presence of the enemy."
Nearly 900 policemen are deployed in Marawi and fighting alongside the military against the rebels. Police public safety forces from other regions are on standby and ready for deployment in the event additional forces are needed.
No vacation
Vacation leaves of all police officers nationwide are put on hold as part of security preparations in the ongoing Marawi crisis, according to Interior and Local Government officer-in-charge Catalino Cuy.
The PNP has been on full alert since the attack on a night market in Davao City in September last year.
The explosion prompted Duterte to place the country in a state of lawlessness.
"Since the PNP is on full alert, all vacation leaves of police officers are suspended. We ensure the safety and welfare of troops deployed in Marawi," Cuy told The STAR.
Dela Rosa has ordered other police units in the country to be ready for deployment to Marawi City.
He clarified there is no need to send more troops in Mindanao.
He said police forces from the Autonomous Region in Muslim Mindanao, Central Mindanao and Northern Mindanao sent to Marawi City are enough.
At present, Dela Rosa said Special Action Force (SAF) commandos and members of the Regional Public Safety Battalion are handling the situation well, noting they are the elite units well trained in counterinsurgency and counterterrorism.
"Most of the operating battalions of SAF are there in Marawi and our force is strong. If they turn out insufficient, we have to pull out units from other regions," Dela Rosa said.
He placed on standby all elite police forces across the country in anticipation of the escalation of clashes between government forces and the Maute group.
"I advised the regional police offices to prepare their public safety forces. Right now, they are ready, waiting for my instructions to reinforce Marawi."
IS long planned attack
President Duterte said yesterday that ISIS or IS had long planned to infiltrate and attack Marawi City in a bid to control Mindanao as he ordered the military troops to wipe out terrorists in the region.
The recent confluence of events, starting from the time that Abu Sayyaf leader Isnilon Hapilon was anointed as "emir" of IS and then his group's fusion with the local Maute terror group, already sounded the alarm bells about IS-backed plans in Mindanao.
"Well, anyway, let me just run you through what's really happening. You know the rebellion now in Mindanao, it's not Maute, it's purely ISIS with different branch since they started it," Duterte declared while speaking before local officials, newly appointed justices and special envoys in Malacañang.
Noting the background of the Maute brothers, one of whom went to Libya, Duterte said the Islamic groups' control of Marawi had been long-planned.
Maute fighters, combined with Abu Sayyaf terrorists, were forced to jumpstart their plan after the military overran their secret operations while they were about to arrest Isnilon last week.
"This Marawi (attack) has long been planned. It could not be just a decision (saying), 'let's go to Mindanao.' All of these are planned," said Duterte, who declared martial law in Mindanao on May 23. Along with the proclamation, he also suspended the privilege of the writ of habeas corpus.
"And it's a long time. So, I, as a student of you know what, history and maybe, (I knew that) when Hapilon was sent to Central Mindanao and he was anointed as the emir, that's when I thought that something terribly wrong is going to happen," Duterte added.
For him, the report already indicated a red flag.
Defense Secretary Delfin Lorenzana, also the administrator of martial law, pointed out how Hapilon, a member of the Yakan indigenous tribe in Sulu, was able to penetrate Marawi City – a known bailiwick of the Maranaos – even when the two groups do not mix culturally.
"Yes, Isnilon particularly, we heard from our intelligence that he has received several million dollars worth of funds from the Middle East… Culturally or whatever, these tribes do not mix. And there is only one reason there is – that he has a lot of money to distribute and buy loyalties," he said.
Authorities believed that the Maute fighters have reached about 500, although this has been reduced by about 100 from the 10 days of fighting. Lorenzana calculated the Maute group has about 260 members with them while Hapilon provided about 100. The rest came from the local groups that joined them.
"So we were able to kill already close to 100. We don't know yet how many more are unaccounted for," Lorenzana added.
Duterte said yesterday he has directed the military troops to "wipe out" all the enemies.
"When I say, wipe them out, better. If you shoot him in the head, shoot it again in the heart to be sure. Otherwise, they will capture you if they would suddenly escape," Duterte said.
About 35 soldiers have been killed while over a hundred military personnel have been injured during the operations. Over 90 Maute members, including eight foreigners, were killed in the clashes. — With Cecille Suerte Felipe, Christina Mendez