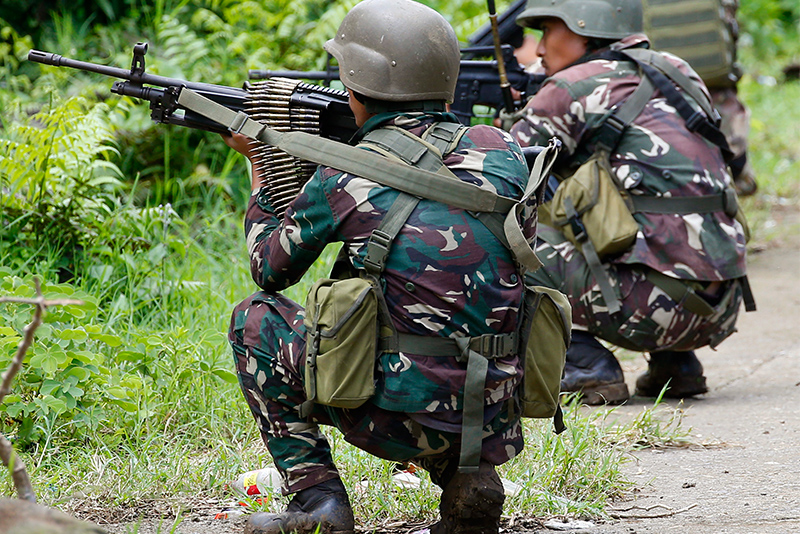 Government troops take positions as fighting with Muslim militants in Marawi city enters its second week Tuesday, May 30, 2017, in southern Philippines. Forces pressed their offensive to drive out the Islamic State group sympathizers after days of fighting left corpses in the streets and hundreds of civilians begging for rescue from a besieged southern city of Marawi. AP/Bullit Marquez
Raising estimate, DND says 500 militants involved in Marawi
(Philstar.com) - June 1, 2017 - 8:20am
MANILA, Philippines — Defense Secretary Delfin Lorenzana said there were 500 extremist fighters who were involved in the attempted siege of Marawi City, effectively revising the government's initial estimate of 100 extremists.
Lorenzana said at a news conference on Thursday that Islamic State sympathizers from militant groups Maute and Abu Sayyaf were augmented by other armed groups to carry out a "big plan" to take over the capital of Lanao del Sur province.
He said about 260 Maute fighters were joined by 100 of Abu Sayyaf subleader Isnilon Hapilon's own men from Basilan, while the rest came from various local militant organizations, Lorenzana said.
The military, meanwhile, reported 120 militants neutralized in the conflict.
The defense chief estimates that there are about 50 to 100 fighters still holed up in Marawi after state forces reported success in retaking about 90 percent of the areas.
"I'm just guessing, you know? Because a small force cannot hold that long, so there are still around 100 (militants in Marawi)," Lorenzana said.
The rest, he said, were able to exit the city and return to their villages. Some joined civilians in neighboring towns.
Based on the new government estimates, around 280 fighters were able to flee.
The striking gap between initial and new estimates of enemy forces may raise questions on the effectiveness of government intelligence. The justice department, meanwhile, is preparing cases for only 100 militants earlier reported to have laid siege to Marawi.
Operations have been launched to go after those who left the urban battle after the attack on the city on May 23. The encounter between terrorists and government troops was triggered after a botched military raid to arrest Abu Sayyaf leader Hapilon in the city.
Lorenzana said authorities are verifying the presence of militants in other towns through reports they receive from civilians.
Last militants standing
Military spokesperson Brig. Gen. Restituto Padilla, meanwhile, said the Maute forces are still occupying 45 establishments in the city in what could be the last, possibly most challenging, stretch of the clash.
Lorenzana explained that military cannons are not able to penetrate buildings of reinforced concrete.
"Then they have so many snipers around shooting at our soldiers. So it's gradual. It's a built-up area, and sometimes the line of fire of our cannons could not hit accurately because of physical obstructions," he said.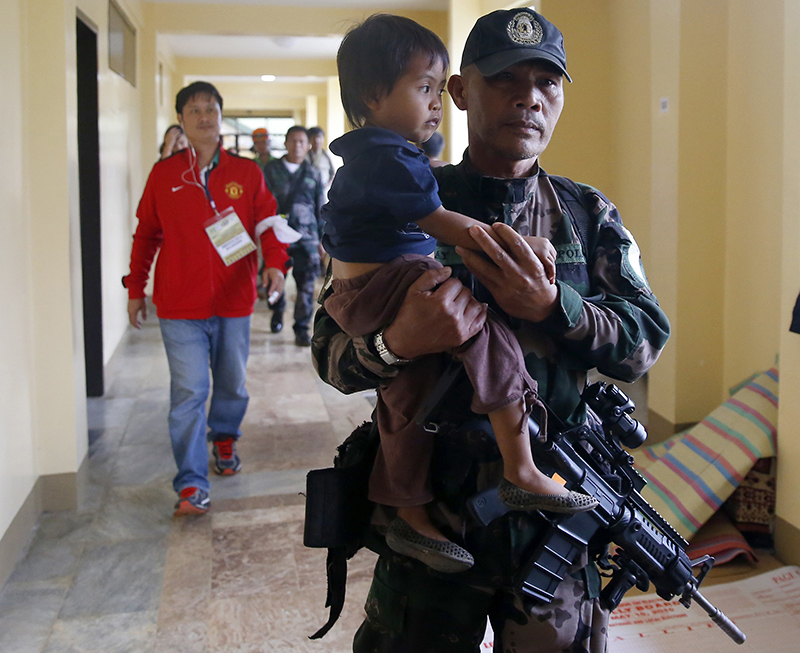 A government soldier carries a boy to a processing center after being rescued from the site of fighting between the Philippine troops and Muslim militants in Marawi City Wednesday, May 31, 2017. AP/Bullit Marquez
Ground forces will be relied on heavily in the coming days, with air strikes possibly halted after at least 10 soldiers died in "friendly fire" on Wednesday.
READ: Military air strike kills at least 10 soldiers in Marawi
As the fighting enters its second week, several tanks arrived at an army camp before their deployment to Marawi city along with busloads of reinforcement troops.
"They're putting more troops there. As of a while ago, we might suspend for a while the air strikes and let the ground troops do their thing," Lorenzana added.
Eight foreign fighters from Malaysia, Saudia Arabia, Indonesia, Yemen and Chechnya were also identified among those who were killed by troops. — Camille Diola with reports from the Associated Press