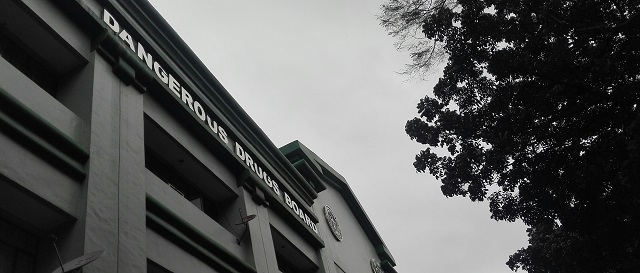 Dangerous Drugs Board Philstar.com/File photo
Drugs board chief fired over conflicting statistics
MANILA, Philippines - For saying there are only 1.8 million drug users in the country and contradicting President Duterte and the Philippine Drug Enforcement Agency (PDEA), Dangerous Drugs Board (DDB) chairman Benjamin Reyes has been fired.
Duterte has been saying there are four million drug addicts in the country to justify the government's unrelenting campaign to end the illegal drug problem.
"And here comes a chairman, you're fired… get out of the service. You do not contradict your own government… you're just a civilian member of a board. You're not an implementer of the law," Duterte said upon his return to Manila from Russia on Wednesday night.
Duterte had to cut short his official visit to Russia as he declared martial law in Mindanao after hostilities broke out in Marawi City.
"And I would like to put to task publicly this Reyes. You know five years ago, (Dionisio) Santiago who was the PDEA chief gave us a figure of three million," Duterte said in his press briefing at the Ninoy Aquino International Airport (NAIA) in Pasay City that was aired live.
Duterte noted that Reyes' numbers could have been used by United Nations special rapporteur on extrajudicial executions Agnes Callamard in pointing out discrepancies in the number of drug addicts in the country.
After hearing the Duterte administration defend the conduct of its war on drugs, representatives of 45 of the 47 nations gathered in Geneva for a review of the country's human rights record appeared unconvinced and called on the government to end extrajudicial killings and withdraw its plan to revive the death penalty.
The recommendations were part of the United Nations Human Rights Council's Universal Periodic Review Working Group's report.
The Philippine National Police has turned over to PDEA the task of releasing the number of persons who surrendered, were killed or arrested in the course of the campaign against illegal drugs.
Chief Supt. Dennis Siervo, director of the PNP Human Rights Affairs Office, said they had to make the move because conflicting figures or statistics related to the drug war resulted in confusion and outrage, even in the international community.
The government has launched #RealNumbersPH apparently to belie reports that thousands have been killed since Duterte launched his war on drugs.
Based on its own figures, there were 12,000 homicide cases in the country from July 1, 2016 to May 15. The PNP said 2,071 of these cases were drug-related based on its operations and 2,345 non-drug related.
Homicide cases under investigation totaled 7,584, the PNP said. It did not say how many of these involved vigilante killings or were drug related.