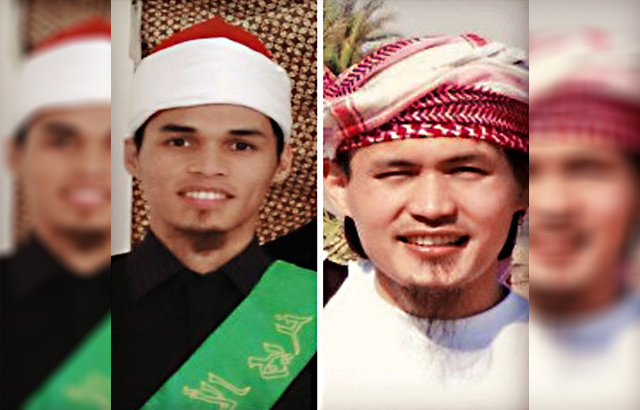 Omar Maute and Abdullah Maute

Meet the Maute brothers: 2 radicalized OFWs
John Unson
(The Philippine Star) - May 25, 2017 - 4:00pm
LANAO DEL SUR, Philippines – Amid the trauma and terror that have gripped Marawi City here since Tuesday, leading to President Duterte's imposition of martial law in the whole of Mindanao later that day, a band of terrorists that has reportedly pledged allegiance to international terrorist group Islamic State (ISIS) has been blamed for the attacks: the Maute group.
More than two years ago, just as the ISIS in the Middle East started making international headlines, the Maute group first emerged in this province's Butig town.
Siblings Omar and Abdulla Maute founded the group, originally named Dawlah Islamiya, but eventually became known as the Maute terror group feared today for its impunity.
Ex-OFWs
Omar and Abdullah are descendants of a big Maranaw warrior clan in Butig, a hinterland town in the first district of this province.
The Moro Islamic Liberation Front (MILF) has a government-recognized enclave in Butig, Camp Busrah Siomorong.
Somewhere in the same municipality, the late MILF founder Salamat Hashim was laid to rest after he died of a cardiovascular disease in 2003.
Omar and Abdullah were former contract workers in the Middle East. They both studied Islamic theology in between working in secular schools in Syria and in the United Arab Emirates.
Taliban-style justice system
The Maute brothers espouse hatred for non-Muslims and are known for their propensity to enforce a Taliban-style justice system, which Maranaws find ruthless and absolutely primitive.
Local officials and moderate clerics disagree with the kind of Islam being preached by the Maute group, premised on what is widely perceived as a "distorted concept" of a puritanical Islamic community governed by a Sharia justice system and absolutely detached from non-Muslims.
Moderate clerics argue there is not a single verse in the Qur'an encouraging persecution of non-Muslims.
Islam has very extensive teachings on universal love, fraternalism and tolerance based on the principle "la iqra fidin," meaning there is no compulsion in religion.
Preachers opposed to the ways of the Maute group use as pitch to counter its radical views how their prophet Mohammad extended friendship to the Catholic, Jewish and pagan communities in the ancient Mediterranean communities that were to become the different countries now in the Middle East and North Africa.
Among the first official acts of Mohammad, after he established the first-ever Muslim community in what is now Saudi Arabia, was to send a letter, through a scribe, to Catholics in a monastery in Mt. Sinai in Egypt, assuring them of respect of their religion and protection in case of persecution by any feudal group.
Fanatically misguided militants
For many residents of the Autonomous Region in Muslim Mindanao (ARMM), which covers all 39 towns in Lanao del Sur and its capital, Marawi City, Maute group is a fanatically misguided group of Islamic militants inspired by ISIS and with extremely dangerous tendencies.
In what seemed like a baptism of fire, the group's initial adventurism carried out in Butig ruined the town and dislocated thousands of residents. Many of them are still reluctant to return to their villages that were plundered in one attack after another from 2015 until early this year.
Some local officials in Maguindanao have stories purporting that no fewer than 10 young recruits of the Maute brothers were trained in the fabrication of improvised explosive devices by the slain Malaysian terrorist Marwan and his Maguindanaon cohort, Abdulbasit Usman, in Barangay Pidsandawan in Mamasapano town in late 2014.
Marwan (real name: Zulkifli bin Hir) was killed by a team of the police's elite Special Action Force in a dawn raid in Barangay Pidsandawan in Mamasapano, Maguindanao on Jan. 25, 2015.
Usman, an ethnic Maguindanaon, was shot dead about three months later by guerrillas of the MILF in keeping with their ceasefire accord with the government.
Brutal beheadings
The Maute group became even more notorious when, in April 2016, its members beheaded captives Salvador Janobas and his younger brother Jaymart on mere suspicion of being spies of the military.
The Visayan victims, who were lowly laborers in a mini sawmill owned by an illegal logger in Butig, were kidnapped by Maute gunmen a month before they were executed, after their family failed to raise a P5-million ransom in exchange for their release.
Video footage of their brutal execution was immediately circulated through Facebook timelines of local self-proclaimed jihadists using aliases.
Links with Umbra Kato
The Mautes' relatives said that even before Omar and Abdullah organized the Dawlah Islamiya, they already had links with the founder of the Bangsamoro Islamic Freedom Fighters (BIFF) in Maguindanao, the late Ameril Umbra Kato.
Kato was also a radical cleric trained in a religious school in Saudi Arabia. He studied abroad as a government scholar during the time of the late former president Ferdinand Marcos.
Kato started as a commander in the MILF, but got booted in 2010 for insubordination and differences with members of their central committee.
The Maute brothers reportedly sent representatives to visit Kato in his hideout in a hinterland surrounded by Maguindanao's South Upi, Guindulungan and Datu Saudi towns after he suffered a hypertensive stroke that left half of his body paralyzed and eventually caused his death.
Early this year, the Maute group and the Abu Sayyaf fused ranks, according to local officials here and sources in the Army's intelligence community.
The BIFF, the Abu Sayyaf and the Maute group have a common denominator: that of using the black ISIS flag as their revolutionary banner.