Nationwide martial law eyed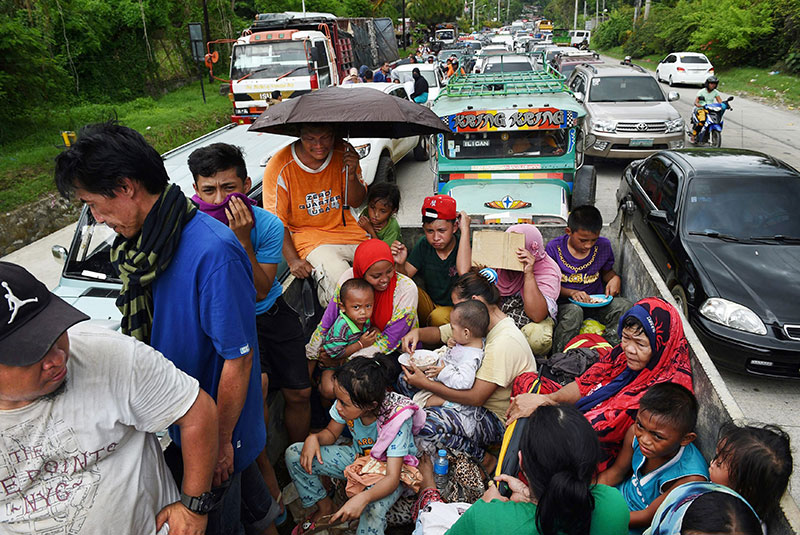 Rody's Martial Law
• 'Shoot to kill' for 'open defiance'
• Warrantless arrests, searches allowed
• Curfew in Lanao provinces, Maguindanao, Sultan Kudarat, North Cotabato, possibly Zamboanga
• Writ of habeas corpus suspended in Mindanao, possibly in Visayas
• Mindanao courts to remain open
• Martial law lifted when AFP, PNP say situation has 'stabilized'
Rody: I will be harsh, but no abuses
MANILA, Philippines - With the likelihood of violence in Marawi City spilling over into the Visayas and Luzon, President Duterte said yesterday he might expand the coverage of his martial law declaration for Mindanao to include the entire country.
Duterte raised the scenario in a press briefing yesterday shortly after his arrival from Moscow, where he signed the declaration and vowed to implement it harshly but without violating the rights of citizens.
"By virtue of the powers vested in me by the Constitution and by law, I had to declare martial law in the Mindanao group of islands for a period not exceeding 60 days, effective as of May 23, 2017," Duterte said.
Vowing to "protect and defend the country," he warned those "who fight us" and show "open defiance… you will die."
"Let us solve this once and for all," he said. "If it means many people dying, so be it."
The privilege of the writ of habeas corpus is suspended in Mindanao. Duterte said this may also be done in the Visayas.
Licensed gun owners may use their weapons in self-defense against terrorists.
"If things go out of hand, actually there is severe fighting, I will allow the Mindanaoans – Moros and Christians alike – if you are in the possession of a gun licensed by government and in order to give you security and protect your family, you can bring it out," he said.
"Just show your ID or your license, specially your license. I said, pagka nagpatayan pati civilian (If there are killings even of civilians), I will allow the civilians to carry their guns outside of their residence," he said. "But be sure that it is licensed in your name. And do not falsify anything because you'll also be detained and investigated."
In an online video posted earlier yesterday by Presidential Communications Assistant Secretary Mocha Uson, Duterte said the martial law he declared for Mindanao would be no different from the one declared for the entire nation by the late strongman Ferdinand Marcos in 1972.
Duterte cut short his four-day official visit to Russia on receiving news about the Marawi unrest.
"To my countrymen, you have experienced martial law. This one, it would not be any different from what president Marcos did. I would be harsh," Duterte said in the online video.
"To our countrymen, do not be too scared. I'm going home. I'm cutting my visit here to be with my countrymen. And I will deal with the problems once I have arrived," he added.
He said the Middle East-based Islamic State (IS) may have taken a foothold in Luzon and it might even expand its reach if left unchecked.
"If I think the ISIS has taken foothold also in Luzon and terrorism is not really far behind, I might declare martial law throughout the country to protect the people," Duterte said.
"I have a serious problem in Mindanao and the ISIS has taken its… their footprints are everywhere. And there are many, many foreigners and Caucasian-looking," Duterte said.
The President also ordered the military to conduct a naval blockade in the waters between the Visayas and Mindanao to prevent terrorists from fanning out across the country.
He also directed the military and the police to kill terrorists on sight.
The Chief Executive said he is ready to explain to Congress his move aimed at suppressing terrorism in Mindanao.
While describing the martial law declared by Marcos in 1972 as "very good," Duterte warned there would be severe consequences for the military and the police if they abuse their powers.
"And for those military offenders, you will have a summary hearing of a court martial… they will be subjected to military laws," he said.
"And I said, I warned everybody. Everybody is everybody. The members of military, police and anyone, do not try to challenge government," Duterte said.
He stressed the courts would remain functional even under martial law.
"No abuses of any kind. The courts are open. You can always go to the court. But in Mindanao, the remedy of habeas corpus is not available for you. And I will detain you," Duterte said.
Duterte said he has to continuously assess the situation, along with the military and the police, before lifting martial rule.
"OK, I am not an all-knowing president, it was the police and the military who said that we have reached a dangerous level," he said in a subsequent briefing.
Duterte urged the public to "give me enough time to stabilize and solve the problem."
AFP assurance
The Armed Forces of the Philippines (AFP) stressed the rights of ordinary citizens would be protected as soldiers would only be after terrorists and other armed groups.
"We can assure our people that your AFP, in carrying out its additional functions based on the declaration of martial law, will not abuse its power," AFP Public Affairs Office (PAO) chief Col. Edgard Arevalo, said.
"If the AFP will have additional capabilities or capacity to do (its job) because of the declaration of martial law, we will do it in accordance with the existing law and respect for human rights," he maintained.
He said martial law would definitely boost the campaign against terror.
Lt. Gen. Carlito Galvez Jr., Western Mindanao Command chief, said his command has "yet to get a written guidance on how to implement the declaration of martial law in its area of operations."
Department of National Defense (DND) Public Affairs Service chief Arsenio Andolong said martial law is necessary given the situation in many parts of Mindanao.
"The imposition of martial law in Mindanao is a necessary step in order for government security forces to stop the threat that these terrorists pose, who are mostly not originally from Marawi," he said.
"As part of our operations, additional troops will be deployed to Marawi City to augment the forces already there," he added.
Presidential legal adviser Salvador Panelo said the deterioration of the rule of law in Mindanao prompted Duterte to declare martial law in the region.
The Department of Foreign Affairs (DFA), for its part, assured the international community that the government is in full control of the situation and that the declaration of martial law is necessary.
"In order to suppress lawless violence and rebellion and for public safety, it is necessary to declare martial law in the entire island of Mindanao including Sulu, Jolo and Tawi-Tawi for a maximum of 60 days," the DFA said in a statement.
Curfew
Duterte said violators of the curfew raised over Lanao del Sur, Maguindanao, Sultan Kudarat, North Cotabato, Zamboanga, Jolo, Basilan and Tawi-Tawi would risk getting killed.
"If you violate the law when there is a curfew, you are bound to die," he said. "If you raise the flag of ISIS, that's the time I said this cannot be done. This must be stopped."
Duterte added that he has ordered the military to also save as many hostages used as human shields by the terrorists.
"In all decisions and actions, let me assure you that (our) primordial concern is the safety and welfare of our people," he said.
Duterte also cited powers vested upon him by the Constitution to enforce law and order.
"It is our constitutional mandate to enforce the law and provide security. It is our constitutional duty to ensure that every family, every community, all Filipinos, are assured to live in peace and harmony," he said.
"We will stay true to our mandate and duty, this I can assure everyone," the President said.
He cited the emergence of new forms of terrorism and the existence of non-traditional security threats as reasons for his declaration.
He cited the "need to broaden and widen our network of friends and allies in pursuing our common desire to attain peace and stability, there is a pressing need to directly confront and manage our national security."
"The series of terrorist acts committed by the Maute group resulted in the loss of lives of our citizens, including policemen and soldiers, and the destructive nature of their fight thereby destroying properties and displacement of innocent civilians," Duterte said.
In his previous speeches, Duterte said he would not place the country under martial law as he has no intention to stay in power. He even claimed that martial law did nothing to improve the lives of Filipino during the time of Marcos.
Duterte, however, repeatedly dangled the prospect of martial law to threaten armed groups and members of the judiciary who are issuing restraining orders that delay the implementation of government projects. – With Pia Lee-Brago, Roel Pareño, Michael Punongbayan