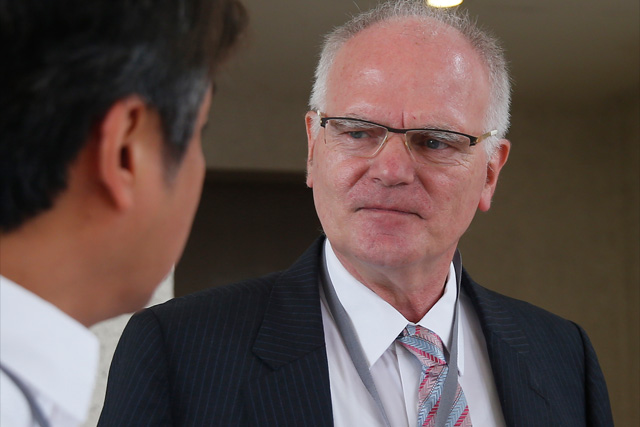 Franz Jessen, right, European Union's Ambassador to the Philippines, talks with opposition Senator Francis Pangilinan following a human rights forum at the De La Salle University in Manila, Philippines Tuesday, May 23, 2017. Jessen, in an apparent reaction to the Philippines' decision last week not to accept new grants from the EU, said that the EU's financial assistance promotes development but does not impose system change in foreign governments that it works with. AP / Bullit Marquez
EU envoy defends grants after Philippines' aid rejection
(Associated Press) - May 23, 2017 - 9:09am
MANILA, Philippines — The European Union's ambassador to the Philippines says grant money from his grouping is meant to promote development, not system change, in foreign countries.
Ambassador Franz Jessen's remarks Tuesday at a human rights forum in Manila appeared to be a reaction to the Philippines' decision last week not to accept new funds from the EU. Philippine officials have said the money may allow the EU to interfere with Philippine internal affairs.
Jessen said the EU works with foreign governments to make sure its assistance helps countries develop in the best possible way and "it's not a question of changing the system."
He says experience shows countries with economic freedom and human rights grow faster.
The Philippines is forgoing more than 250 million euros (nearly $280 million) in grants.