400,000 Pinoys in forced labor as Atlantic 'Lola' story goes viral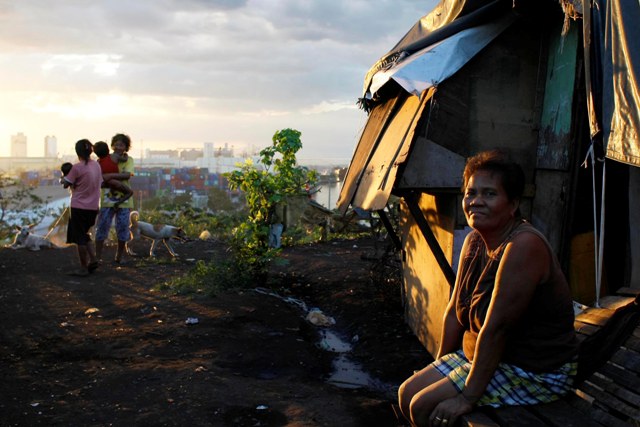 MANILA, Philippines (First Published May 17, 6:12 p.m.) — Eudocia "Lola" Tomas Pulido, the main subject of an article in the Atlantic titled "My family's slave," was just one of 400,000 slaves from the Philippines.
According to the 2016 Global Slavery Index by global organization Walk Free Foundation, there were an estimated 401,000 Filipinos, or 0.40 percent of the population, living in modern slavery in 2015. The Philippines' estimated population as of 2016 was 100,699,000.
The Philippines ranked 33rd among 167 countries with the largest estimated population enslaved through forced labor, commercial sexual exploitation, child soldiery or pa-aling fishing, based on the survey's prevalence index. Pa-aling fishing is a highly dangerous fishing technique involving divers who use flimsy pipes to pump air attached to compressors.
The ranking is an improvement from the 19th place that the Philippines was at in 2014.
'Filipinos mostly abused through forced labor'
The same study revealed that majority of the Filipinos living in slavery are in forced labor. It said that an estimated 10 million Filipinos go abroad for work and many are subjected to human trafficking, commercial sexual exploitation and forced labor throughout Asia, Europe, North America and the Middle East.
It said that the most recent survey on overseas Filipino workers by the Philippine Statistics Authority suggests that one in every two Filipino women working abroad is unskilled and is employed as a domestic worker, cleaner, or in the service sector.
"In 2015-2016, research has revealed that migrant worker exploitation occurs during all phases of labor migration, with many prospective migrants having a lack of knowledge of the processes and their rights resulting in an ease of exploitation," the study added.
About 47.67 percent of Filipinos are also said to be vulnerable to modern slavery, which could be through mental physical threat or coercion at work, ownership or control by en "employer" through mental or physical abuse, dehumanization or treatment as a commodity, or constraints placed on freedom of movement.
Globally, there are an estimated 45.8 million people in modern slavery. The following countries had the highest proportion of their population in modern slavery, according to the index:
North Korea
Uzbekistan
Cambodia
India
Qatar
Pakistan
Democratic
Republic of the Congo
Sudan
Iraq
Afghanistan
Yemen
Syria
South Sudan
Somalia
Libya
Central African Republic
Mauritania
Haiti
Dominican Republic
Myanmar
Bangladesh
The International Labor Organization meanwhile said that in 2012, there were around 21 million victims of forced labor worldwide.
Despite the high rate of modern slavery, Walk Free Foundation's study said that the Philippine government has introduced a response to it. This includes short-term victim support services, a criminal justice framework that criminalizes some forms of slavery, the creation of a government body to coordinate the response, and protection for those vulnerable to it.
"The Philippines, Georgia, Brazil, Jamaica and Albania are making strong efforts despite having relatively fewer resources than wealthier countries," an excerpt of the study read.
The third edition of the global survey was conducted by Walk Free Foundation and Gallup to a random sample, nationally representative survey to estimate the prevalence of modern slavery in the Philippines in 2015.
'Slavery avoidable'
Andrew Forrest, chairman and founder of Walk Free Foundation, said that while slavery is abhorrent and more rampant than at any time in history, it is entirely avoidable.
"Unlike major world epidemics such as malaria and HIV/AIDS, slavery is a human condition of our own making. While that in itself is a tragedy, it also means that we have the power to end it," Forrest wrote.
"And end slavery we must; we cannot allow future generations to fall prey to this hideous practice. Improving the rights of 45.8 million human beings is both wise and urgent for all leaders of countries and organizations. Eradicating slavery makes sense, morally, politically, logically and economically," he added.
'Tale of a secret slave'
While slavery is indeed avoidable, that was not the case in the viral personal essay "Lola" written by the late Pulitzer Prize–winning journalist Alex Tizon. Lola's story touched many netizens as it captured her life of being essentially enslaved from when she was 18 years old until she passed away at the age of 86.
At the tender age of 18, Lola was assigned by Tizon's grandfather, an Army lieutenant named Tomas Asuncion, to become their family's helper. She lived with them for 56 years, took care of Tizon when he was an infant until he grew old, but the journalist said he only realized that Lola was a slave when he was 11 years old.
Lola was not freed from unpaid forced labor and never got a chance to have a family of her own. Accustomed to that life, she looked after Tizon until he grew up and had his own family.
The Atlantic said Tizon, who passed away in March, struggled to write Lola's story.
Lola's story is featured in its June 2017 issue.