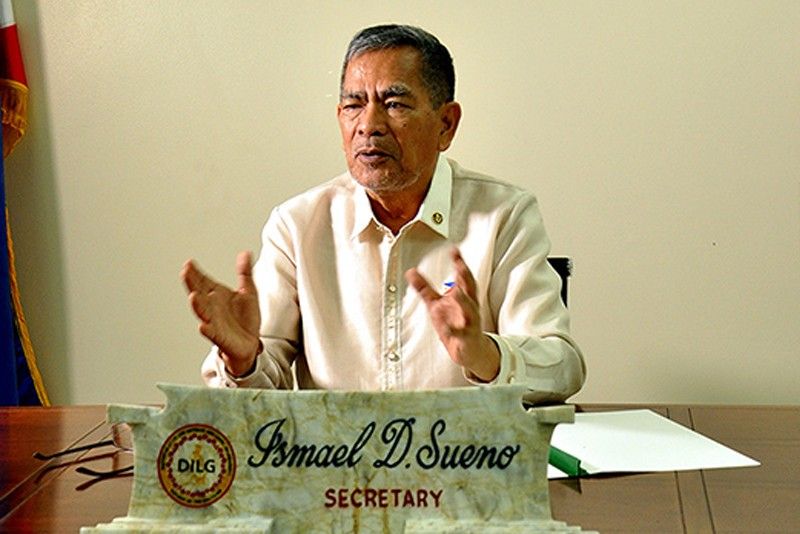 Interior Secretary Ismael "Mike" Sueno is among the latest casualties of President Rodrigo Duterte's anti-corruption platform. Sueno was fired by Duterte earlier this week despite the lack of formal charges.
PIA photo
Sueno calls self a 'willing victim' of anti-corruption drive
MANILA, Philippines — For axed Interior Secretary Ismael Sueno, he is a "victim" of President Rodrigo Duterte's anti-corruption drive, but a willing one.
"Sa tingin ko, ako ang sacrificial lamb dito," Sueno said in a television interview with GMA's "News to Go" aired on Thursday.
Sueno said that he has already accepted what has happened to him, adding that it is already "water under the bridge."
On Monday, President Rodrigo Duterte announced he fired Sueno after he received information from three undersecretaries of the Department of Interior and Local Government. Duterte said he was unsatisfied by the Cabinet official's answer when asked about the allegedly anomalous purchase of fire trucks from Austria.
"If you answer me… that you never read the opinion of your legal officer of your own office, it's either you are taking me for stupid, an idiot or you are lying through your teeth," Duterte said on Monday evening.
READ: Rody to Sueno: You're fired
Sueno said that he has forgiven the three undersecretaries—Jesus Hinlo, John Castriciones and Emilie Padilla—for accusing him of pocketing part of the payment for fire trucks project.
"Kaibigan naman kami, I forgive them kung ano man ginawa nila sa akin tutal tanggal na naman na ako, uuwi na ako," Sueno said.
But he is not yet ready to speak with Duterte, whom he convinced to run for president last year and supported his campaign.
"Well, ayaw ko na muna (talk to President Duterte). Talagang pagod na ako, talaga ako napahiya na talaga, ayoko na nga lumabas e," Sueno said.
Still Sueno said he is hoping that Duterte will succeed in his campaign against corruption and illegal drugs.
The former official said he is looking forward to returning to his "simple life" at a farm.