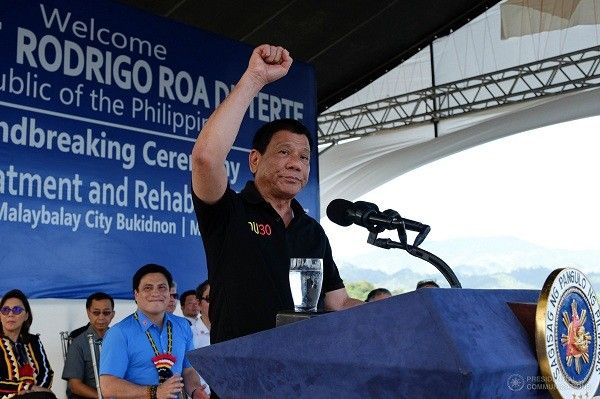 President Rodrigo Roa Duterte raises his fist while delivering his speech during the groundbreaking ceremony of a drug abuse treatment and rehabilitation center in Malaybalay City, Bukidnon on March 25, 2017.
PCOO/Kiwi Bulaclac
Duterte vows to pardon police convicted for 'following orders'
MANILA, Philippines — President Rodrigo Duterte on Wednesday promised to pardon police officers who would be convicted in the performance of their duties, more than a week after several Leyte cops surrendered over the death of a former town mayor while in government custody.
Speaking at the Mindoro People's Day in Socorro, Oriental Mindoro, the president again offered a robust assurance to the Philippine National Police (PNP) as they conduct Duterte's anti-drugs campaign.
"This is my order. Hunt for them. Arrest them if possible. If they confront you with a violent stance, especially if they're armed and you are in danger of being killed — My God, shoot the idiot, and shoot him dead. 'Yan ang order ko," he said. "Pag 'yan ang sinunod ng pulis and military, huwag kayong matakot. I and I alone will be liable for that."
This is not the first time that the president offered to take responsibility for deaths arising from police operations especially if the lives of police officers were in danger.
Last week, 19 police officers implicated in the killing of former Albuerta, Leyte Mayor Rolanda Espinosa Sr. surrendered after an arrest warrant was issued against them by Judge Carlos Arguelles of Baybay City Regional Trial Court Branch 14.
The team from PNP-Criminal Investigation and Detection Group Region 8 headed by Superintendent Marvin Marcos was ordered arrested after it was found that Espinosa's killing was premeditated.
At that time, Duterte backed Marcos and his team, saying that he would rather believe his policemen instead of convicts at the prison.
The chief executive reiterated this promise again in his speech as he vowed to pardon those who would be convicted and held liable.
"So any policeman charged for killing those bastards, they will have my protection. You can charge them with anything," he dared his critics, promising to give them either absolute or conditional pardon.
Duterte said that he would rather believe and trust his policemen than other people.
"Sino paniwalaan ko? Yung witnesses na mga preso o mga pulis ko? Oh, di yung pulis ko. Now they have been charged with murder. I will support them. Walang problema. Lahat every military and policeman who will do his job," he said.
The president also hinted that his brutal war on drugs would continue as long as drug lords and dealers continue destroying the nation's youth.