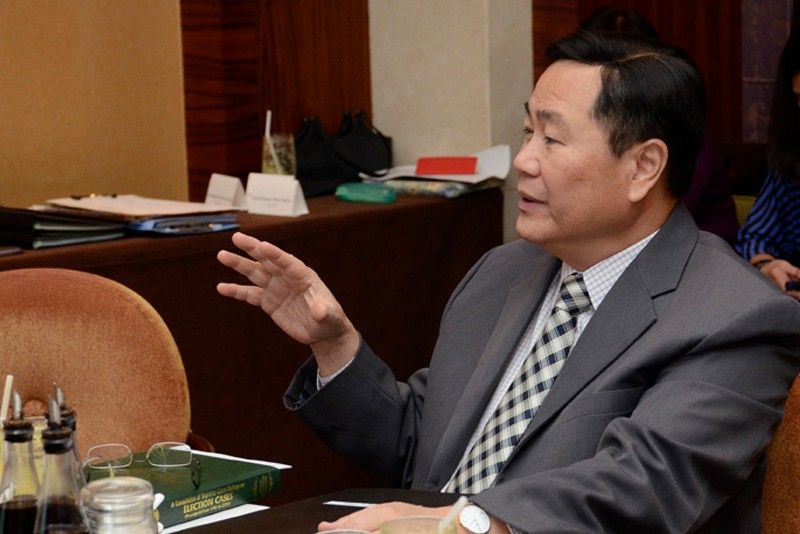 In this 2013 photo, Supreme Court senior Associate Justice Antonio Carpio attends a Senate Electoral Tribunal meeting at the Hyatt Hotel in Manila.
SET
Carpio cautions gov't over South China Sea statements
MANILA, Philippines — Supreme Court Senior Associate Justice Antonio Carpio said on Monday that the government of the Philippines should avoid actions or statements that express or imply a waived Philippine sovereignty over any of its territories in the West Philippine Sea (South China Sea).
In a subtle dig at President Rodrigo Duterte, Carpio said in a statement that any declaration saying that the country could not stop China from building on Scarborough Shoal actually encouraged the Chinese to build on it.
Carpio's unsolicited advice came after Duterte said Sunday that the Philippines was helpless in stopping China from pursuing its reported plan to install a monitoring station in Scarborough Shoal in the West Philippine Sea.
"Avoid any act, statement or declaration that expressly or impliedly waives Philippine sovereignty to any Philippine territory in the West Philippine Sea. This will preserve for future generations of Filipinos their national patrimony in the West Philippine Sea," he said.
Carpio also reminded the president that as the commander in chief of the Armed Forces of the Philippines (AFP) he was tasked by the Constitution to defend the national territory.
Carpio though admitted that the country was no match to China militarily. He said, however, that this should not deter Duterte from fulfilling his constitutional duty.
In the face of the Philippine military disadvantage against China the least it could do was to file a strong protest against Chinese building activities, the senior magistrate said.
"This is the least that the President should do. This is what the Vietnamese did recently when China set cruise tours to the disputed Paracels," he added.
Another option the Philippine could take was to send the Philippine Navy to patrol Scarborough Shoal.
Should China attack Philippine Navy vessels, the country could invoke the Philippines-US Mutual defense treaty which covered any armed attack on Philippine navy vessels sailing in the West Philippine Sea, Carpio said.
Carpio added that the Philippines could also ask the US to declare Scarborough Shoal part of Philippine territory for the purposes of the mutual defense treaty, something that the US did for Japan when it said that the Senkakus were part of Japanese territory for purposes of the two countries' defense pact.
The SC justice said that Duterte could also accept standing American invitation to jointly patrol waters in West Philippine Sea, which covered Scarborough Shoal.
"This will demonstrate joint Philippine and US determination to prevent China from building on Scarborough Shoal," he said.
Carpio was one of the country's legal team that argued the Philippine case at the Permanent Court of Arbitration at the Hague during the time of former President Benigno Aquino IV. The arbitral tribunal under United Nations laws invalidated much of Chinese claim over West Philippine Sea.
Duterte, however, took a different track upon winning the presidency. He placed the arbitral ruling on the back burner as he sought closer ties with China for its economic aid. — with video report by Efigenio Toledo IV