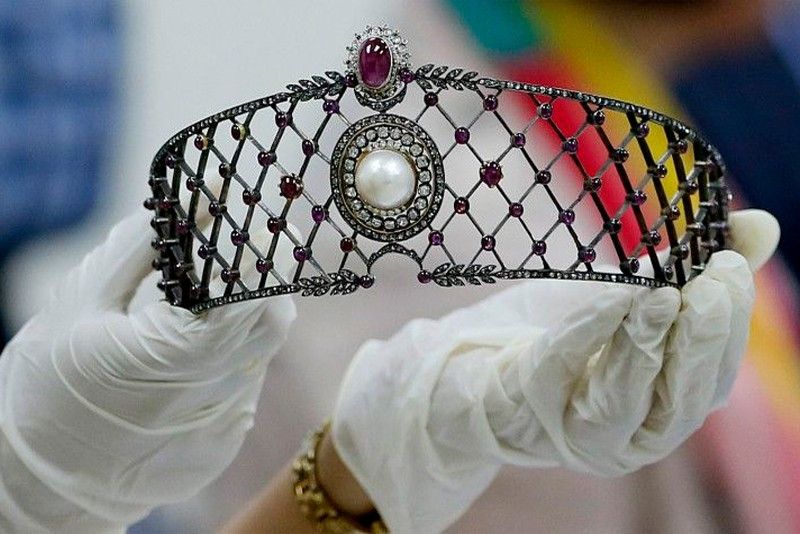 In this Nov. 27, 2015 file photo, an official of the Presidential Commission on Good Government holds a set of jewelry from the so-called Hawaii Collection, one of three sets of the Marcos Jewelry Collection, during appraisal by Sotheby's at the Central Bank of the Philippines in Manila, Philippines.
AP/Bullit Marquez
Duterte names fellow Bedan to agency recovering Marcos loot
MANILA, Philippines — President Rorigo Duterte has appointed a fellow Bedan as commissioner of the Presidential Commission on Good Government (PCGG).
John Agcaoili Agbayani, a former member of the San Beda College of Law faculty, was named to the post last February 21, an appointment letter furnished to the media yesterday showed.
PCGG was created by former President Corazon Aquino in 1986 to recover the ill-gotten wealth amassed during the Marcos administration.

Agbayani succeeded Richard Roger Amurao, who was designated as acting PCGG chairman in 2015.
Agbayani finished his law degree from San Beda Collage in 1978 and placed 18th in the bar examination in the same year. He was a faculty member of the San Beda College of Law from 1994 to 2005 handling credit transactions, banking, negotiable instruments, insurance and transportation laws.
Agbayani teaches at the Arellano University School of Law and Angeles University College of Law.
He was also the chief of staff of the Social Security System Commisioner Gonzalo Duque and associate of Bausa Ampil Suarez Law Office.
The newly appointed PCGG commissioner also worked as technical assistant of Chief Justice Fred Castro and consultant to Congress.
Agbayani was also a first vice president, general counsel and consultant of various banks including BA Savings Bank, RCBC Savings Bank and Great Pacific Bank.