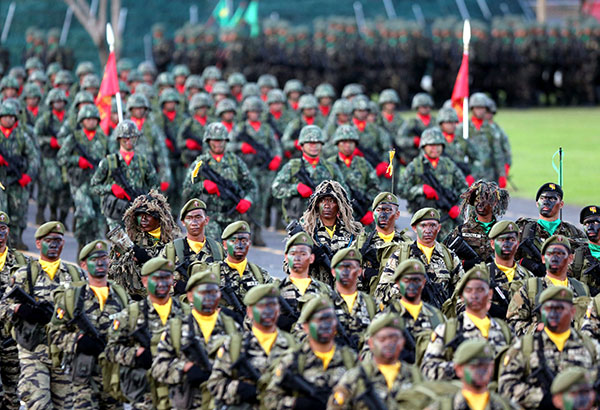 Gen. Eduardo Año said Armed Forces commanders in Mindanao had considered the possibility of the ceasefire with the NPA ending. File photo
AFP has enough troops to address NPA ceasefire withdrawal
(Philstar.com) - February 4, 2017 - 5:13pm
The Armed Forces of the Philippines has more than enough troops to meet rebel groups in Eastern Mindanao, its chief-of-staff Gen. Eduardo Año has said.
"We have enough forces. We will assess everything before we make any troop movement or any adjustment," he said when asked whether there is a need for more forces after President Rodrigo Duterte ordered the lifting of the government ceasefire in the wake of New People's Army attacks that left six soldiers dead. Three others were abducted this week.
Año noted he has been in contact with all military commanders in Eastern Mindanao and that all of them are now aware of what they need to do.
"They know already what to do because when we (had) our command conference early last month, (part of the) contingency planning is what the military would do in case peace negotiations fail or should the NPA decide to withdraw their ceasefire," he said.
Año placed the number of NPA combatants in the entire country at 3,700, half of whom are operating in Eastern Mindanao.
He said this is the reason the AFP is focusing on community development programs in the countryside, especially those with indigenous peoples, so that the rebels would be denied additional recruits.
With the lifting of the government ceasefire, the AFP chief said they can now plan the rescue of the three soldiers abducted in Surigao del Norte and Sultan Kudarat early this week.
"Before, (the unilateral ceasefire) prevented us from conducting rescue operations. Now we plan to conduct operations," Año said.