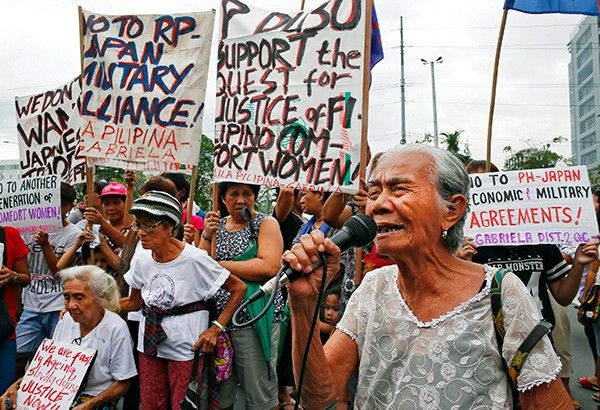 Narcisa Claveria leads 'comfort women' in a rally in front of the Japanese embassy in Pasay City yesterday.
AP
'Comfort women' seek apology from Japan PM Abe anew
Helen Flores
(The Philippine Star) - January 13, 2017 - 12:00am
MANILA, Philippines - Surviving Filipino "comfort women" greeted visiting Japan Prime Minister Shinzo Abe yesterday with an open letter seeking a formal apology and compensation from Japan for the atrocities they suffered during the Japanese occupation.
The elderly survivors of wartime sexual captivity and their supporters also gathered for a rally outside the Japanese embassy in Pasay City to highlight their plight and called on President Duterte to bring the matter up in his meeting with Abe.
Abe, the first head of state to come to the country under the Duterte administration, arrived yesterday for a two-day visit in Manila and Davao City.
Comfort women group Lolas Kampanyera and their supporters sought Abe's "attention to (their) plight and plea for redress."
"We were prepubescent girls during the war who were forced into sexual slavery and captivity in military brothels for the comfort of the imperial soldiers," the group said.
After the war, they said, their suffering "was concealed for the next 50 years."
"But our damaged lives and myriad psycho-physiological maladies persisted through time, hounding us to the grave. In the course of the ensuing 25-year campaign, our ranks have thinned: destitute and forlorn, most of us died without seeing justice," they said.
They asked Abe to assist them in the resolution of issues confronting Filipino comfort women, including compensation and inclusion of their story in historical books.
They said although in 1997 the Japanese government extended a Private Fund from Japanese citizens with a concomitant letter of apology, the survivors demand that genuine redress can only be achieved through a formal apology and compensation from the Japanese government.
Lolas Kampanyera said they seek to clarify their abuse sprang from the Philippines' then colonial status as the enemy's enclave, in contrast to counterpart-survivors in the region, who came from Japanese colonies and thus, "had a colonial duty to Japan."
"This distinction, however, does not, in any way, deny their own suffering. Insofar as Filipina survivors are concerned, none of victims were paid 'commercial sex workers' during the war. Simply put, their victimization was part and parcel of the fact that they were considered the 'adversary's women,'" the group and their supporters said.
"Today, in their enfeebled state, their only desire is to seek closure and redress for their suffering, which perseverated long after the war has ended. The only legacy they hope to leave behind is for younger generations to sustain vigilance so that women will no longer become pawns in wars not of their own making," they said.