Philippines, Singapore to boost border security
December 16, 2016 | 12:00am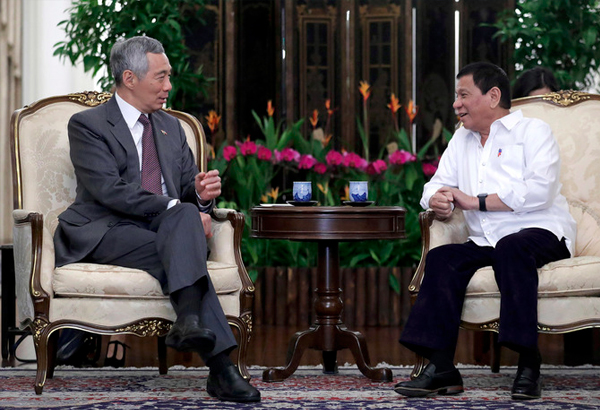 SINGAPORE – President Duterte and Prime Minister Lee Hsien Loong agreed yesterday to further improve border security between the two countries amid threats brought about by terrorism.
Foreign Affairs Secretary Perfecto Yasay Jr. said the two leaders discussed issues related to the intensified fight against terrorism and illegal drugs. Drug trafficking is punishable by death under Singaporean laws.
Interviewed on the sidelines of the meeting between the two leaders, Yasay said increasing security of borders was aimed at preventing transnational crime.
"These are basic things that we have to pursue," Yasay told reporters.
Based on reports, the terror group Islamic State (IS) has been expanding operations in Asia, particularly in Sulu.
Last Tuesday, Duterte said a Singaporean national was leading a terrorist cell in Sulu. The group is also composed of Malaysian and Indonesian nationals with Filipino members.
"You know, in Sulu now, there's a group there, the extremist, maybe ISIS, which is led by a Singaporean," President said in a speech before embarking on his state visits to Cambodia and Singapore.
The Philippine military has tagged Sulu as the haven of the Abu Sayyaf extremist group that has been behind the kidnappings of foreigners and Filipinos in the south.
The President has been warning that the ISIS has been out to declare a caliphate in Mindanao. He noted that while the kidnappings were taking place in the Malacca Strait and the Celebes Sea, suspects would bring their victims to Sulu and hold them hostage for ransom.
"And you'd be surprised that a Singaporean, (from) a nation with a very strict criminal laws… they are able to nurture a cell there of terrorists," the President said.
Stronger Asean
Meanwhile, Yasay said the President's state visit here was timely because he got acquainted with the leaders of the Association of Southeast Asian Nations (ASEAN) before the Philippines' chairmanship of the grouping next year.
"This trip was really intended for the President to get to know our Asian leaders," Yasay said.
Singaporean President Tony Tan Keng Yam led the formal arrival honors for Duterte in his official residence and office in the Istana before they held a bilateral meeting, followed by the Philippine leader's meeting with Lee.
Duterte and his delegation were then invited to a state banquet where they were served cured yellowtail fish, edible flower buds, shallots and cucumber marmalade with balsamic dressing and oscietra caviar.
The main dish included Wagyu tenderloin with Himalayan salt and Chardonnay mustard, charred baby lettuce topped with black truffle oil and Swiss cheese and potato puree.
They were treated with hazelnut crunch, passion fruit jelly and chocolate mousse, coconut and mango ice cream and salted caramel lime macaroon for dessert.
The group was serenaded by the ITE Jazz Ensemble which played a repertoire of Filipino tunes, local favorites and classical tunes.
The Singaporean government will be honoring Duterte here by having a class of orchid named after him, a seeming contradiction to his tough image with his war against corruption and criminality.
It has been a customary practice for Singapore to honor visiting heads of state by naming orchids after them.
Duterte arrived here at past midnight yesterday for a two-day state visit.
The Palace has not released information on the orchid species and its scientific name at press time but the ceremony will be held at the Singapore Botanic Gardens. After this, the President will give a speech before an estimated Filipino crowd of 7,000 at the Singapore Expo at 6 p.m.
Former president and now Pampanga Rep. Gloria Macapagal-Arroyo was also feted here after a locally bred orchid was named after her during her visit in 2001.
The red orchid called 'Rattanakosin' (scientific name Arachnis ishbel) was personally picked by Arroyo and was renamed Aranthera Gloria Macapagal-Arroyo in her honor.