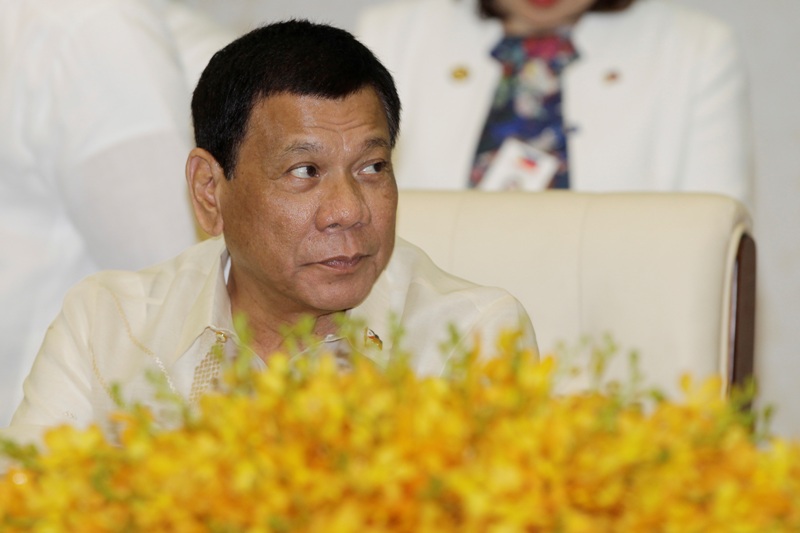 Philippine President Rodrigo Duterte attends a signing ceremony at the Peace Palace in Phnom Penh, Cambodia, Wednesday, Dec. 14, 2016. Duterte is on a state visit to Cambodia, where a meeting with Prime Minister Hun Sen will bring together two Southeast Asian leaders known for their tough-guy approach to governing. AP/Heng Sinith
Duterte keeps 'very good' rating; Public wary of cursing
MANILA, Philippines — President Rodrigo Duterte maintained his "very good" net satisfaction rating for the fourth quarter of this year, while the public expressed concern over his habit of cursing foreign officials.
The latest Social Weather Stations (SWS) showed that 77 percent of Filipinos were satisfied with the president's performance while 13 percent were dissatisfied.
The chief executive's +63 net satisfaction rating for this quarter is a one-point drop from his +64 rating last September.
READ: SWS: 76% of Filipinos satisfied with Duterte's performance
SWS classifies net satisfaction ratings of +50 to +69 as "very good."
Duterte scored the highest in Mindanao with a net rating of +74. This, however, is a significant drop from his +85 score in the region last quarter.
The chief executive scored +59 in the National Capital Region, +60 in balance Luzon and +61 in Visayas.
Among socioeconomic classes, the president obtained the highest net rating in Class D with +64 while he scored +61 in Class E. He obtained the lowest rating in Class ABC with +52.
Duterte's satisfaction rating is higher among men with +66 while his net rating among women is +61.
Meanwhile, 51 percent of Filipinos agreed that Duterte's habit publicly cursing foreign officials whom he does not like is harmful to the relations of the Philippines with the countries.
About 27 percent of the respondents strongly agreed while 24 percent somewhat agreed. However, 33 percent disagreed while 17 percent of the respondents were undecided.
The survey was conducted from December 3 to 6 among 1,500 respondents nationwide. The margin of error for national percentages is at ±3 percent.