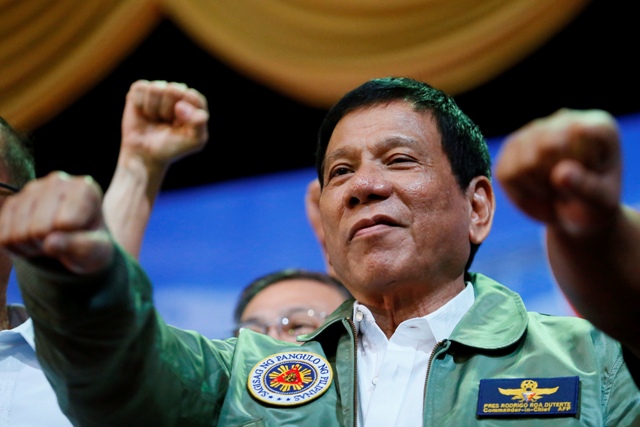 Duterte decries Hitler comparison
MANILA, Philippines — President Rodrigo Duterte lashed out at his critics who had been comparing him to Germany's Adolf Hitler.
The president called out the United Nations (UN), European Union (EU) and the United States (US) anew for criticizing his anti-drugs campaign in the country.
"Kaya kung ikaw nandito bakit hindi ka magmumura? (So if you are here, why wouldn't you curse?) You're portrayed or pictured to be some cousin of Hitler and yet do not even bother to find out, to investigate," Duterte said in his speech after arriving from Vietnam early Friday.
The president noted that Hitler killed three million Jews but said he is also willing to take down three million drug users to solve the drug issue in the Philippines.
"Hitler massacred three million Jews. Now, there are three million drug addicts. I'd be happy to slaughter them" Duterte said.
FACT CHECK: Are there 3 million drug addicts in the Philippines?
"At least if Germany had Hitler the Philippines would have... you know my victims, I would like to be all criminals to finish the problem of my country and save the next generation from perdition," the president added.
Duterte stressed that not a single case was filed against him when the Commission on Human Rights was looking into his alleged links with the Davao Death Squad during his term as mayor.
The international community has been criticizing Duterte's drug war due to the spate of extrajudicial and vigilante killings of drug suspects.
"Okay lang sa akin, sanay ako sa pulitika. Lahat ng kababuyan dumating na sa aking buhay. Pero itong mga ganito... look kayong US, EU you can call me anything but I was never into or I am never into hypocrisy like you," Duterte said.
The chief executive argued that both the EU and the US have closed its doors to migrants from the Middle East.
"There are migrants escaping from the Middle East. You allow them to rot and then you're worried about the deaths of about one thousand, or two thousand, or three thousand," the president said.
Duterte earlier said that he is willing to face investigation by the UN, the US and the EU over the killings of drug suspects as long as they follow Philippine laws.