Grace takes lead in SWS poll; Chiz, Bongbong tied
MANILA, Philippines - Days before the Supreme Court ruled she was qualified to run for president, Sen. Grace Poe emerged as the most popular among the candidates vying for the country's highest position, the latest survey by the Social Weather Stations (SWS) and newspaper BusinessWorld showed.
The survey was conducted from March 4 to 7 – nearly a month after the campaign started and days before the SC voted 9-6 on March 8 to reverse the decision of the Commission on Elections (Comelec) to cancel Poe's certificate of candidacy. The Comelec canceled her CoC on the grounds that she was not a natural-born citizen and unable to meet the residency requirement.
Poe, who is running as an independent candidate, was leading the race with 27 percent, up by three points from 24 percent in February.
Vice President Jejomar Binay of the opposition United Nationalist Alliance (UNA) took second spot with 24 percent, down from 29 percent last month.
Liberal Party standard-bearer Manuel Roxas II and PDP-Laban bet Davao City Mayor Rodrigo Duterte were tied for third and fourth slots, obtaining 22 percent (from 18 percent) and 21 percent (from 24 percent), respectively.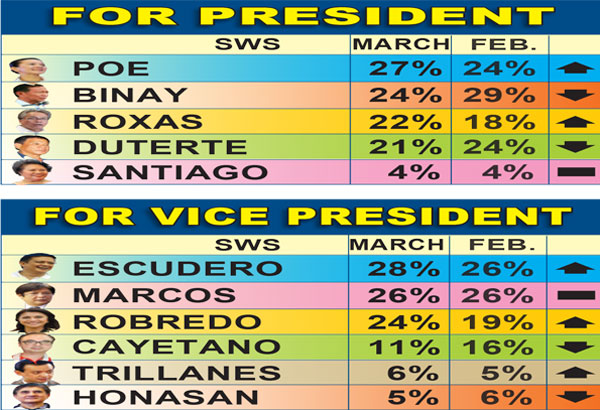 Sen. Miriam Defensor-Santiago of the People's Reform Party was at fifth and last with four percent, unchanged from the previous survey.
Meanwhile, the same survey also showed Senators Francis "Chiz" Escudero and Sen. Ferdinand "Bongbong" Marcos Jr. "statistically tied" for the top spot in the vice presidential race.
Escudero's score went up by two points to 28 percent, while Marcos' rating was flat at 26 percent. Escudero is the running mate of Poe, while Marcos is the vice presidential candidate of Santiago.
LP vice presidential candidate Camarines Sur Rep. Leni Robredo registered the biggest gain with 24 percent from 19 percent in February.
Sen. Alan Peter Cayetano, running mate of Duterte, obtained 11 percent, down from 16 percent.
Independent vice presidential bet Sen. Antonio Trillanes received six percent (from five percent), while UNA's vice presidential bet Sen. Gregorio Honasan II got five percent from six percent last month.
The survey used face-to-face interviews with 1,800 validated voters. It has a margin of error of plus or minus two percentage points.
Humbled
Poe's spokesman Valenzuela City Mayor Rex Gatchalian said she felt "humbled and grateful to the Filipino voting public who continue to stand by her candidacy despite all the negative attacks thrown her way."
"Their support serves as inspiration for her to continue to push for her platform of governance anchored on Gobyernong may Puso (government with a heart)," he said.
"The data from the survey will serve as guide for her next campaign moves. Our resolve is to remain focused on amplifying our message of inclusive governance," he added.
Interviewed by reporters in Iloilo, Poe said she would work even harder to share her platform of government to as many Filipinos across the country as possible.
Poe said that she is praying for her standing to improve further in the next survey, which would likely take into account the ruling of the SC in her favor.
In San Fernando, La Union, Binay downplayed the survey result, saying the warm response from the people in his campaign sortie matters to him more.
But he admitted it would also serve as a wake-up call for him.
"There is a wide difference between survey and reality. But it's a wake-up call for us," he said in Filipino.
Roxas, for his part, expressed elation at his improving numbers, saying it's an indication victory is within reach.
His spokesman, Akbayan party-list Rep. Ibarra Gutierrez, in a telephone interview claimed that Roxas is actually tied for second place with Binay, citing the plus or minus two percent margin of error.
"This (improvement in ratings) is a big deal. If you look at it, when we started (last year), people were saying we had no chance at all with four percent while my rival was at 50 percent but last week, Mar Roxas was at 20 percent while my rival was at 26 percent so this is now a close fight," Roxas told reporters in Filipino without naming anyone.
"Our countrymen are intelligent and they know that during elections, they get listen to promises but when they get to think about it, deep in their hearts, I believe that in the end, they will give their trust to me," he said.
"The main issue is who is the one trusted by the people? To whom will they entrust theirs and their children's future? That's the important question. Who has the track record of having done something?" he added.
He said it is also the same message of having a track record and clear vision for the country that boosted the ratings of Robredo, his running mate.
'Not so solid'
Roxas also pointed out the latest SWS survey has shown the so-called "Solid North" is not so solid after all, particularly for Marcos, Robredo's rival in the vice presidential race.
"Congresswoman Robredo's increase in ratings as vice presidential candidate is a very good sign," he said.
Robredo said she was very happy with the results of the latest poll.
"This good news was because of the sacrifices of our supporters, family and friends, who tirelessly give their time and hard work in campaigning in various parts of the country," she said.
The congresswoman said the survey has inspired her to double her efforts to bring her advocacies, plans and programs down to the grassroots.
"I'll campaign harder in the last weeks of the campaign," she added.
Gutierrez said the improvements in Roxas and Robredo's ratings were a "vindication of our slow and steady approach" in the campaign.
He said he expects their ratings to rise further when the local campaign starts on March 25 as the administration candidates would carry the tandem in their tickets.
At Malacañang, presidential spokesman Edwin Lacierda expressed belief it was President Aquino's continued endorsement of Roxas and Robredo that boosted their survey ratings.
"The Daang Matuwid Coalition endured – it is gaining ground as our fellow citizens continue to ask tough questions and demand concrete solutions from all the candidates," Lacierda said.
"The latest snapshot of public opinion reveals that the electorate is troubled by integrity questions against candidates," he said.
"At the same it time it shows the continuing consolidation and expansion of voter preference for the tandem of continuity, integrity, and reform," he pointed out.
Unbelievable
In Davao City, Duterte spokesman Peter Laviña called the survey results "simply unbelievable."
"The recent survey results that showed Duterte is slipping out of the presidential race is incredulous," Laviña pointed out.
"There is a growing suspicion that the results are being manipulated, similar to what we have seen in the manipulation of online polling immediately after the debates," he argued.
Mayor Leoncio Evasco of Maribojoc, Bohol, who is the national campaign manager of Duterte, likened the shifting voter preference of the Filipinos to the "sand dunes of Paoay."
"We take survey results seriously and we have seen several, including mock polls and social media trending, reinforcing the observation that Duterte is gaining more believers, adherents and converts," Evasco said.
Notwithstanding the survey results, Evasco said the public reception of Duterte is encouraging. "This has become more apparent the last couple of weeks as Mayor Duterte and Senator Alan Peter Cayetano covered more ground than anybody in the campaign trail," Evasco said.
"As we move along, we will continue to reach out to more people, urge them to mobilize and volunteer for the victory of Duterte and his running mate," he said.
But in Tacloban City where he visited survivors of Super Typhoon Yolanda, Duterte appeared unperturbed.
"Let it remain that way, let the people decide," Duterte told reporters. – With Marvin Sy, Delon Porcalla, Alexis Romero, Edith Regalado, Paolo Romero, Janvic Mateo, Jun Elias