World's first dengue vaccine now available in Philippines
MANILA, Philippines – The world's first ever dengue vaccine is now available in the country, and doctors in several private hospitals are providing the vaccine against the potentially deadly dengue virus, the Pediatric Infectious Disease Society of the Philippines (PIDSP) reported yesterday.
Sally Gatchalian, PIDSP president, said the vaccine could be given to any healthy individual aged nine to 45 "unless they are immune-compromised."
"That is why children and adults should visit their doctors first so they could be assessed prior to vaccination," Gatchalian said.
Chit Santos, Sanofi-Aventis Philippines country manager, said the first shipment of dengue vaccine has arrived in the country and is ready for the market.
"The shipment arrived last week and we have already distributed the vaccine to some private medical practitioners so children can visit their doctors and get the dengue vaccine," Santos reported.
Santos said the Philippines is the first country in the world to have access to the vaccine, although Mexico was the first to have it licensed for the market.
The Food and Drug Administration (FDA) approved the distribution of the dengue vaccine in the country last December.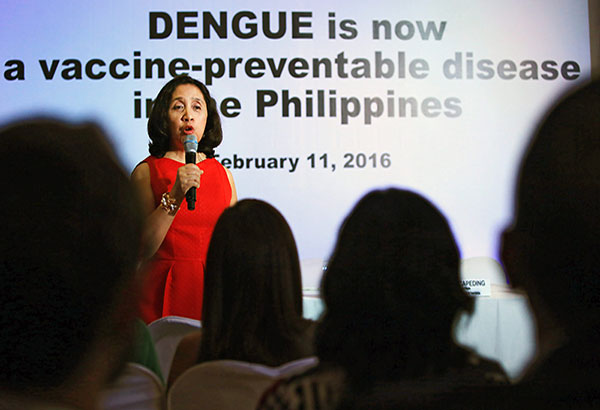 Rose Capeding, chief of the Research Institute for Tropical Medicine's department of microbiology, gives a briefing on the dengue vaccine at the Zuellig Pharma Corp. laboratories in Pasay City yesterday. EDD GUMBAN
Gatchalian said medical experts are encouraging the public to get vaccinated so they could protect themselves from the devastating disease.
"The price of the vaccine is reasonable and affordable considering the cost of hospitalization, aside from the trauma and psychological impact of dengue," Gatchalian noted.
Rose Capeding, Research Institute for Tropical Medicine department of microbiology chief, said the annual economic cost of dengue is P16.7 billion in the Philippines.
Capeding further noted that 3.9 billion people worldwide live in dengue-endemic countries and 390 million of them get infected with the virus annually.
The dengue vaccine, according to her, was developed after more than 20 years of studies and clinic trials involving 40,000 people in 15 countries, including the Philippines. Those who participated in the trials were monitored for 25 months and have not manifested any dangerous side effect, except for the minimal effect common to other vaccines.
Capeding said studies are continuing to determine if it could provide lifetime protection from the illness.
Cecilia Montalban, Philippine Foundation for Vaccination president, said there is no vaccine that could provide 100 percent guarantee of protection from an illness, "but having dengue vaccine can provide huge benefits."
Rose de los Reyes, Philippine Society of Microbiology and Infectious Disease president, said the Department of Health (DOH) would be providing free dengue vaccines to public school students in three regions.