TAGBILARAN CITY, Philippines – Masses were held and church bells pealed for 33 seconds as Bohol commemorated the powerful earthquake that struck the Visayas a year ago yesterday.
Rehabilitation efforts have yet to commence in 20 town halls damaged by the 7.2 magnitude earthquake, which affected three million people, leaving about 200 people dead and 800 injured.
Provincial officials called it "a day of prayer and a day of thanksgiving."
They admitted they could not start the reconstruction of their town halls without advice from building experts and engineers on how to be earthquake resilient.
Sagbayan town Mayor Rex Albert Manliguez asked Interior and Local Government Secretary Manuel Roxas II to help them come up with a standard design for a municipal hall.
Roxas met with the local officials led by Bohol Gov. Edgar Chatto to assess the recovery and rehabilitation efforts in the province a year after the earthquake.
"So you have yet to start the reconstruction?" Roxas asked the mayors present during the Provincial Disaster Risk Reduction and Management Council (PDRRMC) assessment held at the Tropics Hotel here yesterday.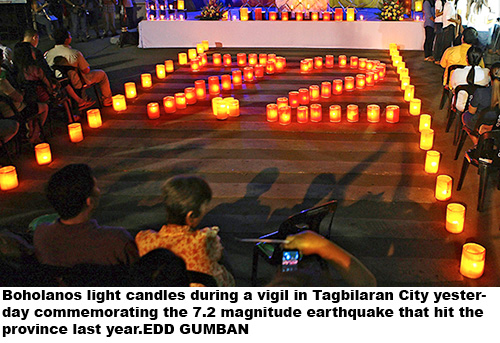 Roxas said there should be a template for 1,066 projects in the province, most of which are municipal and barangay halls and public markets.
Manliguez asked Roxas if his department could assist them in coming up with the programs of work.
Roxas told reporters after the meeting that he was disappointed to learn that no clear rehabilitation efforts have started despite the release of funds from the national government.
"My point is, if we say the water system has yet to be bidded, potentially the water could not be safe for drinking," he said.
Roxas, however, was quick to say there should be no finger pointing. He called on all concerned to get their act together and start the rehabilitation efforts.
On June 6, following orders of President Aquino, Roxas turned over to the provincial government some P2.6 billion for the rehabilitation and reconstruction of municipal halls, public markets and barangay halls.
As a policy, however, the money will not be released to the local government units unless the local officials concerned will present a program of work for municipal hall, public markets and barangay halls.
Roxas said the DILG will tap 15 engineers to help in designing the structures in areas damaged by the earthquake.
He also asked representatives from the Department of Public Works and Highway (DPWH) to help the local government units prepare a standard design.
With the hiring of new engineers, Roxas expects to get design template after a month.
Chatto earlier told Manila-based reporters that the province has recovered about 70 percent from the earthquake's aftermath.
"Bohol has moved on and continues to work for the fast tracking of the recovery of the province," Chatto added.
"We are looking at the vibrant economy of Bohol. Bumalik na ang sigla ng Bohol," he said.