Military base in West Philippine Sea? China skirts query
Camille Diola
(The Philippine Star) - September 10, 2014 - 10:55am
MANILA, Philippines — Insisting that it has the right to do so, Beijing barely answered reporters' questions on why it is building islands in South China Sea areas claimed by the Philippines.
Asked about BBC's coverage of the large-scale reclamation work in the waters, China Ministry of Foreign Affairs spokesperson Hua Chunying said that China "asserts indisputable sovereignty" over Spratlys group of islands and adjacent waters.
"China's activities on relevant islands and reefs of the Nansha Islands fall entirely within China's sovereignty and are totally justifiable," Hua said in the transcription of the press conference on Tuesday.
Hua also indirectly answered a question on whether the islands being build on the contested area is for business or military purposes.
"As far as I know, the construction work China does on relevant islands is mainly for the purpose of improving the working and living conditions of people stationed on these islands," she said.
On Tuesday, the British media firm released a special report on China's Island Factory near the Philippine-claimed Mabini (Johnson South) Reef amid the United States' push for a moratorium on provocative activities in the disputed strategic waterway.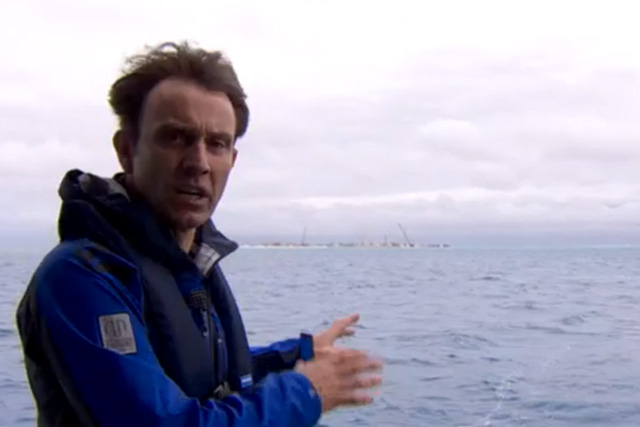 BBC reporter Rupert Wingfield-Hayes shows China's reclamation work on Johnson South (Mabini) Reef in West Philippine Sea in telecast Tuesday. BBC video screencap
The BBC report noted China's massive dredging work the past months and presented footage of new islands being constructed through reclamation.
"What exactly they're building here, no one is really sure. They may just be making a bigger island. They may be building a new port here. But there are some reports, especially from the Philippine government, that this is where [China] is going to build [its] new air base," BBC journalist Rupert Wingfield-Hayes said in the report broadcast globally.
READ: Hagel warns China vs. Ayungin, Mabini Reef actions
Hua was asked how come the purpose of the islands is for the improvement of lives when there are no inhabitants yet. She only responded, "I have already answered your question."
In June, the Department of Foreign Affairs released aerial photos of the development of China's reclamation work from March 2012 to March 2014 in what the Philippines considers part of its 200-nautical mile exclusive economic zone.
Manila also lodged a diplomatic protest on the reclamation work, which was similarly condemned by the United States as potential threats to the freedom of navigation and overflight in the major trading route.
RELATED: Designs of China's planned base on Mabini Reef surface