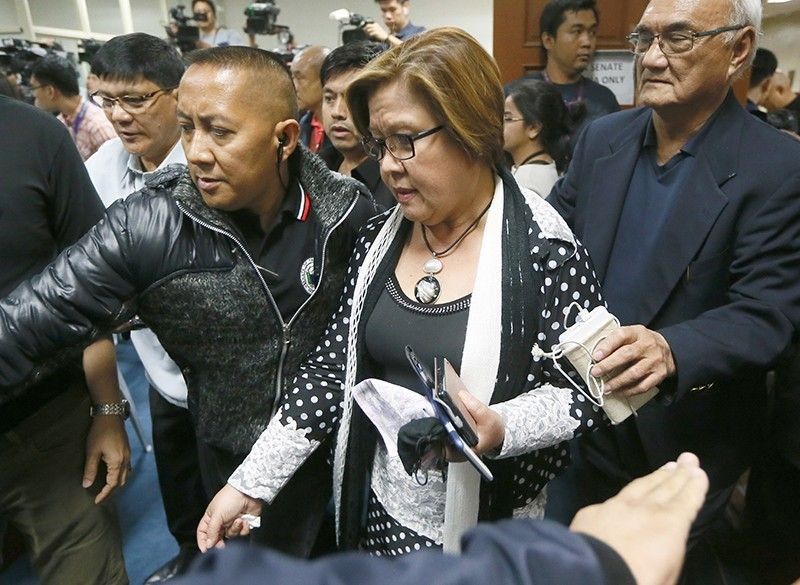 De Lima while in detention
LATEST UPDATE: September 30, 2019 - 12:19pm
LOCATION:
MANILA PHILIPPINES
+ Follow Story
September 30, 2019
The Palace again says a proposal by US senators to ban officials linked to the detention of Sen. Leila De Lima from entering the US is an interference into the Philippines' domestic affairs.
Panelo says proposed US ban on Phl officials involved in de Lima detention an "interference" into Phl affairs, insists no abuses committed when the senator was arrested and detained | via @alexisbromero

Watch the livestream here: https://t.co/a1DuROcWnv

— Philstar.com (@PhilstarNews) September 30, 2019
He adds he does not mind being barred entry to the US.
September 28, 2019
Erin Tañada, Liberal Party vice president for external affairs says the action of a US Senate panel that approved the ban of Philippine officials who jailed Sen. Leila de Lima may affect the underlings of the Duterte administration, including boxing fans.
"Gauging from President Duterte's earlier aversion toward the US, this ban being pushed by the US Senate committee may not have a big dent on the chief executive himself," says Tañada.
"But maybe his underlings are silently beginning to get jittery, especially those who love going on so-called official trips to the US and boxing fans who fill the front row of the sports arenas like it is the session hall," he adds.
September 27, 2019
Sen. Kiko Pangilinan says they support the move of a US Senate committee that approved a proposal to prohibit the entry of Philippine government officials involved in the "politically-motivated" detention of Sen. Leila de Lima.
"We welcome this move of the US Senators, an act of solidarity not only for Sen. Leila de Lima, but for all the murdered victims, and their orphans, widows, and mothers and fathers, who are now doubly burdened by the absence of a loved one and in many, many cases a family breadwinner," says Pangilinan.
"We are encouraged that a growing number of world leaders recognize the unjust detention of Sen. Leila De Lima for fighting for the lives of our people. This US Senate action, as well as the Iceland UN resolution, shows that we are not alone in this fight," he adds.
September 18, 2019
The Muntinlupa Regional Trial Court cancels its hearing on Criminal Case No. 167 against Sen. Leila De Lima and others, her lawyer, Filibon Tacardon says.
Tacardon told reporters that Jehn Louie Velandrez, lawyer of De Lima's former bodyguard Joenel Sanchez, was not at the hearing to cross-examine Reynante Diaz, a witness for the prosecution.
"Unfortunately, Attorney Velandrez was not notified of today's hearing and didn't attend. And this prompted the court to cancel the hearing. Per our inquiry, the prosecution will be presenting Nonilo Arile next week, September 25, as their next witness," he says.
September 11, 2019
Sen. Leila De Lima, who is detained at the Philippine National Police Custodial Center on drug charges that she says are politically motivated, says the government's claim that she has influence in New Bilibid Prison is "insanity in its most diabolical form."
President Rodrigo Duterte has ordered witnesses in the drug cases against her, among them convicts of drug-related crimes, transferred to the Marine barracks in Taguig City, saying there is a danger that De Lima's supposed allies at the national penitentiary.
"In Duterte's twisted mind, I'm that powerful! So powerful that I can actually command my alleged NBP 'allies' to harm or assassinate their fellow inmates! This is insanity in its most diabolical form!" De Lima, who communicates through handwritten notes sent through her staff, says.
She says the witnesses were transferred because the administration "[needs] to give them further special treatment in exchange for falsely testifying against me, if not to further threaten, coerce and pressure them into standing by their grossly fabricated tales about me. In sum, more orchestrated lies!"
August 28, 2019
"People know who are, and are not, the real victims of political persecution," Sen. Leila De Lima says of opposition to allowing her to attend Senate sessions via teleconferencing.
Sen. Bong Revilla, who was detained at the Philippine National Police Custodial Center on graft charges filed while De Lima was Justice secretary, is among the senators opposed to the resolution, which was filed by Sens. Franklin Drilon and Panfilo Lacson.
Revilla has maintained he was a victim of selective justice under the Aquino administration.
August 27, 2019
Senate President Pro Tempore Ralph Recto says he supports a resolution filed by Senate Minority Leader Franklin Drilon and Sen. Panfilo Lacson to allow Sen. Leila De Lima to participate in Senate sessions remotely.
"She may be imprisoned, but Senator Leila remains an incumbent, who, lest we forget, was elected by 14.1 million citizens of this country," Recto says in a statement released on De Lima's birthday.
"Her being behind bars, on charges she has not been convicted yet, should not be a bar in the performance of her duties, especially the aspect which, thanks to technology, can be rendered remotely," he says.
"If ordinary workers can now work from home, courtesy of the Telecommuting Law which President Duterte signed into law last December, then Senator de Lima can certainly do it from her prison cell," he says.
August 27, 2019
Sen. Leila De Lima, who is marking her third birthday at the Philippine National Police Custodial Center, says that she is "wiser but humbler" at 60 years old.
"Life's detours and lessons have a palpable humbling effect," she says.
"I will however remain defiant, fighting for the causes of truth, justice and human rights."
She says she did not expect to turn 60 behind bars
"Aside from imagining myself as a card holder (which I cannot use anyway while I remain locked up), I'll be reflecting on my life's triumphs and failures. Saan ako nagkulang, saan ako sumobra o nagmalabis," she says in a statement.
August 25, 2019
The family of opposition Sen. Leila de Lima prays for freedom and vindication for the solon as she celebrates her 60th birthday on August 27.
"Patuloy na ipinagdadasal ni Senator Leila de Lima, at ipinagdarasal din po namin. na sana po ay makalaya na siya kasi po wala naman po siyang kasalanan dun sa mga charge sa kanya," says Vicente de Lima II in a radio interview over DZRH's "Aksyon Kababaihan."
"Isa din po na gusto niyang sabihin ay patuloy po ang pagmamahal niya sa ating bayan."
August 17, 2019
Detained Sen. Leila de Lima says that Jose Adrian "Jad" Dera, who was arrested after two years in hiding, is not related to her.
"He's not a nephew or an aide ("alalay") or whatever. I don't know this guy from Adam. No connections whatsoever to me," says De Lima.
"This story about his alleged delivery of money to me from Bilibid inmates is but another grand work of fiction. A never-ending tale of lies," she adds.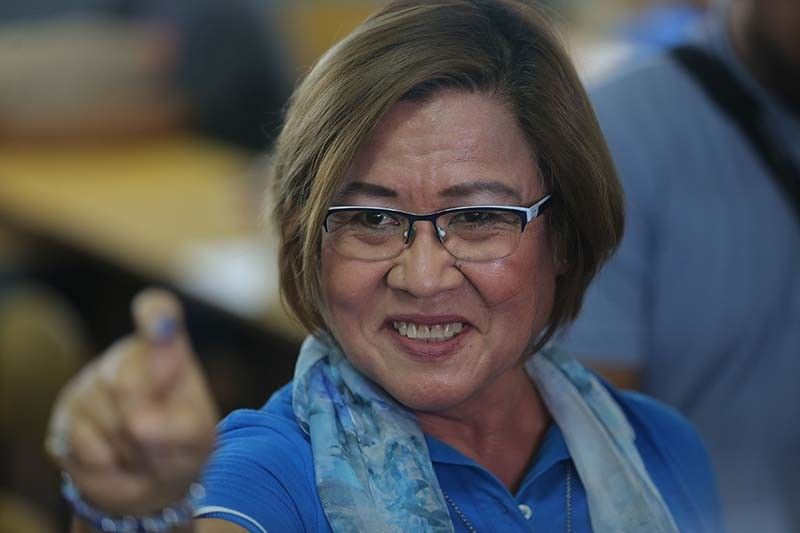 August 15, 2019
Sen. Leila De Lima is in Iriga City in Camarines Sur after being granted furlough by the courts to visit her mother, who is critically ill.
According to TV reports, De Lima arrived in Legazpi City in Albay past 6 a.m.
Although the courts allowed her to leave the PNP Custodial Center, where she has been detained on drug-related charges, she is barred from giving media interviews, using communcation gadgets and from meeting political figures.
August 14, 2019
Three courts have granted detained Sen. Leila De Lima's petition for furlough to visit her ailing mother.
Three Muntinlupa courts hearing the government's drug cases against Sen. De Lima allow her to visit her ailing mother in Iriga City. | @kristinepatag pic.twitter.com/gPBLXypL9V

— Philstar.com (@PhilstarNews) August 14, 2019
The Palace earlier said it would not interfere in pending cases and Justice Secretary Menardo Guevarra said the department would not oppose De Lima's request for humanitarian reasons.
May 11, 2019
Sen. Panfilo Lacson tweets in disagreement to detained Sen. Leila de Lima who says she foresees that the Senate will readily submit to the Duterte administration's charter change agenda.
"I will have to disagree with Sen. De Lima on this," Lacson says on the microblogging platform. "We crossed party lines to resist and fight all attempts by the [House of Representatives] to employ all the tricks and threats in their arsenal to railroad Charter change."
"We succeeded. There is no reason why we will fail in the 18th Congress," he adds.
De Lima earlier warned in a statement that the radical shift of the current form of government to federalism will happen if Monday's midterm election allows Duterte's allies to secure senate seats.
"Kapag nagtagumpay ang Pederalismo ni Duterte, sya mismo ay tila may maitim na balak na manatili sa pwesto hanggang sampung taon sa ilalim ng tinatawag na 'transition period' na nakasaad sa panukalang Cha-cha," De Lima said.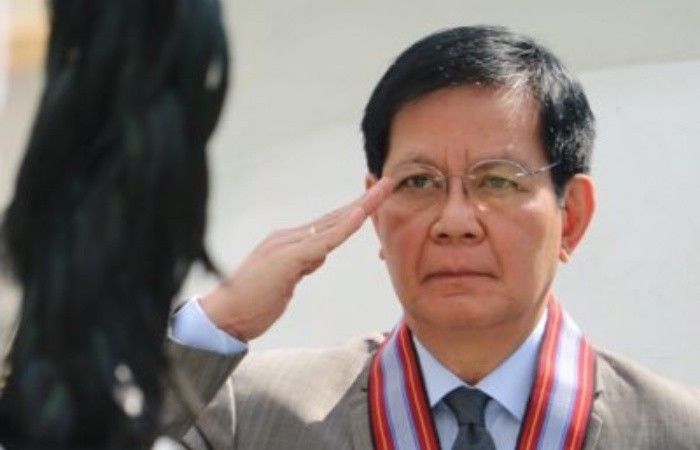 May 7, 2019
The Muntinlupa Regional Trial Court Branch 205 approves detained Sen. Leila de Lima's request for a furlough so she can vote in the May 13 elections.
February 24, 2019
Vice President Leni Robredo says it is a "sad commentary of the state of our justice system" that Sen. Leila de Lima, an outspoken critic of the Duterte administration, can languish in detention for two years on drug charges, despite the glaring absence of physical evidence.
She adds in a statement that the accusations were based on the "mere say-so" of convicted drug dealers currently serving prison sentences in the national penitentiary.
"It both captures and mirrors the frustration of thousands of Filipinos, particularly those bereft of wealth or privilege, whose lives, freedom, and meager fortunes are ground down by a justice system that turns both slowly and erratically, and whose obscure movements seem only too pliant to those with power."
Today marks De Lima's second year in detention.
Robredo notes that the senator's detention was characterized by Philippine and foreign legal experts, as well as various international institutions, as "politically motivated" and "arbitrary."
October 21, 2018
The Inter-Parliamentary Union has resolved to send an official mission to look into the perceived political persecution of Sen. Leila de Lima, the senator's office says.
The IPU misison will also look into the government's moves to arrest Sen. Antonio Trillanes IV, another critic of the Duterte administration.
De Lima's office says the union has adopted separate resolutions at the 139th IPU Assembly in Geneva, Switzerland last week expressing concern over the cases against De Lima and Trillanes.
De Lima is in government custody on drug-related charges while the government has revived cases against Trillanes after President Rodrigo Duterte voided amnesty granted to him for mutinies against the administration of President Gloria Macapagal-Arroyo in 2003 and 2007.
October 2, 2018
Muntinlupa Regional Trial Court Branch 206 has rescheduled its hearing into drug-related charges against Sen. Leila De Lima.
HEARING CANCELLED FOR 2ND TIME – Opposition Senator Leila M. de Lima leaves the Court Room of the New Bilibid Prison, in Muntinlupa City after the Muntinlupa City Regional Trial Court Branch 206 cancelled for the second time its hearing on the trumped-up drug charges against her. pic.twitter.com/qnMvJjEflQ

— Leila de Lima (@SenLeiladeLima) October 2, 2018
It was reset, however, because lawyers for co-accused Ronnie Dayan and Joenel Sanchez failed to attend.
August 27, 2018
On the occasion of Sen. Leila de Lima's birthday, Amnesty International calls for the dropping of "politically motivated charges" against her and "ensure her immediate unconditional release."
In a statement, the human rights organization insists that charges against De Lima, who remains in detention, are "completely fabricated" and are based on "orchestrated lies."
"Amnesty International reiterates that Senator de Lima is a victim of political persecution, and that the charges against her clearly stem from her criticism of President Duterte's 'war on drugs.' which has resulted in extrajudicial execution of thousands of suspected drug offenders and other human rights violations," the group says.
June 28, 2018
New Senate President Vicente Sotto III visits detained colleague, Leila de Lima, who's a vocal critic of President Duterte.
"Binisita ko si Sen. De Lima para makita ang kanyang kalagayan," Sotto says in a statement.
"Pinagusapan din namin ang mga bills na kanyang sinusulong at kung papaano siya makakasama sa mga hearings," he adds.
Human rights organizations hail De Lima as a hero for her opposition to Duterte's brutal war on drugs and other controversial policies. They also maintain that the senator is a political victim detained on trumped-up drug charges.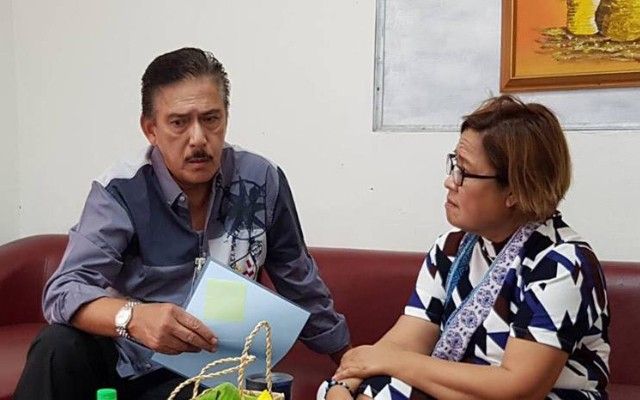 March 10, 2018
The Muntinlupa Regional Trial Court approved Sen. Leila de Lima's request for a one-day medical break so she can go the Philippine Heart Center in Quezon City.
Sen. Leila de Lima on Saturday marked the first year of her detention at the Philippine National Police detention center in Quezon City.
Ahead of the anniversary of her arrest, the Senate minority and various rights groups called on the Philippine government to release her immediately.
The Department of Justice initially charged De Lima for drug trading, but over the months, the state prosecutors filed motions to amend the charges and indict the senator on conspiracy to commit drug trading instead.
De Lima is known as one of the most outspoken critics of President Rodrigio Duterte's administration.