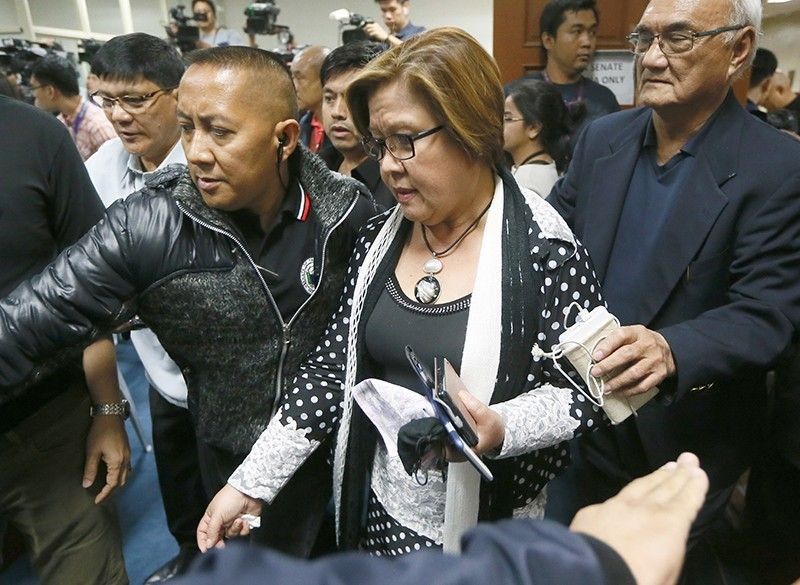 De Lima while in detention
LATEST UPDATE: August 25, 2019 - 12:51pm
LOCATION:
MANILA PHILIPPINES
+ Follow Story
13 hours ago
The family of opposition Sen. Leila de Lima prays for freedom and vindication for the solon as she celebrates her 60th birthday on August 27.
"Patuloy na ipinagdadasal ni Senator Leila de Lima, at ipinagdarasal din po namin. na sana po ay makalaya na siya kasi po wala naman po siyang kasalanan dun sa mga charge sa kanya," says Vicente de Lima II in a radio interview over DZRH's "Aksyon Kababaihan."
"Isa din po na gusto niyang sabihin ay patuloy po ang pagmamahal niya sa ating bayan."
August 17, 2019
Detained Sen. Leila de Lima says that Jose Adrian "Jad" Dera, who was arrested after two years in hiding, is not related to her.
"He's not a nephew or an aide ("alalay") or whatever. I don't know this guy from Adam. No connections whatsoever to me," says De Lima.
"This story about his alleged delivery of money to me from Bilibid inmates is but another grand work of fiction. A never-ending tale of lies," she adds.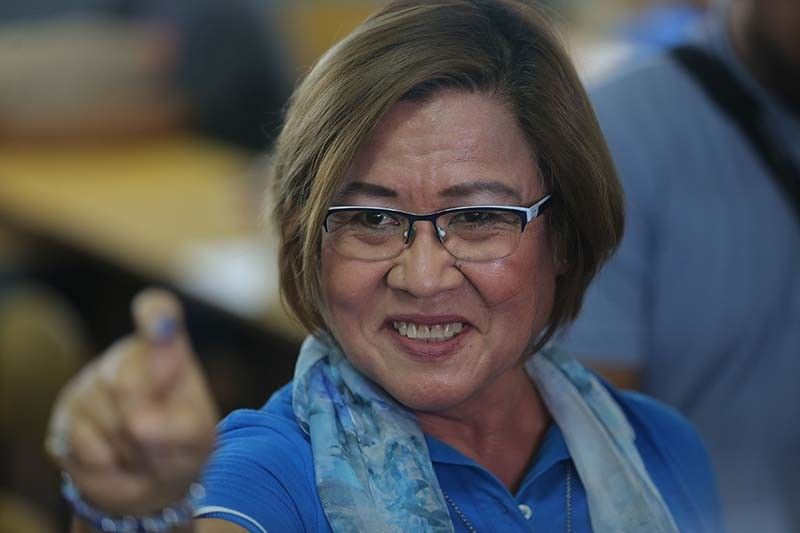 August 15, 2019
Sen. Leila De Lima is in Iriga City in Camarines Sur after being granted furlough by the courts to visit her mother, who is critically ill.
According to TV reports, De Lima arrived in Legazpi City in Albay past 6 a.m.
Although the courts allowed her to leave the PNP Custodial Center, where she has been detained on drug-related charges, she is barred from giving media interviews, using communcation gadgets and from meeting political figures.
August 14, 2019
Three courts have granted detained Sen. Leila De Lima's petition for furlough to visit her ailing mother.
Three Muntinlupa courts hearing the government's drug cases against Sen. De Lima allow her to visit her ailing mother in Iriga City. | @kristinepatag pic.twitter.com/gPBLXypL9V

— Philstar.com (@PhilstarNews) August 14, 2019
The Palace earlier said it would not interfere in pending cases and Justice Secretary Menardo Guevarra said the department would not oppose De Lima's request for humanitarian reasons.
May 11, 2019
Sen. Panfilo Lacson tweets in disagreement to detained Sen. Leila de Lima who says she foresees that the Senate will readily submit to the Duterte administration's charter change agenda.
"I will have to disagree with Sen. De Lima on this," Lacson says on the microblogging platform. "We crossed party lines to resist and fight all attempts by the [House of Representatives] to employ all the tricks and threats in their arsenal to railroad Charter change."
"We succeeded. There is no reason why we will fail in the 18th Congress," he adds.
De Lima earlier warned in a statement that the radical shift of the current form of government to federalism will happen if Monday's midterm election allows Duterte's allies to secure senate seats.
"Kapag nagtagumpay ang Pederalismo ni Duterte, sya mismo ay tila may maitim na balak na manatili sa pwesto hanggang sampung taon sa ilalim ng tinatawag na 'transition period' na nakasaad sa panukalang Cha-cha," De Lima said.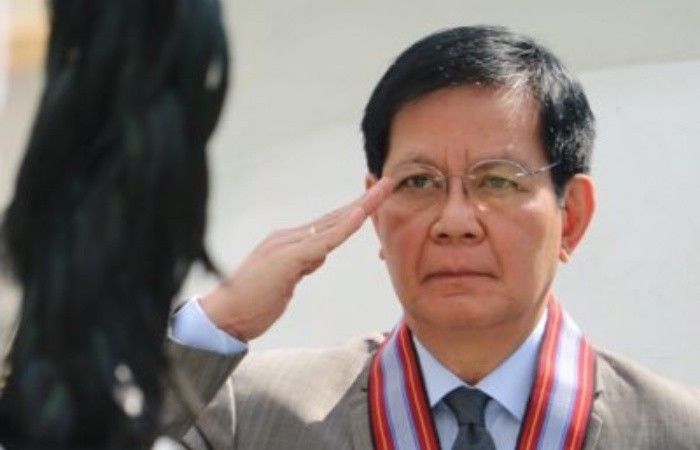 May 7, 2019
The Muntinlupa Regional Trial Court Branch 205 approves detained Sen. Leila de Lima's request for a furlough so she can vote in the May 13 elections.
February 24, 2019
Vice President Leni Robredo says it is a "sad commentary of the state of our justice system" that Sen. Leila de Lima, an outspoken critic of the Duterte administration, can languish in detention for two years on drug charges, despite the glaring absence of physical evidence.
She adds in a statement that the accusations were based on the "mere say-so" of convicted drug dealers currently serving prison sentences in the national penitentiary.
"It both captures and mirrors the frustration of thousands of Filipinos, particularly those bereft of wealth or privilege, whose lives, freedom, and meager fortunes are ground down by a justice system that turns both slowly and erratically, and whose obscure movements seem only too pliant to those with power."
Today marks De Lima's second year in detention.
Robredo notes that the senator's detention was characterized by Philippine and foreign legal experts, as well as various international institutions, as "politically motivated" and "arbitrary."
October 21, 2018
The Inter-Parliamentary Union has resolved to send an official mission to look into the perceived political persecution of Sen. Leila de Lima, the senator's office says.
The IPU misison will also look into the government's moves to arrest Sen. Antonio Trillanes IV, another critic of the Duterte administration.
De Lima's office says the union has adopted separate resolutions at the 139th IPU Assembly in Geneva, Switzerland last week expressing concern over the cases against De Lima and Trillanes.
De Lima is in government custody on drug-related charges while the government has revived cases against Trillanes after President Rodrigo Duterte voided amnesty granted to him for mutinies against the administration of President Gloria Macapagal-Arroyo in 2003 and 2007.
October 2, 2018
Muntinlupa Regional Trial Court Branch 206 has rescheduled its hearing into drug-related charges against Sen. Leila De Lima.
HEARING CANCELLED FOR 2ND TIME – Opposition Senator Leila M. de Lima leaves the Court Room of the New Bilibid Prison, in Muntinlupa City after the Muntinlupa City Regional Trial Court Branch 206 cancelled for the second time its hearing on the trumped-up drug charges against her. pic.twitter.com/qnMvJjEflQ

— Leila de Lima (@SenLeiladeLima) October 2, 2018
It was reset, however, because lawyers for co-accused Ronnie Dayan and Joenel Sanchez failed to attend.
August 27, 2018
On the occasion of Sen. Leila de Lima's birthday, Amnesty International calls for the dropping of "politically motivated charges" against her and "ensure her immediate unconditional release."
In a statement, the human rights organization insists that charges against De Lima, who remains in detention, are "completely fabricated" and are based on "orchestrated lies."
"Amnesty International reiterates that Senator de Lima is a victim of political persecution, and that the charges against her clearly stem from her criticism of President Duterte's 'war on drugs.' which has resulted in extrajudicial execution of thousands of suspected drug offenders and other human rights violations," the group says.
June 28, 2018
New Senate President Vicente Sotto III visits detained colleague, Leila de Lima, who's a vocal critic of President Duterte.
"Binisita ko si Sen. De Lima para makita ang kanyang kalagayan," Sotto says in a statement.
"Pinagusapan din namin ang mga bills na kanyang sinusulong at kung papaano siya makakasama sa mga hearings," he adds.
Human rights organizations hail De Lima as a hero for her opposition to Duterte's brutal war on drugs and other controversial policies. They also maintain that the senator is a political victim detained on trumped-up drug charges.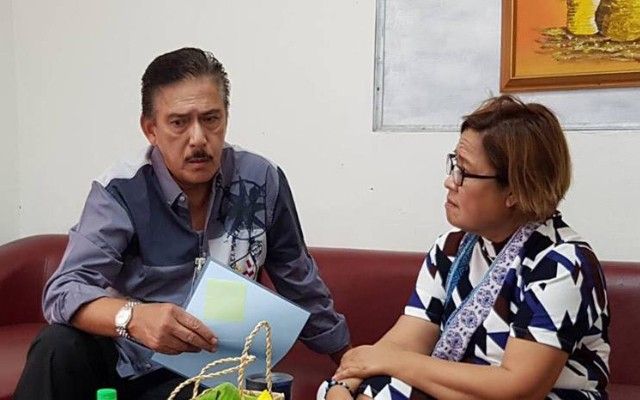 March 10, 2018
The Muntinlupa Regional Trial Court approved Sen. Leila de Lima's request for a one-day medical break so she can go the Philippine Heart Center in Quezon City.
Sen. Leila de Lima on Saturday marked the first year of her detention at the Philippine National Police detention center in Quezon City.
Ahead of the anniversary of her arrest, the Senate minority and various rights groups called on the Philippine government to release her immediately.
The Department of Justice initially charged De Lima for drug trading, but over the months, the state prosecutors filed motions to amend the charges and indict the senator on conspiracy to commit drug trading instead.
De Lima is known as one of the most outspoken critics of President Rodrigio Duterte's administration.