Philippine Philharmonic Orchestra goes to Tagaytay
September 3, 2014 | 4:47pm
CAVITE, Philippines — The Philippine Philharmonic Orchestra had a one-night concert, exclusive for the members of Tagaytay Highlands on Saturday, August 30.
Cultural Center of the Philippines partnered with Tagaytay Highlands to reach out and bring the music of PPO to the people to southerners, and in celebration of the latter's 20th anniversary.
This one-night concert also served as a preview of PPO's 32nd Musical Season, which will happen starting September 12 until Apr. 24, 2015.
Through the concert, the club members get tickets to PPO's eight-night show on a discount.
"It helps. We're reaching out to various markets," said CCP Marketing Head Winston Santiago, referring to PPO's show in Tagaytay Highlands. "We want to go all over the country if possible."
CCP and the club have also chosen Down Syndrome Association of the Philippines as beneficiary.
In every subscription made by the club members, twenty percent will aid the causes of the association and raise awareness on the medical care needs of special children.
"We also wanted to do concerts that can give something back to underprivileged," Santiago said.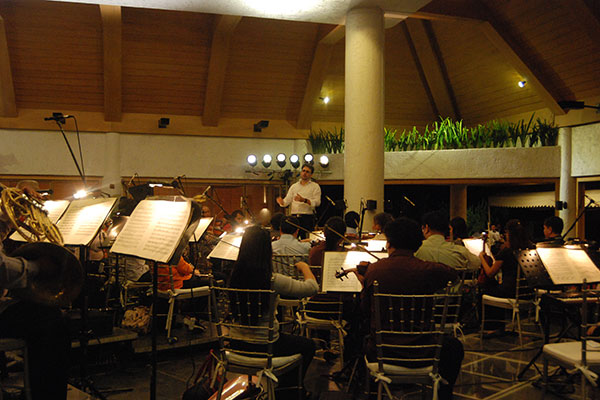 Philippine Philharmonic Orchestra conducted by Olivier Ochanine
The Philippine Philharmonic Orchestra, conducted by Olivier Ochanine, performed some classical pieces, and songs from Broadway musicals like "Phantom of the Opera" and "The Sound of Music."
They also showcased songs by Filipino composers like Louie Ocampo's "Yakapin Mo Ako" and Freddie Aguilar's "Anak."
After the concert, Ochanie told the audience, "I hope you enjoyed the show and I hope to see, if not all, but most of you at the CCP theater."