Ella Cruz plays a member of the first family in film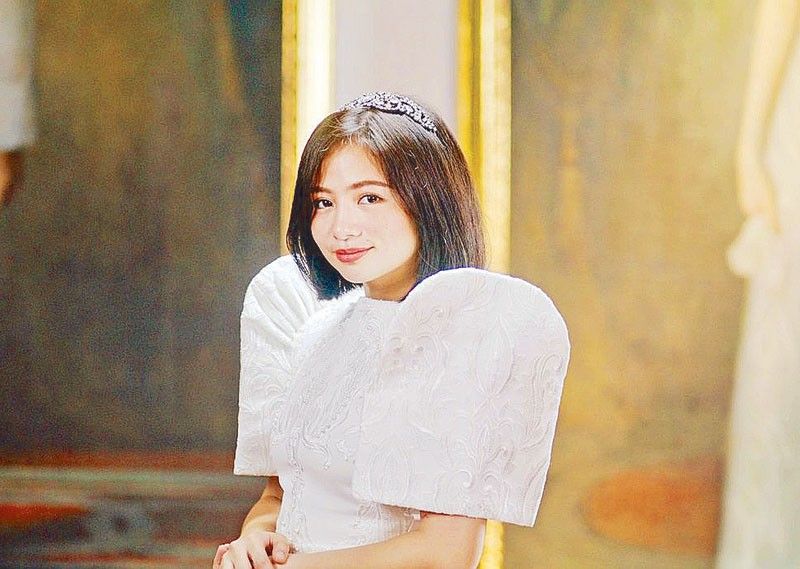 MANILA, Philippines — "Please be gentle."
That was what Ella Cruz told fans in our interview as she takes on the role of Irene Marcos-Araneta, the arts patron and third child of the late President Ferdinand Marcos Sr. in Maid in Malacañang.
Everything about the film is controversial, including the set location, which is the Marcos mansion in San Juan, as well as the Marcos loyalist actors such as Waray Karla Estrada and Bicolana Elizabeth Oropesa.
The film is spearheaded by Boss Vic del Rosario of Viva Films with the approval of Sen. Imee Marcos. The family archaeologist and historian Eliza Romualdez-Valtos was tapped as a consultant and researcher to depict a very accurate look of the last three days of the family in Malacañang back in 1986. So, expect top-notch fashion, history and art besides the acting.
The whole cast — from Cesar Montano playing the late President, Ruffa Gutierrez as former First Lady Imelda Romualdez Marcos, Cristine Reyes as Imee, Diego as PBBM, Ella as Irene to Lana Puda as Little Aimee — signed a non-disclosure agreement so as to not pre-empt the movie.
As for us covering the film, it is not the first time that we have visited the Marcos mansion in San Juan. So, when we got a glimpse of it during the filming of Maid in Malacañang just this week, we saw how it was pleasantly transformed into a palace setting with all the elegant antiques, photographs and artworks still in display for the viewers to watch out for come July 18.
Sen. Imee already shut down thoughts of historical revisionism by saying this during her opening message for the film's recent media conference: "We're not looking for controversy, but unfortunately, there would have to be some truths told and lies debunked."
The stars of the film are veterans but they are honest in sharing that embarking on the film is nerve-racking.
"You know, I have been in the industry for more than 30 years, but I don't know why I'm so nervous today. Hahaha! I'm nervous but I'm excited," said Ruffa.
For Ella, who was born post-1986 but will dive into the story from the past, she recalled how history was tackled in school and how she is open to hear the other side of history through the film.
She also shared this during our one-on-one interview with her: "History is like tsismis. It is filtered and dagdag na rin, so, hindi natin alam what is the real history. Andoon na iyong idea, pero may mga bias talaga. As long as we're here alive at may kanya-kanyang opinion, I respect everyone's opinion."
Maid in Malacañang is described as a family movie with a "reliable source" from the Marcos side that Ella empathized with upon learning about the project, as she referred to the Marcos siblings in this, saying, "Kasi struggling na eh, last three days! Kahit naman sila struggling even right now, di ba? So, paano kaya iyon na there (was) so much pressure on their side during those times?"
Aside from the 31 million plus voters of BBM, she hopes that the rest of the audiences will have an open mindin watching the film that Ella and fellow actors have been working hard on these days.