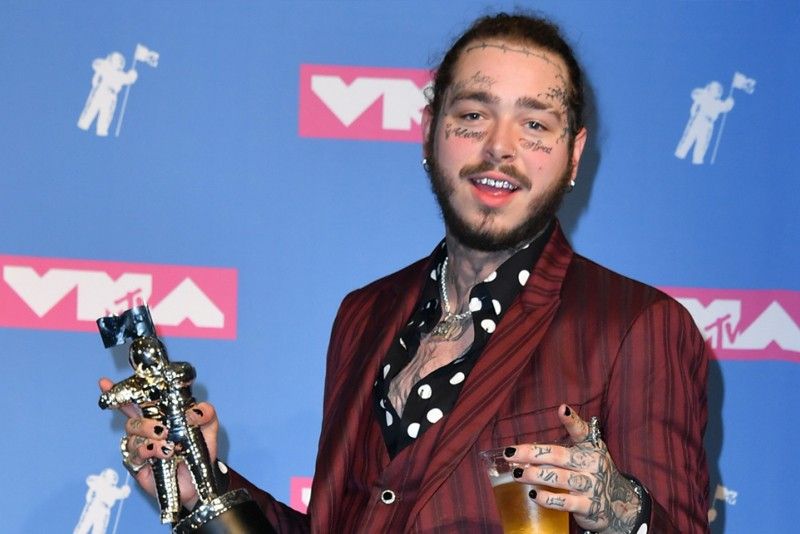 Post Malone is the guy you see in his videos with several tattoos on his face. His first big hit was Congratulations, which notched a record 60 million streams.
Angela Weiss/AFP
Post Malone: Astounding hitmaker
If you are among those who had been wondering why today's popular hip-hop tunes have mostly gone soft and laconic, then here is the reason. The answer is rapper Post Malone who because of his huge popularity nowadays, wields a very strong influence on other artists. This is not at all a surprise as most of his releases have reached the top of the charts and once there, have shown massive staying power.
One excellent example is Sunflower featuring rapper Swae Lee, which was recorded for the soundtrack of the movie Spider-Man: Into the Spider-Verse. This tune was released late last year and instantly made it to No. 1. It has remained in the Top 20 for a long 43 weeks and shows no intention of slipping down. It is now one of the all-time biggest selling songs from a movie soundtrack. It is also a very rare one at that because it is performed by two male artists.
Post Malone is the guy you see in his videos with several tattoos on his face. His first big hit was Congratulations, which notched a record 60 million streams. He grew up in Texas but has a very cosmopolitan sensibility and a flair for dreamy melodies. His music has been described as bland with nothing new to say. That has not affected his sales at all. In fact, listeners seem to enjoy the soothing quality of his tunes and continue to support his every recording. He may not have novel ideas about anything but his familiar musings are almost like pop songs and certainly strike relaxing chords with his fans.
Now Post Malone has a new album and predictions are rife that it will be another No. 1 seller. The title is Hollywood's Bleeding and it is his follow-up to the still selling very well beerbongs & Bentleys from last year. He has already released several singles out of the album, the hypnotic Wow, Goodbyes, featuring Young Thug, which has a great melody and Circles, a sad guitar-backed tune, which dropped only a week ago. Truth to tell, these songs seem to show Poat Malone moving closer to a kind of hip-hop laced with liberal amounts of pop.
There can be some truth to that given the varied artists who are featured in Hollywood's Bleeding. Da Baby, Future, Halsey, Meek Mill, Lil Baby, Ozzy Osbourne, Travis Scott, SZA, Swae Lee and Young Thug. He certainly makes one wonder what he is up to this time, especially with the likes of SZA and the legendary rocker Ozzy, among his guests.
And by the way, Sunflower is included in Hollywood's Bleeding, which means that fans of the tune would surely want a copy of the full album. That definitely assures Post Malone of another big hit.
The Top 20 songs in Billboard's Hot 100 this past week are: Truth Hurts by Lizzo; Señorita by Shawn Mendes & Camila Cabello; Bad Guy by Billie Eilish; Ran$om by Lil Tecca; Old Town Road by Lil Nas X ft. Billy Ray Cyrus; No Guidance by Chris Brown ft. Drake; Circles by Post Malone; I Don't Care by Ed Sheeran & Justin Bieber; Talk by Khalid; Goodbyes by Post Malone ft. Young Thug.
Someone You Loved by Lewis Capaldi; You Need To Calm Down by Taylor Swift; Sucker by the Jonas Brothers; Sunflower (Spider-Man: Into The Spider-Verse) by Post Malone & Swae Lee; Money In The Grave by Drake ft. Rick Ross; If I Can't Have You by Shawn Mendes; Beautiful People by Ed Sheeran & Khalid; Suge by DaBaby; Boyfriend by Ariana Grande and Social House; The Git Up by Blanco Brown.
The Top 20 titles in the Top 200 Albums listing are: Fear Inoculum by Tool; Lover by Taylor Swift; Norman F**king Rockwell by Lana Del Rey; We Love You Tecca by Lil Tecca; So Much Fun by Young Thug; Cuz I Love You by Lizzo; When We Fall Asleep, Where Do We Go? by Billie Eilish; Indigo by Chris Brown; No. 6 Collaborations Project by Ed Sheeran; ASTROWORLD by Travis Scott.
Quality Control: Control The Streets, Volume 2 by Various Artists; Free Spirit by Khalid; Shawn Mendes by Shawn Mendes; beerbongs & Bentleys by Post Malone; 7 by Lil Nas X; Dreamville & J. Cole: Revenge Of The Dreamers III by Various Artists; Greatest Hits by Queen; The Search by NF; This One's For You by Luke Combs; and Happiness Begins by the Jonas Brothers.