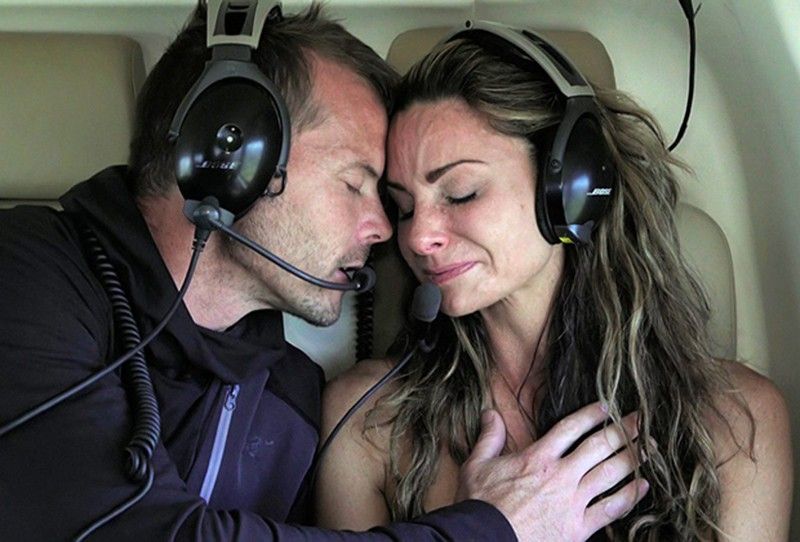 Couple Colin Guinn and Christie Woods inside a chopper after the Roadblock in London, where he assured her not to give up.
Life partners win Amazing Race 5
MANILA, Philippines — Familiar names and faces make up the 11 teams competing in The Amazing Race (TAR) US Season 31, which premiered recently on AXN. It's not just another race, but a clash of reality show contestants this season.
TAR 31 boasts of three teams from Big Brother, three from Survivor and five from previous TAR seasons. The Emmy Award-winning reality show airs only one season every year now, since Season 29 in 2017.
First leg of TAR 31 saw all the teams initially digging into a giant octopus-shaped sand sculpture to retrieve their first clue. The first destination of the teams was to explore Tokyo, Japan, with the busiest Shibuya Crossing.
TAR 20 team of Art Velez and JJ Carrell, both United States Border Patrol agents, was unfortunate to be at the back of the pack on just the first leg of TAR 31. While they strongly finished in second place in TAR 20, they got eliminated after only the first leg this time.
However, the other teams from TAR joining this Season 31 proved to be strong and really competitive. Cousins Leo Temory and Jamal Zadran from Seasons 23 and 24, respectively, finished fourth in their first two races.
In just the first leg of the new race, the cousins appeared to be leading as they were the first to arrive on the mat. They proudly took home a seven-day cruise for two to the French Polynesia.
Life partners Colin Guinn and Christie Woods, who finished second in Season 5, were the second to land on the mat this time. Friends and YouTubers Tyler Oakley and Korey Kuhl, who finished third in Season 28, came in third.
The last TAR team is composed of friends Rebecca Droz and Floyd Pierce, who were merely strangers when they joined in Season 29 and finished fifth. They finished fifth, too, in the first leg of this season.
The Big Brother teams are led by sisters Rachel Reilly and Elissa Slater. They were the fourth on the mat in the first leg. Rachel ended up ninth place in Big Brother 12 and first in Big Brother 13. With her husband Brendon Villegas, she competed in TAR 20 and 24 and both finished third. Meanwhile, Elissa finished sixth in Big Brother 15.
Engaged couple Victor Arroyo and Nicole Franzel were the sixth team to land on the mat. Victor finished fifth in Big Brother 18, where Nicole was the first. She also finished seventh in Big Brother 16.
Friends Janelle Pierzina and Britney Haynes were the eighth team on the mat. Janelle is a veteran of three Big Brother competitions. She was third in Big Brother 6 and 7, 12th in Big Brother 14. Britney finished fourth in Big Brother 12 and eighth in Big Brother 14.
Friends Chris Hammons and Bret LaBelle led the pack of Survivor contestants joining TAR 31. They were the seventh team to check in. In Survivor: Millennials vs Gen X, they were the 11th and fifth to finish, respectively.
Two other friends, Corinne Kaplan and Eliza Orlins, were the ninth to end on the mat. Corinne was in Survivor: Gabon, where she finished seventh, while she was 12th in Caramoan. Eliza was fourth in Vanuatu and 10th in Micronesia.
Married couple Rupert and Laura Boneham appeared to be really competitive, despite finishing 10th in TAR 31. Rupert was a veteran Survivor contestant. He finished eighth in Pearl Islands, fourth in All Stars, sixth in Heroes vs. Villains and 20th in Blood vs. Water, where Laura was 12th.
Leg 2 of TAR 31 takes teams to Laos, a first-time destination. There will be a much-dreaded Double U-Turn that will thwart two teams to slow down from their tasks and destinations.
At stake in TAR 31 is $1M grand prize. Last season, sweethearts Cody Nickson and Jessica Graf, who met in the reality show Big Brother, turned engaged couple after winning TAR 30. Phil Keoghan hosts.