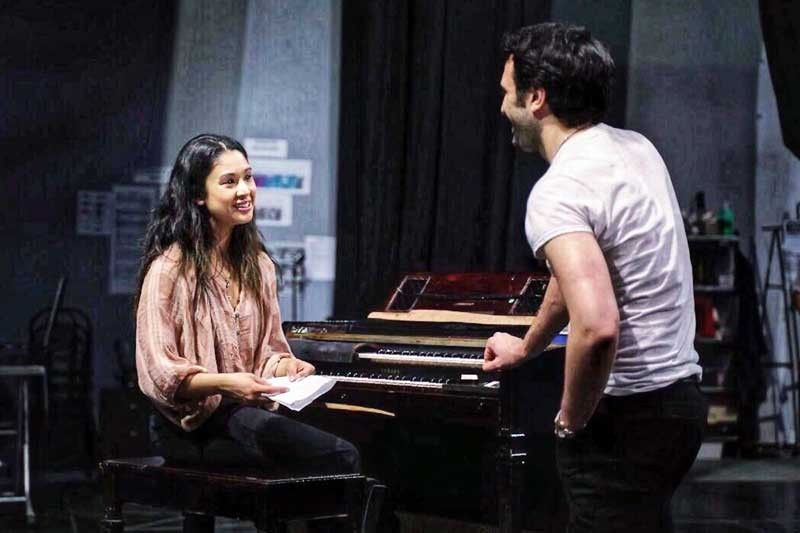 Kayla Rivera as Carole King in Atlantis Theatrical Entertainment Group's staging of Beautiful: The Carole King Musical playing until July 7 at Meralco Theater. On the piano with her is co-star Nick Varricchio as Carole's husband and writing partner Gerry Goffin.
Kayla feels Beautiful playing Carole King
MANILA, Philippines — Kayla Rivera is leading the cast of Beautiful: The Carole King Musical, which Atlantis Theatrical Entertainment Group is mounting as part of the celebration of its 20th-anniversary season. Directed by Bobby Garcia, the Tony and Olivier-winning production's Manila run will be until July 7 at the Meralco Theater.
The 27-year-old Fil-Romanian beauty, who was born and raised in Canada, made her professional musical theater debut in Atlantis' acclaimed staging of In The Heights in 2011. The last time she was on the Philippine stage was last year, also through the Atlantis production Side Show. Nevertheless, Kayla ­— who used to be K-La when she was starting out in Philippine showbiz after competing in a talent show — has returned to her home since 2014.
"Since 2012, I did a few other productions but I think the biggest change for me was going back home to Calgary in Canada. I went to school. I was doing that for four years and actually today is the day that I should be walking the stage back home, which is amazing. (But) I'm so happy to be here. This is way better," Kayla told The STAR during a recent presscon for Beautiful.
"At that time, I really wanted to finish school. When I left, I was 23, it was another goal of mine besides performing. So, I was thinking, it takes four years to finish school, I'll be finished when I'm 27, that sounds good," she further shared.
Kayla took up communications and culture with minor studies in economics at the University of Calgary. She recalled: "No offense to economics, but I remember one time, when I was in my economics final exam, there was a time limit, I should be focused, but I was like, at the back of my mind, no, I cannot do this, I need music. I need to be back on stage. That was my little secret from my parents (laughs)."
Thankfully, she said, direk Bobby remembered her and brought her back here, on stage, from the other side of the world. And she's coming in with renewed passion for the craft.
"Because before, doing show after show, you love it. But when you're away from it, you realize how much you miss it, and how much it makes you feel like it's home, you know, to be on stage. Now, coming back to do this role, of all roles, this is also beyond my wildest dreams. I would never in a million years thought I'd be back on stage and performing this role of Carole King."
The multi-awarded musical tells the story of the US music legend, from being a teen singer-songwriter to her remarkable journey to Rock 'N Roll fame, gifting the world along the way with such classics as You've Got a Friend, One Fine Day, So Far Away, Take Good Care of My Baby, Up on the Roof, You've Lost That Lovin' Feeling, Will You Love Me Tomorrow and Natural Woman.
Kayla nabbed the titular role after direk Bobby asked her to learn some songs and record them on video. These videos were then sent to the licensing team of Beautiful.
The singer hopes to personally meet the music icon someday. "Just researching about her, not only her music which is amazing, but also as a person ­— I think that's why her music is just so relatable and goes straight to your soul, and even her just voice, because she's a beautiful person herself. If I would meet her, I think I would cry or just hug her. I would just freak out!"
In playing her, Kayla had to dig deep into her own past experiences. "Direk Bobby is so amazing at what he does as a director. He will really push you! It was really tough on me. A lot of us, when we go through pain in life, you just kind of put that aside… it is just kind of in the closet, it's fine, you don't want to release it. Why would you want to relieve those painful memories?
"And he really made dig deep into whatever it is that I went through to bring truth to my character and he wouldn't stop until I was already breaking down. There were a few days of rehearsal when I was just so exhausted mentally, emotionally, physically."
As a performer, she can relate to the struggle and determination of Carole to be true to oneself and her vision amidst industry pressures.
In Kayla's case, she was previously pressured "to look more like this, that I had to have lighter skin, lose more weight, learn this language and I was like, you know what, I look up to people that may be are true to themselves and are proud of that. If I give in to this, and become somewhat I'm not, that's not the kind of idol I'd like to be for other people because that's not who I am. That's also part of the reason I left (in 2014)."
Asked if doing Beautiful also means she's giving local showbiz another try, she admitted, "I don't have plans to. I mean, I came back here for Beautiful. I just finished school. I was teaching voice and piano back home. But I quit that also. I do want to pursue performing but I'm not sure in the Philippines. I'd love to do auditions in the US. We'll see."
One thing is for sure, Kayla can't wait to hit the stage again. "It's just so important to be present in this moment and not take any moment for granted because who knows when I will perform again (after Beautiful)?
"I don't know but I really feel happiest and most content when I'm on stage and when I'm performing. I thank God for bringing me here and allowing me to do this role. There's so much talent here that really anyone could have been Carole King. So, I'm just grateful."
(The musical is co-presented with ABS-CBN and runs at the Meralco Theater, Pasig City until July 7. For tickets, visit www.ticketworld.com.ph or call 891-9999.)