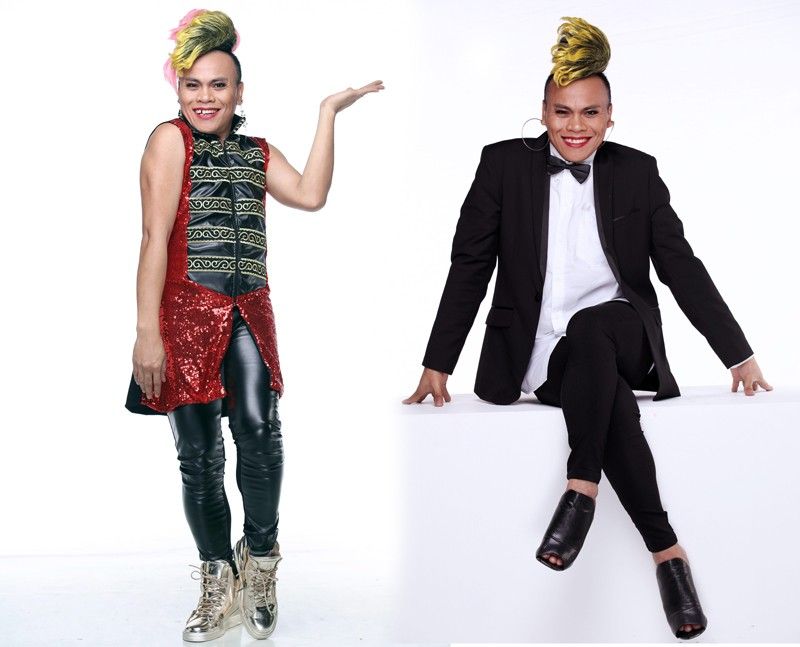 Seeing double: The comedian as the straight guy and the 'all-out' gay (left) in Kiko En Lala
Super Tekla tackles dual roles in movie debut
MANILA, Philippines — "Honestly, I'm pressured because I feel that a big responsibility has been placed on my shoulders."
That was Super Tekla sharing his thoughts in the vernacular on his launching movie, titled Kiko En Lala. The responsibility, the comedian was referring to in a recent media call, is meeting expectations that the Backyard Productions venture will have a good showing at the tills. He said that he was not pessimistic but couldn't help but face the truth that "you know, you can't please everybody." The best way to deal with it, he said, is bring his A-game as a comedian who has crossed over from TV to film.
"Kaya tinutumbasan ko ng husay. Bahala na ang tao (I would reciprocate it with talent and let the public decide). But I did my best," said Super Tekla. "Kung ano ang dapat mailapat mo sa mga scenes, binibigay (ko ng) tama at husay in my own way... kung ano man ang gusto ng direktor (I just gave what the scenes required me to do and what the director expected me to deliver)."
He said in jest that he was never a primadonna ("nag-iinarte") but just a comedian who played ("umarte") a role. Super Tekla has simply taken on this big-screen assignment to heart and surprised himself of some things he can do.
"In this movie, I was able to bring out (other potentials) I never thought or expected I could do," he said. "When I do dramatic (scenes), they would laugh (at them). Alam mo na acting na acting ka, comedy pa rin sa kanila, parang ganun yung dating."
Super Tekla can't blame the on-set people of Kiko En Lala for he doesn't only look it (being a funnyman) but he also breathes it. The funny thing about him, err the fun in this man is so natural and grows on you. Super Tekla has a way of putting people in stitches. This is what Kiko En Lala promises moviegoers this month when it hits theaters. Super Tekla portrays dual roles.
"Kiko is just me," said Super Tekla of his movie project, which is reminiscent of Roderick Paulate's iconic movie Bala at Lipistik. "With Lala, dun ako tagilid, ang hirap (it's challenging to be him), nilalambutan ko na lang."
One may wonder why the pronoun "him" is used for Lala, who is presumably a woman. Super Tekla had this to say: "Kiko is a straight gay, na gwapong-gwapo sa sarili niya, ang taas ng confidence sa sarili niya (he adores himself and is over-confident). Lala, on the other hand, is a typical gay, all-out. My Lala is a (combination) of Tekla (my persona as a comedian) and the former. I'm happy with what I have seen so far in how I approach the (Lala) character." Away from the klieg lights, Super Tekla is a straight (family) man and has a daughter.
How does Super Tekla describe his own brand of comedy?
"Mine is pang-masa talaga (it's really for the masses)," said he, who did the rounds of comedy bars before making a name for himself on TV. "Most of my viewers (are from this audience group)." Although some would say that the rich appreciate him, but Super Tekla knows the "kiliti" of the masa so well. "The comedy that I do is about the typical, ordinary experiences, the everyday. Ang purpose ko lang ay magpasaya (my purpose is to entertain people)."
Proof that he can tickle everyone's funny bone is The Boobay and Tekla Show. He happily reported to members of the press that the Sunday evening show has been doing well in the ratings game. All Super Tekla and Boobay's efforts have paid off.
Yes, Super Tekla's showbiz career is promising and in the up-trend. However, there are some who remain critical of his work and compare the comedian to more established names like Vice Ganda.
"Kahit basahin mo yung mga positive comment, mahahagip at mahahagip talaga at may sisingit talaga (aside from reading positive comments, you will also encounter some negative ones)," said he. The comments that hurt him the most are the ones that are directed at his skills. "Pwedeng work lang, walang ganun (comparisons)," he added. "Vice is Vice. No one can replace him. Vice, nandyan na yan... never na mabubuwal 'yan."
With all this manna from showbiz heaven, Super Tekla is a picture of happiness and gratefulness.
"Sa totoo lang, ang pinaka-dream ko lang ay magkaroon ng minimum wage na trabaho (my dream was just to secure a minimum-wage job). Hindi ko akalain (I never thought of any of these happening). Okey na ako dun. Thank you so much to GMA. I'm thankful for those who believe in me. Kung wala sila, wala si Tekla ngayon."
(Kiko En Lala also stars Derrick Monasterio, Kim Domingo, Kiray Celis, Divine Tetay, Jo Berry and Ai-Ai delas Alas in a special participation. Adolfo Alix Jr. directs. Backyard Productions is a sub-brand of GMA Films.)