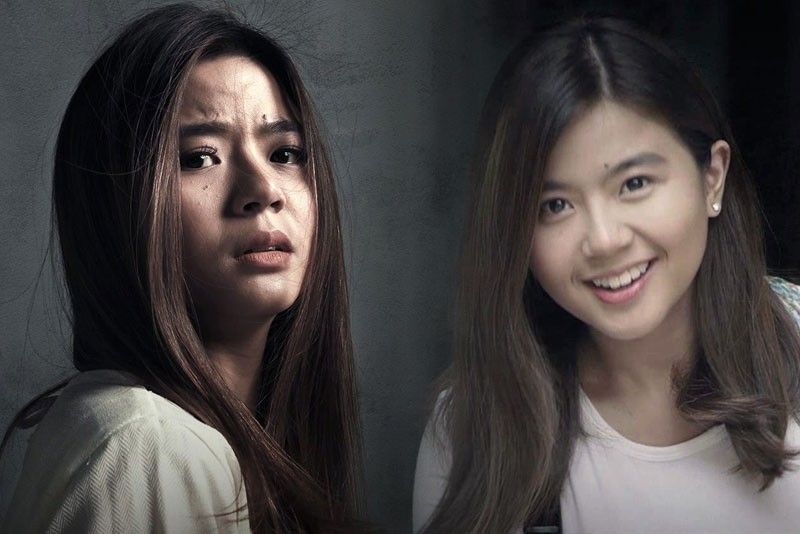 Miles Ocampo as Agnes, the perfect Catholic girl in Maledicto: 'I wanted to do something out of my comfort zone, away from (the usual) sweet, teeny-bopper roles people are used to see me doing.'
Miles out of her comfort zone
Jerry Donato
(The Philippine Star) - April 25, 2019 - 12:00am
MANILA, Philippines — Miles Ocampo goes out of her comfort zone in Maledicto, the first venture of Fox Networks Group Philippines in producing local content. Her character named Agnes may have traces of sweetness from Miles' previous small- and big-screen roles, but she is something else. Well, you know, looks can be deceiving.
"This is my most challenging (role) so far, given the years I have spent in the industry (as well as the works I have done)," said the Kapamilya homegrown talent in an interview with The STAR. "This is the movie where I gave my all (for) I wanted to do something out of my comfort zone, away from (the usual) sweet, teeny-bopper roles people are used to see me doing."
Playing Agnes is that first step that will hopefully see Miles essay more challenging roles, showcasing her versatility and reliability as a young actress.
"She's a typical perfect Catholic girl, who is loved by everybody," said Miles of her latest character. "Then she gets possessed by a bad spirit, the evil spirit ay mapupunta sa kanya. From there, her personality changes and that affects the way she deals with those who surround her." One can say that Miles had to parallel that transformation of Agnes from someone who is being "bubbly, then she becomes emo(tional)" to one "who has created her own world."
Asked about the cause of Agnes becoming the object of that entity, Miles politely begged off from giving any hints. She would like the moviegoers to find for themselves the answer.
Aside from Agnes, Mara (played by Inah de Belen) has experienced the ordeal the former goes through. Father Xavi (Tom Rodriguez), a psychologist-turned-exorcist, and Sister Barbie (Jasmine Curtis-Smith), a religious person with the gift of charism, will help understand the mystery.
"It (the case of Mara) somehow mirrors Agnes'," said Miles. "Iba yung reason namin at ang posisyon namin. Because of (Mara), Father Xavi will have an idea on how to assess (the situation) of my character."
Given the plight of Agnes, becoming her, said Miles, was draining physically and mentally.
"Alam mo na totoong sobrang hirap talaga. After shooting, I was completely drained (and exhausted), ubos na ubos ka talaga," said Miles, whose director, Mark Meily, made it easier for her to build the character and execute the crucial scenes. "There are levels (or signs) when one gets possessed," shared Miles.
The possession manifests in the odd behavior being experienced by the victim like rolling of the eyes, giving a blank look or stare (tulala) and speaking in a different voice. Miles was challenged to show that Agnes did experience possession and not some mental condition.
Taking on this project was a brave, bold act on the part of Miles for she is "matatakutin (I get easily scared)."
"I think it may be true or may be not," said Miles of the presence of these entities that might live among us. "I don't want to feed my mind with that idea (or entertain it) but at the same time, pwede talaga (itong) mangyari. Maaring hindi lang sa atin, sa mga lugar natin, (pero) sa mga probinsya, talagang nangyayari yung mga ganun."
Has portraying Agnes strengthened her faith?
"I'm a (Roman) Catholic but at the same time, I attend Christian Bible studies... Yung faith mo ay dapat na kay God lang. My faith in Him is very important." Miles thinks that faith serves as one's protection from bad entities.
Off-cam, Miles is a University of the Philippines student, who wishes to wear the sablay, the university's official academic costume in 2021.
"I started taking up Theater Arts and I did (shows) for Dulaang UP. I think I did more than five because I shifted to another course."
Her experience working in a university theater has improved her personality more, and helped her appreciate the work creative people do and the importance of discipline. Miles was assigned to do costumes, production, marketing and publicity.
After almost two years of studying theater arts, Miles is all eyes now to secure her degree in Malikhaing Pagsulat (Creative Writing). The Home Sweetie Home star can juggle work and school.
"I applied for Ricky Lee's scriptwriting workshop and tried my hand at writing," said Miles and that's how her interest in writing started. She does brainstorming work for iWant and wishes to write her first full-length script for film.
(Co-produced by Cignal Entertainment and Unitel, Maledicto opens May 1 in theaters nationwide. It also stars Eric Quizon, Nonie Buencamino, Liza Lorena, Franco Laurel, Menggie Cobarrubias and Martin Escudero.)