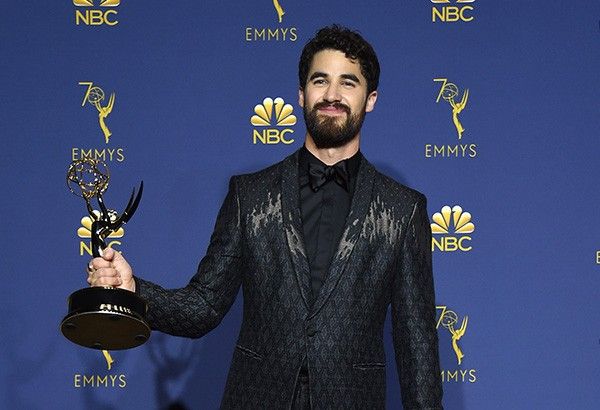 Darren Criss, winner of the award for outstanding lead actor in a limited series, movie or dramatic special for "The Assassination of Gianni Versace: American Crime Story" poses in the press room at the 70th Primetime Emmy Awards on Monday, Sept. 17, 2018, at the Microsoft Theater in Los Angeles.
Photo by Jordan Strauss/Invision/AP
Fil-Am wins Best Actor at Emmy Awards 2018
LOS ANGELES — "The Assassination of Gianni Versace" star Darren Criss, who is of Filipino descent, has become the second Asian-American actor to claim an acting award at the 70th Emmy Awards on September 17, after Riz Ahmed's win last year for "The Night After," a notable back-to-back outcome.
Criss has won an Emmy for Outstanding Lead Actor in a Limited Series or Movie for starring as serial killer Andrew Cunanan in the second installment of Ryan Murphy's "American Crime Story: The Assassination of Gianna Versace" in 2018. He beat out Antonio Banderas ("Genius: Picasso"); Benedict Cumberbatch ("Patrick Melrose"); Jeff Daniels ("The Looming Tower"); John Legend ("Jesus Christ Superstar"); and Jesse Plemons ("Black Mirror: USS Callister") for the award.
"The Assassination of Gianni Versace: American Crime Story" also won the Emmy for Best Limited Series.
Born to a Cebuana mother and a father of English, Irish, and German descent, Criss was raised in California. He graduated with a bachelor's degree in Fine Arts from the University of Michigan.
The 31-year-old is best known for portraying Blaine Anderson in the hit musical comedy series "Glee." His cover of Katy Perry's "Teenage Dream" became "Glee's" fastest-selling single that reached number eight on the Billboard Hot 100 and was certified "gold" in America. Likewise, he was nominated for an Emmy in 2015 for composing the song "This Time" for "Glee's" finale.
Apart from being a TV actor and singer, Criss co-owns the musical theater company StarKid Productions, for which he famously portrayed Harry Potter in the musical "A Very Potter Musical." In 2012, he made a Broadway debut when he replaced Daniel Radcliffe in the play "How to Succeed in Business Without Really Trying."
In 2015, Darren's duet with Filipino Tony Award-winning singer-actress Lea Salonga of the Disney classic "A Whole New World," which Salonga recorded for the animated movie "Aladdin," went viral on social media.
Darren is engaged to his girlfriend of more than seven years, Mia Swier.