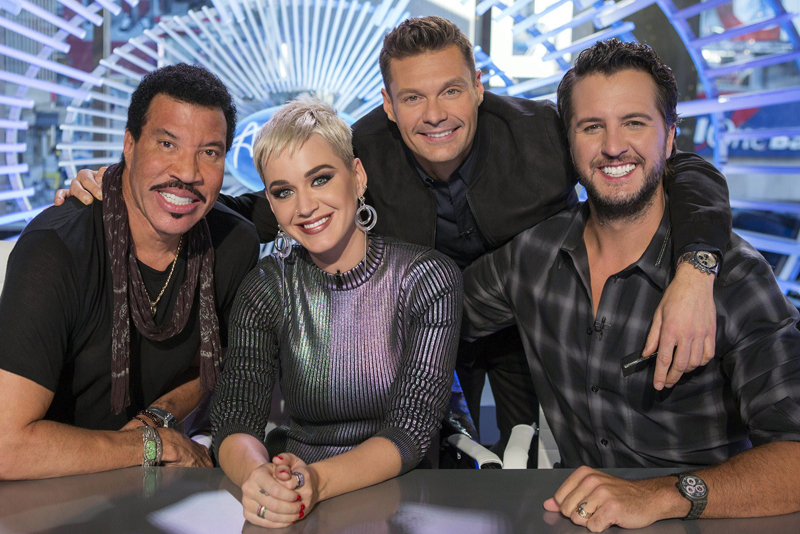 American judges Lionel Richie, Katy Perry and Luke Bryan with host Ryan Seacrest (at the back) —AP photo
Fans herald the return of AI
MANILA, Philippines — Just as every viewer thought that American Idol (AI) finally bade farewell to all its loyal fans after its 15th season, the news that the widely-followed and popular reality talent competition would resurrect on TV, excited millions of AI fans.
The show was welcomed into the homes of its viewers when AI premiered its 16th season last March 12. That is not surprising, because AI created singing superstars from its champions, such as Kelly Clarkson and Carrie Underwood. Even those who didn't win like Adam Lambert, Clay Aiken, Chris Daughtry and yes, even Jennifer Hudson, who is a singer-actress, launched their respective, successful music careers after joining AI.
This time, AI premiered on ABC, which secured the franchise through a multi-million dollar deal from Fox. Long-time host Ryan Seacrest is on board again, while the judges are all new names to the talent competition, yet music superstars in their own right.
Leading the strong triumvirate of AI judges is R&B legend and four-time Grammy winner Lionel Richie, with pop queen Katy Perry and country music artist Luke Bryan. Nashville-based radio personality Bobby Bones will act as mentor for the Top 24 contestants.
In an earlier interview, Katy said that what sets AI apart from all the other talent shows is that there are more than 10 names that have come out of AI. "They have legitimate careers and all of them are successful," Katy said. "This is a show that makes dreams come true."
As early as August last year, auditions for AI Season 16 kicked off. There were hopefuls who tried out in New York City, New Orleans (Louisiana), Nashville (Tennessee), Savannah (Georgia) and Los Angeles (California). The AI bus traveled from coast to coast, more than a hundred cities in the US, to search for new talents.
"I waited a lifetime for this," an excited Ryan said in the pilot episode. "AI made a triumphant return." Apparently, thousands of hopeful talents are looking at the AI stage as a "shortcut to stardom."
It was great to see ecstatic contestants jumping after getting the iconic golden ticket. "It's like my child," said an excited Catie Turner from Langhorne, Pennsylvania, of her golden ticket. "I want to give it a good college fund, raise it in a good manner and be successful in life."
Twenty-five-year-old David Francisco from Nashville, Tennessee was paralyzed from the waist down after a car accident two years ago. He was devastated and cried every single day for months. But when he was recovering, he got a letter from a friend who eventually became his fiancé. He had a successful audition after singing Stevie Wonder's Isn't She Lovely, which even moved Katy Perry to tears.
Interestingly, 18-year-old nursing student Noah Davis from Royal, Arkansas will buy a much-desired alpaca pet in the event that he wins AI. He rendered Rihanna's Stay, which got the unanimous nod from the three judges.
Sixteen-year-old high school student Zach D'Onofiro from Wesley Chapel, Florida got Katy to dance with him while he crooned Frank Sinatra's The Way You Look Tonight. And he finished off his audition with a golden ticket.
Meanwhile, Katy rewarded a smack to a never-been-kissed 19-year-old talent, Benjamin Glaze, who's never been into a relationship. "That's a first," he said of his kiss. The guy from Enid, Oklahoma strummed his guitar and sang Nick Jonas' Levels, but with no such luck to get a golden ticket.
The pilot airing of AI, sadly, was the "least-watched in history," as reported by Entertainment Weekly. Locally, AI airs on the ETC Channel and 2nd Avenue.