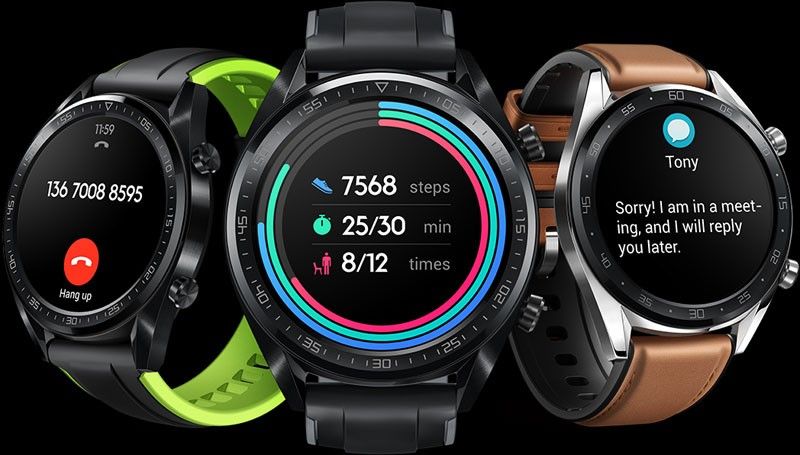 So many styles: The Huawei GT
Kathy Moran
(The Philippine Star) - March 25, 2019 - 12:00am
MANILA, Philippines — There is always time. What makes it important to each of us is how we wear it, if we wear it and what it measures.
More and more a timepiece is no longer just for telling the time. It used to be that and then it became a jewelry piece and now it does so much more. I have seen the evolution of the watch from a simple timepiece to that techie gadgets that looks like something rocket scientist would wear — and now it has to return to a classic timepiece with an extra function hidden within.
Let me describe what the Huawei Watch GT is. It is made of a ceramic bezel and a stainless watch body, lightweight and the watch I tried out came with a durable rubber strap. I was attached to its display as I took the watch on several test walk-runs in the village and few trips to the gym and I didn't need to squint to get a good look at how many steps I was taking or how many calories I was burning. The HD Color Screen improves the watch's resolution.
I also liked the UI Design, which features multi-color health data design, exquisitely designed fonts, scenario-based display and professional graphics vividly endows the watch the sense of vitality, sporty and modern.
Other interesting features are the accurate GPS Positioning: the watch supports simultaneous positioning of three satellite systems for rapid and accurate positioning; Smarter Heart Rate Monitoring: the watch can realize multi-source receiving and sending for continuous and accurate measuring; Diverse Exercise Modes: the watch supports diversified exercise modes and all-round exercise data tracking, and offers multiple professional exercise scenarios, thus ensuring scientific and safe training and more Professional Daily Monitoring: with Trusleep scientific sleep monitoring and other professional technologies developed by Huawei, the watch features such functions as daily real-time reminder and offers more professional suggestions for observation and improvement of health.
What bothers me with a watch is that is so accurate is that I am moved to complete an exercise or make the required number of steps before the day ends — a good thing, I guess.
Watch your health, get text and calls, too
More people are becoming connected worldwide on ever-faster devices, with greater demands on speed, usability and a secure and personalized experience.
Enter the Huawei watch GT, which was announced alongside the Huawei Mate 20 Series.
Wearables complement the feature set of today's cellphones to help consumers get more out of their devices. Designed for today's urban explorers, the Huawei Watch GT addresses one of the most common pain points of wearables: battery life. This allows the smart watch to stay powered for up to two weeks for frequent use mode. Furthermore, the dual-core architecture of the Huawei Watch GT lets the wearable user enjoy the best of both worlds — a simultaneously powerful and highly efficient smart watch.
Besides improved performance and new features, the Huawei Watch GT also sports a unique design. Featuring better specification and thinner body, the Huawei GT adopts fitness watch design style, and perfectly inherits the classic elements by equipping with large screen and large battery, being the best choice for gentlemen.
Long-endurance outdoor smart watch
The Huawei GT can actively identify the dynamic and static scenarios, thus realizing the two-week-ultra long endurance under typical scenarios.
I noticed that if I wore the watch for 24 hours with heart rate function activated, scientific sleeping function activated at night, exercise for 90 minutes a week (GPS open), message notification function activated (50 SMSs, six incoming calls and three alarm remind), screen brightening for 200 times a day. The claim is that it can do this without a recharge for two weeks at maximum.
In terms of fitness functions, the Huawei Watch GT supports independent GPS positioning, four-satellite, and three-satellite positioning, thus obtaining more accurate data.
I will say that when I wore the Huawei GT I definitely got a lot of compliments on the design of my watch. I will also add that synching it with my iPhone was simple as pie and it took me less than five minutes to do so.
So, now I have not yet gotten my hands on the Huawei Mate 20, although I hope to, soon. I did get to try the Huawei GT — I liked everything about it.
Got to step in the right direction now, for better health.