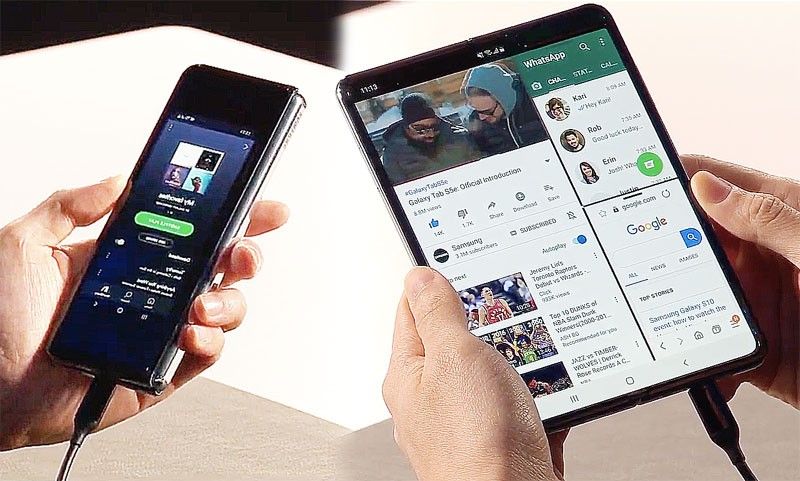 Out of this galaxy: Samsung Fold the big reveal
Samsung unpacks first foldable phone
MANILA, Philippines — Samsung just unveiled a new set of devices and wearables headlined by the much-anticipated foldable phone as the Korean tech giant celebrates a decade of Galaxy innovations.
At this year's Galaxy Unpacked, Samsung introduced its first-ever foldable phone dubbed as – you guessed it right – the Galaxy Fold.
Although there have been numerous leaks about Samsung's first folding smartphone ahead of its Unpacked event last Thursday, the introduction of the Galaxy Fold was everything I expected it to be – an absolute tech masterpiece.
There was a mixture of deafening silence and anticipation among the audiences as the Galaxy Fold, with all its glory, finally revealed itself for the first time. It was like peeking through the future.
The Galaxy Fold has a spacious 7.3-inch Infinity Flex display that folds in half just like your typical paperback. With its elegant and sophisticated design, I couldn't help but wonder at first, how Samsung was able to pull off such an intricate technology.
The secret, according to Justin Denison, Samsung's SVP of Product Manufacturing, is a complex design that serves as the backbone of the Galaxy Fold.
He said that they were able to invent a sophisticated hinge system composed of air locking gears hidden within the middle of the phone that allows a user to naturally and smoothly open and close the Galaxy Fold with a satisfying click.
Denison said that the hinge system can withstand hundreds of thousands of folds and unfolds.
If we look closely under the hood, the Galaxy Fold is a perfection in every department.
Samsung's newest foldable phone can easily run three apps simultaneously on the big screen – thanks to its next generation AP chipset paired with an enormous 12GB of RAM that closely resembles what a high-end gaming PC can do nowadays.
Apart from that, the Galaxy Fold raises the camera gaming as it comes with six lenses. There's a 10-megapixel cover camera on the front when it's folded, a 10-megapixel alongside an 8-megapixel dual camera on the inside, and a triple camera-system composed of a 16-megapixel ultra wide camera, a 12-megapixel wide-angle camera, and another 12-megapixel telephoto lens at the rear.
Others may call it overkill, but that's just revolutionary if you ask me.
One of the new design elements of the Galaxy Fold apart from the screen and its housing is the fingerprint scanner that is situated on the right – where our thumb naturally rests when we hold a smartphone. It has two batteries on both sides of the phone that gives a balanced feeling whenever you're using it.
The Galaxy Fold will be available on April 26 with a starting price of $1,980.
Galaxy S10 and S10+ defy notch trend
The Samsung Unpacked also announced a new set of iterations of their flagship smartphones – the Galaxy S10 and S10+.
Just like last year – with the introduction of the S9 and the S9+ - the Galaxy S10 and S10+ obviously has an improved spec but echo the same features of its predecessors.
It's evident that Samsung won't be jumping in the notch-style trend anytime soon as it continues the push the boundaries of a display to eliminate the bezels around the devices.
Because of a groundbreaking engineering process, Samsung was able to create the revolutionary Infinity-O display that maximizes viewing experience while also minimizing distractions.
Looking at the façade, the S10 has a 6.1-inch Dynamic AMOLED display while the S10+ has a larger 6.4-inch screen. Samsung's displays continue to be one of the best in the market today. With its HDR 10+ certification, both displays offer a brighter, more vibrant and realistic picture.
In terms of security, Samsung's Galaxy S10+ has an Ultrasonic Fingerprint Authentication that's embedded in the screen. It studies and recognizes the 3D characteristics of the user's fingerprint for a more improved anti-spoofing.
One of the best feats of the S10+ is its array of lenses. The S10 and S10+ both sport three rear cameras that can be switched between telephoto to an ultra wide angle that enables a user to see a 123-degree field of view. On the front, the S10+ and a dual-lens composed of a 10-megapixel and 8-megapixel cameras while the S10 has a single 10-megapixel selfie camera.
The Galaxy S10+ runs with and 8nm octa core processor, paired with either 8GB of RAM (128GB) model or a top-tier version that boasts 12GB RAM with an internal storage of 1TB. Both versions can be expanded up to 512GB via microSD card. The S10 also has 8GB of RAM with 128GB of internal storage.
In the battery department, the S10 has 3,400mAh while S10+ has a bigger 4,100mAh battery pack.
The Samsung Unpacked also introduced the S10e. It has a 5.8-inch Dynamic AMOLED screen, dual camera setup made out of a 12-megapixel wide-angle lens combined with a 16-megapixel ultra-wide camera while the front sports a 10-megapixel selfie camera. It also runs with an 8nm 64-bit octa-core processor with a 6GB RAM and 128GB of storage. Pricing for the Galaxy S10e starts at P39,990.
The Galaxy S10 will be available in Prism White and Prism Black. Consumers who will opt for the Galaxy S10+ will have three colors to choose from: Prism White, Prism Black, and Prism Green. The Galaxy S10+ will also be available in a premium Ceramic Black variant.
The Galaxy S10 line will be available in authorized retail stores, telco operator partners, and online beginning March 8. The Galaxy S10 retails for P49,990 and P55,990 for the Galaxy S10+, while the limited edition Galaxy S10+ Ceramic Black (1TB) model will only be available via pre-order at P89,990. Consumers who pre-order the Galaxy S10, and Galaxy S10+ will receive freebies worth up to P28,500.
You can now pre-register at samsung.com/ph/unpacked/