Quick Take: DoubleDragon hotels and 3 more market updates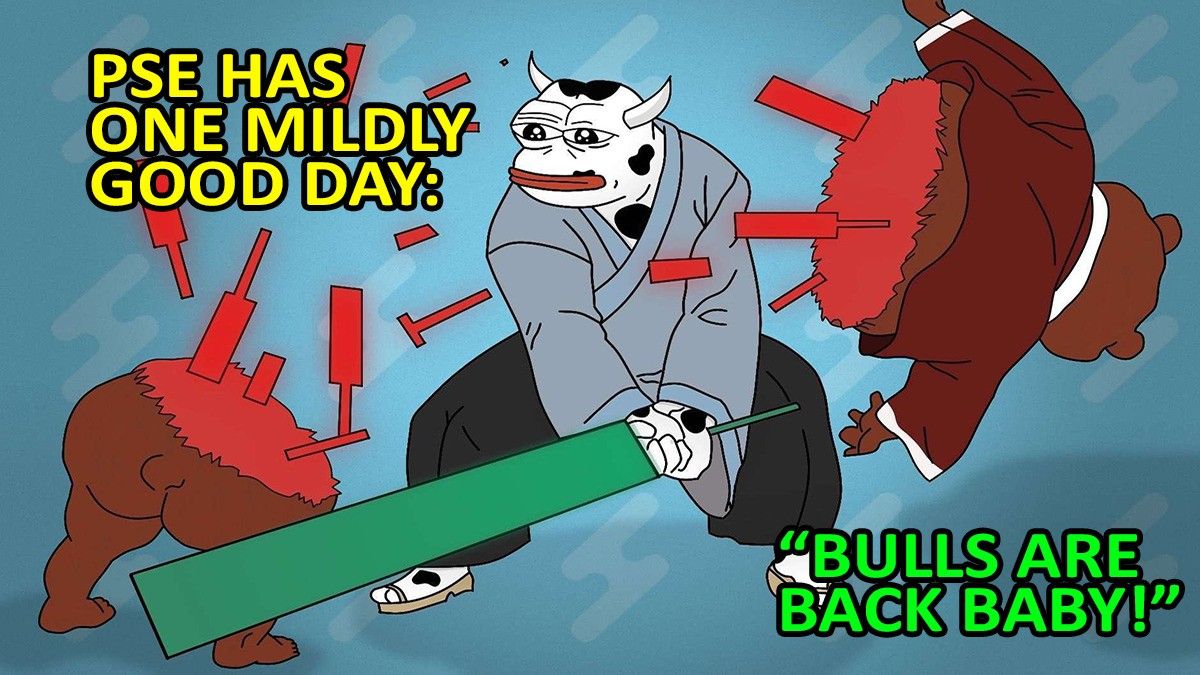 Boulevard Holdings [BHI 0.08 2.5%; 165% avgVol] [link] appeared to signal that it will be suspended for a while and that it has decided to spend this time releasing a mini-series of disclosures to explain the development strategy for each of the company's "major assets", its "significant land parcels", and its "cash hoard". The most recent disclosure started with its Fridays Siargao location.
MB Quick Take: This is such a weird look that I don't even know where to start. Dripping info to shareholders gives off massive "long suspension" vibes, but it also manages to give off "we are just making it up as we go along" vibes. If you know the strategy now, why not tell us now? I don't know if I can beat the BHI dead horse any longer, though. BHI, more like "Belated Hypothesizing Inc", amirite?

Philippine Statistics Authority (PSA) [link] revealed that the May 2023 Consumer Price Index reading was 120.9, which was 6.1% higher y/y. The rate of inflation in April was 6.6%, based on a CPI reading of 120.9.
MB Quick Take: Keen readers will notice that the actual CPI measurement was the same between April and May, meaning that the actual level of prices didn't change at all from month to month. The only thing that changed was that April 2022's CPI reading was lower because it was at the start of the long and intense price inflation period we saw throughout FY22. Remember: inflation might go down, but (generally) prices won't.

Repower Energy Development [REDC 5.00 pre-IPO] [link] provided an updated IPO schedule after it had previously paused the listing process to take on a significant anchor investor from Japan. The new pricing date is June 23, with an offer period from June 28 through July 14, and a listing ten days later on July 24.
MB Quick Take: It looks like the bones of the offering are the same (230 million shares for ?5.00/share, with 87% primary), but investors are going to want to pay close attention to the updated prospectus that we should get once the price has been set. Will REDC share any information about the anchor investor, and is the anchor investor the type that provides any strategic advantages for REDC going forward? Energy stocks are hot, but IPOs have been terrible for investors lately. Will REDC's pricing take the recent performance into account to entice more retail investors to take a look?

DoubleDragon [DD 7.20; 19% avgVol] [link] said that its 548-room Hotel101 in Cebu is 100% sold-out 21 months after it started the pre-sale process, and 12 months before its project completion date. DD also took the time in this disclosure to let us know about how this location will be the first to "adopt" the "AI designed Hotel101 Banig accent design".
MB Quick Take: I don't know how I feel about DD name-dropping AI as the designer of a banig. Well, that's not true, I know how I feel about it, but I guess I'm just not sure how DD anticipated that we'd feel about it? Because that's hilarious. This was meant to show that Hotel101 would "always stay ahead of the curve in technological advances", but I think its inclusion sends the opposite message.
--
Merkado Barkada's opinions are provided for informational purposes only, and should not be considered a recommendation to buy or sell any particular stock. These daily articles are not updated with new information, so each investor must do his or her own due diligence before trading, as the facts and figures in each particular article may have changed.