Bloomberry buys P7.6-B worth of land in Ternate for a new casino resort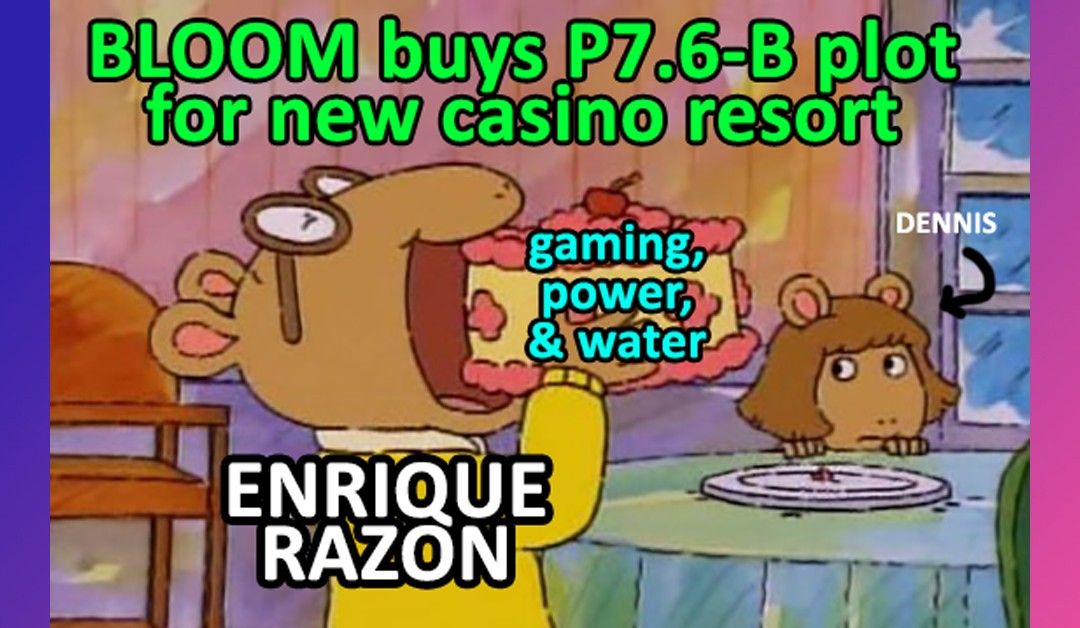 Bloomberry [BLOOM 6.40 0.62%] [link], the gaming arm of the suddenly-voracious Enrique Razon, entered into an agreement to buy 2,797,768 square meters of land in Ternate from a group of buyers, including Boulevard Holdings [BHI 0.10 7.77%], for a total price of approximately P7.6 billion (~P2,700/sqm).
The portion attributable to BHI is about 282,000 sqm in size, and fetched a little over P1.4 billion (~P5050/sqm).
In its disclosure, BLOOM said that it would develop the entire estate into an "integrated resort and entertainment complex with a world-class casino, hotel, golf course, commercial, residential and mixed use development".
BLOOM said that it will start work on the "Paniman Project" after Solaire North in Quezon City begins commercial operations.

MB BOTTOM-LINE
Enrique Razon is going absolutely ham with his acquisitions.
This is a massive lot (280 hectares) in an up-and-coming location, and while commercial operations are way off in the future for this project, the move itself sends a message about the potential health and vigor of the oligarch's business group to be making these kinds of huge, long-term bets at a time when other fading oligarchs, like Dennis Uy, are seemingly getting forced out of their funding-starved projects.
While BLOOM itself has kind of been in a holding pattern since the onset of COVID destroyed in-person gaming and the whole junket scene, the month of May has been an awakening for the company; first it was the acquisition of a stake in one of Dennis Uy's crown jewels, the Emerald Bay integrated resort in Cebu, and now this jumbo purchase for what could become Solaire South.
The reduced travel, movement restrictions, and health measures used to combat COVID have obviously crippled the gaming sector's profitability, but BLOOM is making big moves in anticipation of an eventual return to normal.
Neither Emerald Bay nor Solaire South will be ready any time soon, so we can't deduce too much about BLOOM's predictions about when travel will return to normal, or what normal might look like, but the fact that they're going so hard into physical casino resorts tells me that they don't feel the COVID-inspired changes to the junket gaming scene are permanent.
--
Merkado Barkada's opinions are provided for informational purposes only, and should not be considered a recommendation to buy or sell any particular stock. These daily articles are not updated with new information, so each investor must do his or her own due diligence before trading, as the facts and figures in each particular article may have changed.