Converge extended its sharp decline after nearly a year of continuous gains
October 11, 2021 | 8:46am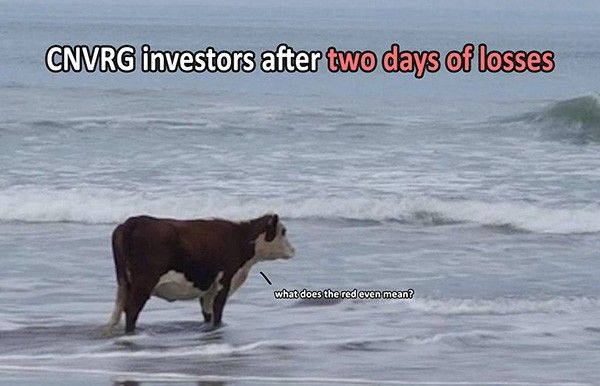 When Converge [CNVRG 33.60 10.40%] completed its IPO at P16.80/share, I don't think there were many that would have expected it to steadily ramp up to P44.00/share within the year, but that's exactly what happened.
Take a look at the chart and you'll see a continued romp up from the post-IPO low of P14.78 all the way to October 6, when it posted that P44.00/share close for a 197% gain. Then came the correction, with the stock falling 15% on Thursday to close at P37.50, and then another 10% on Friday to close at P33.60/share and bring the total drop to 24% from CNVRG's October 6 top.
Some reporting has attributed this sudden reversal to "profit taking" (selling a stock to lock-in gains), while other stories acknowledge that the fall might have been today's expiration of Coherent Cloud's 365-day lockup for its 1.19 billion shares.
Perhaps in anticipation of this unlock, Warburg Pincus (the private equity firm that owns Coherent Cloud) made it a point to publicly pump our tires by saying, "We expect the Philippines to significantly rebound and resume its strong growth path of over five percent."

MB BOTTOM-LINE
That doesn't sound like a company that is getting ready to ditch its stake in the fastest-growing connectivity company in the country (yes, I excluded Dito Telecommunity [DITO 7.44 0.95%] from that list, because its start from zero skews the percentages and it has yet to release verifiable data on its subscriber base). As I've mentioned before, Warburg Pincus already had the opportunity to sell its stake at the IPO, and it seems as though the company is excited for the growth potential of the Philippines and of the connectivity sector in particular.
Playing the devil's advocate, I might say something like "but isn't that exactly what someone hoping to offload their shares at the highest price would say?", and then we'll all just have to sit around and grumble about how we can't get into the heads of Warburg Pincus, or any of the thousands of shareholders that sold their CNVRG shares before the weekend, to understand what they're doing and why.
CNVRG's long bull run gave warm fuzzy feelings to its shareholders for almost a year, and that might have lulled some into building expectations that CNVRG would always go up, and if it didn't always go up, that it wouldn't go down too fast, but that if it did go down too fast, that there'd be a clear and understandable reason for it.
I think a 25% two-day loss on the back of a 197% 1-year gain is a good reminder that nothing is for certain and the market loves to make us feel foolish.
--
Merkado Barkada is a free daily newsletter on the PSE, investing and business in the Philippines. You can subscribe to the newsletter or follow on Twitter to receive the full daily updates.
Merkado Barkada's opinions are provided for informational purposes only, and should not be considered a recommendation to buy or sell any particular stock. These daily articles are not updated with new information, so each investor must do his or her own due diligence before trading, as the facts and figures in each particular article may have changed.