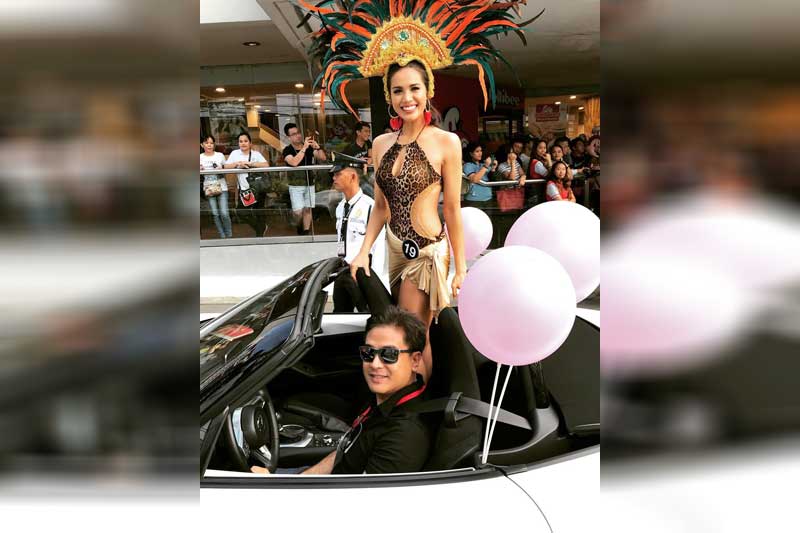 The author and candidate number 19, Michele Gumabao, before the start of the Bb. Pilipinas Parade of Beauty
(The Philippine Star) - March 14, 2018 - 12:00am
Driving a top-down sports car—with the top down—is usually a traffic-stopping activity in itself. Now imagine doing so with a breathtakingly tall and gorgeous swimsuit-clad beauty pageant contestant—wearing a huge feathered tribal headdress, no less—standing (yes, standing!) beside the driver in the heart of a busy shopping district on a Saturday afternoon.
You. Stop. Traffic.
And that's precisely what transpired when I and 39 other lucky drivers from The Miata Club Philippines—all behind the wheels of old and new Mazda MX-5's—were given the opportunity to chauffeur 40 Bb. Pilipinas candidates around the bustling Araneta Center.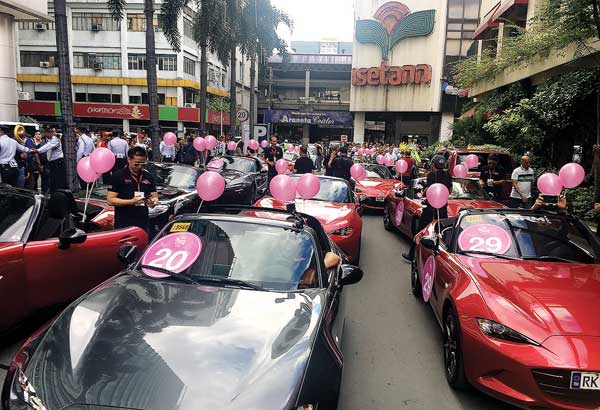 Rows upon rows of old and new Mazda MX-5's/Miatas line the street of Araneta Center
All four generations of Mazda MX-5's/Miatas wound around Cubao's premiere shopping district, starting in front of Kia Theater (from where the ladies emerged before boarding their respective cars). The lengthy 40-car convoy turned left at the far end of Shopwise (formerly Fiesta Carnival—there goes my age), then right at Ali Mall, before turning right again at P. Tuazon St.
The convoy—accompanied by security guards and chaperones walking on foot—then drove around Ali Mall, turning left at the SM Cubao intersection, before heading straight to EDSA, where the head-turning beauty contestants literally stopped traffic as cars and buses slowed to a crawl or even stopped, as passengers (and even a few drivers) grabbed their phones to take snapshots of the beautiful ladies.
The cars then made a right at Aurora Blvd. before making another right at Gen. Aguinaldo St. and heading straight to Smart Araneta Coliseum, where the ladies finally got off.
For the drivers, the most challenging part was making sure we didn't hit elbows or run over feet as star-struck onlookers risked life and limb to take close-up photos (and even selfies, while walking/running) with the contestants.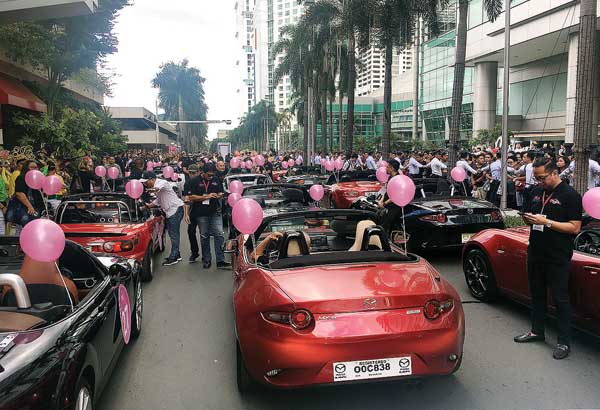 Extra effort went to drivers—myself included—who had to drive manual-transmission cars. We had to be extra gentle releasing the clutch and easing on the accelerator as we didn't want to cause the tall ladies to lose their balance with a jerky start.
Most effort, however, came from the contestants themselves, as they had to squeeze themselves between the rear bulkhead of the passenger compartment and the front seatback (moved as far forward as possible). Still, that only left perhaps six inches of space for their lower legs and just the tiny space under the passenger seat for their high-heeled feet to go to. For balance, they held on to the headrest in front of them and to the metal roll hoop behind them (for cars equipped with those).
Add to that wearing a big, toothy smile for close to two hours while waving non-stop to the crowd, shouting "Hi, kuya!" "Hi, ate!" "Hello, po!" over and over and over again. They also had to fight from frowning even when sunlight was in their eyes—and look cool even with the heat of the sun, the traffic, and the maddening crowds.
These beauty contests are hard.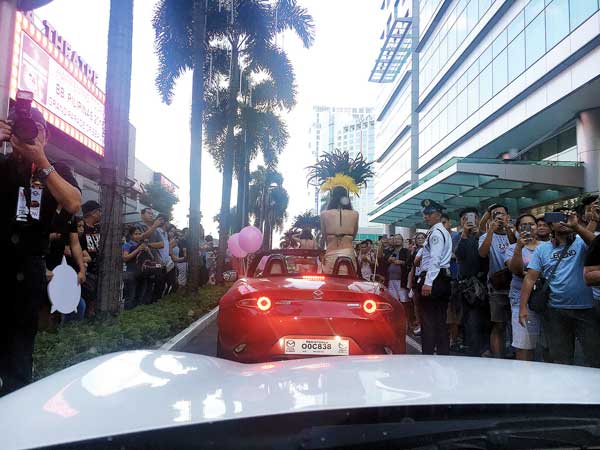 I was paired with candidate number 19, Michele Gumabao. If the name sounds familiar, that's because Michele is the 5-foot-10 champion volleyball player who has represented DLSU and various professional volleyball teams. She was easily among the most popular crowds, as I almost lost my hearing with my left ear just a foot away from rabid fans screaming, "Micheeeele!!!!" a thousand times.
Needless to say, the whole experience was a truly memorable one, both for me, Michele, and probably her legions of fans. They were well-behaved, even if they could actually just reach out and touch her or the car.
The Mazda MX-5, too, was impeccably composed. The engine was velvety smooth, the shifter—as always—was a short-throw delight (even if I was on first or second gear all the time), and the clutch engaged ever so gently. The strong aircon blasting cold air at my face helped make the crawl much more tolerable—at least for me. Stunningly tall Michele, like the other contestants, were too tall stretching outside the cockpit to feel the AC.
The 40 candidates will be vying for six titles namely; Miss Universe, Miss International, Miss Intercontinental, Miss Globe, Miss Grand International, and Miss Supranational, on Coronation Night this Sunday, March 18, at the Smart Araneta Coliseum.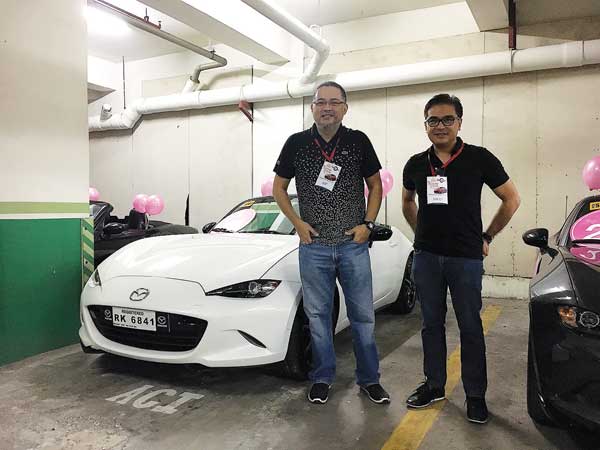 The author, with STAR Motoring columnist Kap Aguila, at the basement parking of Manhattan Parkview in Cubao, just before the start of the parade