MANILA, Philippines - Yamaha Motor Philippines Inc. introduced recently at the SM Mall of Asia Atrium a motorcycle that boasts greater stability, superior traction, stronger stopping power, and precision handling—the new Yamaha XTZ 125.
Every millimeter revs your heart from the 260mm of ground clearance to the 180mm stroke front suspension. But it's more than just measurements that set this bike apart. It's the overall package.
For one thing, the Yamaha XTZ's tires perform better because they're bigger than the competition's and uses the YBR125 engine with internal balancer for low vibration and nose. Optimized for off-road conditions, the bike features a front tire (80/90-21) larger than the rear (100/80-18). The XTZ is also made of 100% Full High-Tensile Steel Frame that is stronger and lighter than other motorcycles.
All these and more make the XTZ 125 a true dual-purpose bike—good for riding on pavement or off the road.
Other features that are sure to capture every rider's heart include plastic parts made with stylish designs and exciting graphics; a slim and thick seat cushion that allows dual-purpose (pavement and off-road) riding; a suspension system with a durable front fork and a 35mm inner tube with rubber boot; a convenient carrier; a stylish instrument panel; a bright headlamp system with plastic lens and 35/35 watt halogen bulb; integrated tail lights and signal lights; and Yamaha's renowned proprietary internal balancer technology for an ultra-smooth engine.
The XTZ 125 is available in two colors, Blue and White, at a retail price of P81, 900.
Mitsubishi Motors acquires majority stake in Phl component producer
Tokyo, Japan—Mitsubishi Motors Corporation (MMC) announced that it has acquired shares of Asian Transmission Corporation (ATC) from Mitsubishi Motors Philippines Corporation (MMPC)—MMC's exclusive Philippine producer and distributor of Mitsubishi cars and trucks—and Sojitz Corporation (Sojitz). As a result, MMC now holds 90 percent of ATC shares.
A production base for components located in Calamba, Laguna and established in 1973 with a capitalization of P770,000,000, ATC supplies transmissions and engines?for automobiles mainly to MMPC and other ASEAN countries. Through capital restructuring of ATC, MMC will enhance management of its component production business. Accordingly, MMC will utilize this advantage in the ASEAN region and produce newly-developed transmissions exclusively at ATC, which has 518 employees, starting September this year.
One major pillar of MMC's New Stage 2016 next mid-term business plan is to reinforce its production base in ASEAN countries. MMC will further reinforce operating base in ASEAN countries where automobile market is expected to have sustainable growth. MMC will do so by strengthening the structure of supplying components within ASEAN countries in addition to the restructuring of production capability in the Philippines as announced in March this year.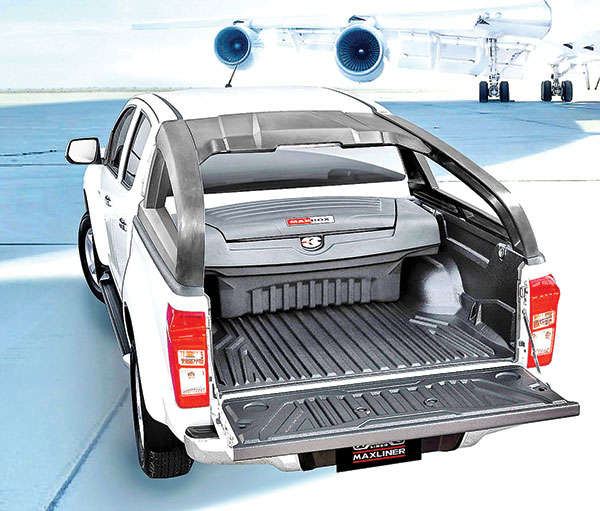 Max-Up with Maxliner
Maxliner, one of the world's biggest outfitters of SUV's and pickup trucks, encourages you to maximize your vehicle's toughness and reliability with their line of bed liners. Designed and built to ISO 14001 BVQI standards, Maxliner bed liners are made of High-Density PolyEthylene (HDPE) material for high impact resistance and makes your truck's bed water- and corrosion-resistant. The bed liners have also undergone stringent testing in severe and harsh environments to meet the demands of a global market and conform with global ISO standards.
Maxliner bedliners are also easy to install and fits most pickup models such as the Isuzu D-Max, Toyota Hi-Lux, Mazda BT-50, Mitsubishi Strada and Ford Ranger. Based in Thailand, Maxliner is an OEM-certified supplier of global brands such as Toyota, Isuzu, Honda, Ford, Nissan General Motors, and Tata. Shown in photo is an Isuzu D-Max fitted with a Maxliner bed liner and the Maxbox Concorde, designed to be stylish while securing your personal belongings.
Check out Maxliner's range of SUV and pickup accessories and other outdoor adventure equipment at the Outdoors Club in at the Ground Floor of the Banco de Oro Bldg. 2, Ortigas Avenue, West Greenhills, San Juan, with tel. numbers 744-6367.