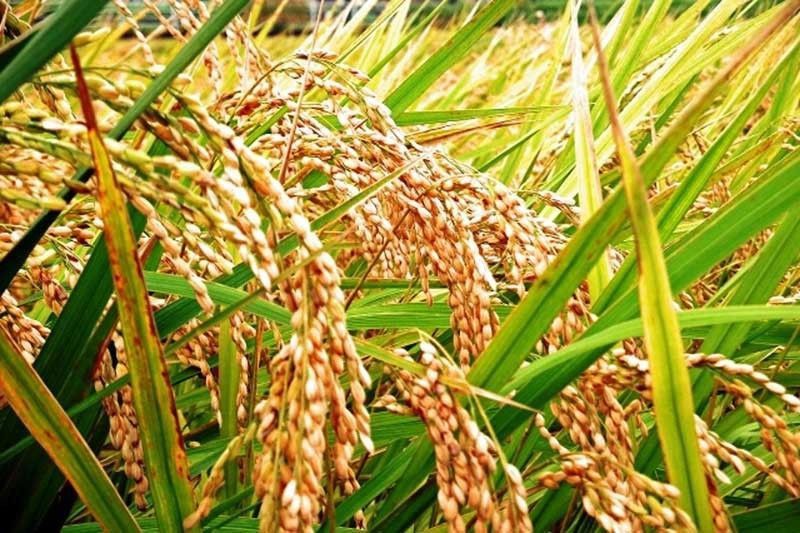 The Federation of Free Farmers (FFF) said the drop in palay prices coincided with the inflow of large volumes of rice imports following the passage of the Rice Tariffication Law.
Rice imports management key to stem falling prices
MANILA, Philippines — The government is being urged to focus on the root cause of declining palay (unhusked rice) prices instead of relying on palliative measures that are either too expensive or ineffective.
The Federation of Free Farmers (FFF) said the drop in palay prices coincided with the inflow of large volumes of rice imports following the passage of the Rice Tariffication Law.
"Because of too much supply of imported rice in the market, local traders cannot unload their stocks at a profit. And they have to adjust their buying price from farmers so that they can compete with the cheaper imports. This explains why palay prices are falling down," FFF national manager Raul Montemayor said.
Palay buying prices have fallen to as low as P8 per kilogram and are expected to decline further as the main harvest season peaks next month.
Data from the Bureau of Customs showed that about 2.4 million metric tons had arrived as of July, equivalent to around 17 percent of the country's total consumption requirement for the year.
However, the Philippines only needs to import seven percent as the country is 93 percent self-sufficient already.
"There is already an excess supply in the market and this glut will become worse if more imports come in and coincide with the main harvest season," Montemayor said.
FFF has suggested that the government immediately impose special safeguard duties on rice imports, and avail of other trade remedies such as anti-dumping and general safeguards.
These measures will allow the government to temporarily impose additional duties on rice imports, thus making them more expensive.
FFF is also backing the stringent adoption of pest and disease and food safety controls on rice imports.
"The government must focus on the supply side, because that is where the problem is coming from. It must find a way to manage the inflow of imports until the supply glut disappears and farmers and traders are able to unload their stocks," Montemayor said.
"Our studies show that even with these measures, rice prices need not go up because imported rice will still be much cheaper even with the additional tariffs," he said.
FFF argued that increasing government's buying of farmers' palay would help but it would never be enough as long as cheap imports kept coming in.
The National Food Authority's current P7 billion budget is only sufficient to buy about 412,000 MT of palay at P17 per kilo, which is only two percent of the country's annual output and rice requirement.
"In 2018, farmers were enjoying very good prices above P20 per kilo even without NFA having to buy a single kilo of palay. Because there was a tight supply of rice in the market and the NFA ran out of stocks to control the market," Montemayor said.
"This shows that palay prices can be influenced through proper demand and supply management without government having to directly intervene in the market," he said.
Meanwhile, the Department of Agriculture is calling on individual farmers to enlist in the Registry System for Basic Sectors in Agriculture (RSBSA) and join organizations to access agriculture-related programs and services including the Rice Competitiveness Enhancement Fund (RCEF).
Under the law, eligible RCEF beneficiaries include farmers, farmworkers, and their dependents who are listed in the RSBSA –an electronic database containing basic information of farmers and fisherfolks, and members of DA-accredited farmer organizations such as multipurpose cooperatives, irrigators associations and people's organizations.
"The program does not only aim to reduce the cost of production and increase farmers' yields, but it also intends to strengthen farmer organizations (FOs) through agro-enterprise and collective activities. We are partnering with local government units so they can guide the farmers on RSBSA registration and membership to existing or new FOs," the DA said.
To register in the RSBSA, an individual must be 18 years old, Filipino citizen, and must be a farmer, farm laborer or worker.
The RSBSA forms can be acquired through the city or municipal agriculture office or online through the DA website.
"Getting enlisted in the RSBSA and accredited by the DA would mean that the recipients of the program are legitimate farmers. We can avoid (political) entities from interfering in RCEF, and we can be sure that there is equal distribution of the resources," the DA said.
The accreditation also provides easy access for the farmers and their groups to become partners of the DA in its agriculture-related initiatives.
Created through RA 11203, RCEF is a new government program, which aims to help farmers through the P10 billion fund covering seed, machine, credit and extension support to improve the competitiveness of Filipino rice farmers.