Peso plummets to 16-year low as BSP stays dovish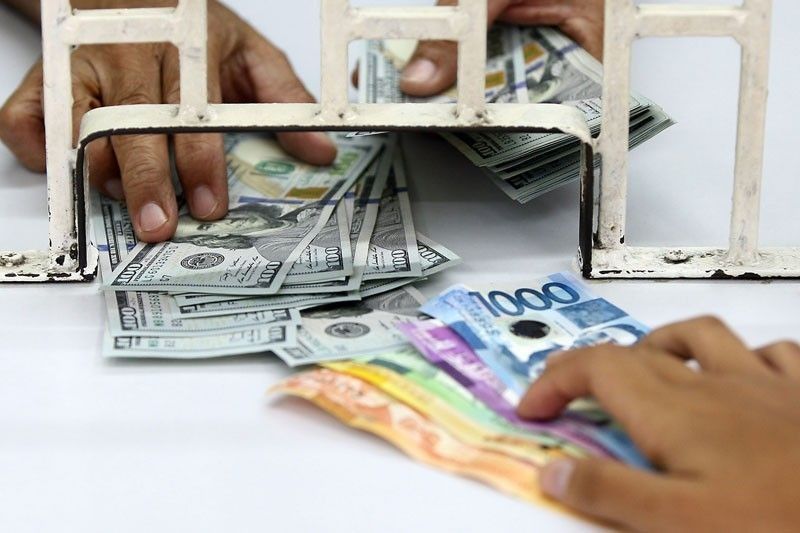 MANILA, Philippines — The Philippine peso on Wednesday fell to levels not seen in 16 years, as the Bangko Sentral ng Pilipinas maintains its dovish stance in the face of a more aggressive US Federal Reserve.
The local currency finished trading at P54.47 against the greenback, weaker than its previous closing of P54.265. Data showed this is the peso's worst performance since closing at P54.740 versus the dollar on November 21, 2005.
The local unit posted an intraday-low of P54.635 on Wednesday. Dollars traded fell to $1.3 billion during the day from Tuesday's $1.4 billion.
Domini Velasquez, chief economist at China Banking Corp. said the peso's weakness is still due to a rallying dollar and a bloated import bill amid expensive global commodity prices and increased demand due to domestic economic reopening.
The peso has been on a freefall since last week as a more aggressive US Federal Reserve boosts the dollar. Last week, the US central bank hiked its key rate by 75 basis points, the largest increase since 1994, in a bid to fight multi-year high inflation stateside.
A weak currency could make imports more expensive for the Philippines, which is already grappling with high oil prices amid the Russia-Ukraine war. That said, some analysts believe a deep peso slump may prompt the BSP to mount a bigger offensive against inflation by hiking rates more aggressively than the traditional 25-bps adjustments.
The BSP's Monetary Board will meet on Thursday to decide, with a follow-up hike after May's liftoff widely expected. But incoming BSP Governor Felipe Medalla said the tightening will be "gradual" so the economy won't careen to another collapse.
Medalla said two more rate hikes might come this year as part of a series of increases that could last until 2023 "if necessary". Rate hikes usually help temper the currency's weakness by making local yields more attractive to foreign investors, although the BSP may also dip into the country's dollar reserves to ease any foreign exchange fluctuations
"The BSP's dovish stance on monetary policy normalization against aggressive rate hikes of the Fed contributed to the recent weakening of the Philippine peso. Even if BSP hikes its policy rate by 25 bps in every meeting this year, we expect domestic policy rates to continue to lag behind," Velasquez said.
"Moving forward, we expect the peso to continue to depreciate possibly up to 55.0 in Q3 when seasonal factors, such as stocking up of inventories ahead of the holiday season, will continue to push up imports. However, in Q4, a reversal is likely as remittances from overseas Filipinos will prop up the peso. We expect the peso to settle at 54.0 – 54.5 by year end," she added.