Pasig River hybrid expressway breaks ground
September 25, 2021 | 12:00am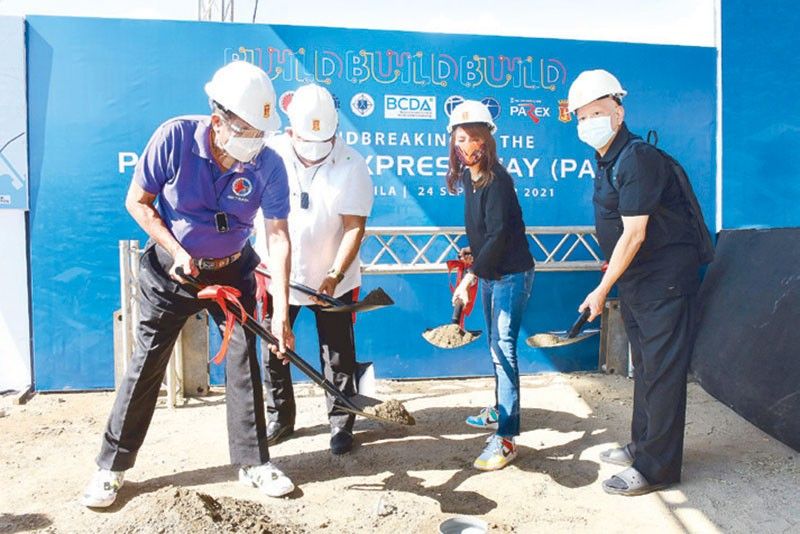 MANILA, Philippines — Diversified conglomerate San Miguel Corp. (SMC) broke ground yesterday for its P95-billion Pasig River Expressway (PAREX) project, which will link the eastern and western cities of Metro Manila.
"I believe this project is bound to be one of the most impactful projects during the time of President Duterte, in terms of integrating the social, economic and environmental needs of our people. I'm very proud that we have this once-in-a-lifetime opportunity to provide an inclusive, future-ready solution to traffic, and at the same time restore the Pasig River back to its old glory," SMC president Ramon Ang said.
"We thank government and especially the Build Build Build team for allowing us to deliver another game-changing infrastructure, to help ease traffic, boost our economy and improve the lives of so many Filipinos in Metro Manila," he said.
The 19.37-kilometer road project will be a six-lane elevated expressway that will run along the banks of Pasig River, from Radial Road 10 in Manila to C-6 Road or the South East Metro Manila Expressway in Taguig.
Once operational, PAREX will realize the vision of an integrated elevated road network that will link the north, south, east and west corridors of the capital.
Ang earlier said the project can be completed within five years.
"The Department of Transportation, through my humble representation, fully supports this project because I know that it's good for the people, for the environment, and for everyone," DOTr Secretary Arthur Tugade said.
Department of Public Works and Highways (DPWH) Undersecretary for planning and PPP service Maria Catalina Cabral said the project would complete the network of expressways within Metro Manila and would provide a solution to the growing traffic problem within the metropolis.
She said travel time from Manila to Pasig would be reduced to just about 15 to 20 minutes once the project is finished.
"No project is ever without impact. There will always be some negative impact. There have been concerns raised, but rest assured that your government, led by DOTr, DPWH and the local government units are one in saying that we will impose and ensure that all the social and ecological safeguards will be implemented during the development stage as well as during the implementation, and everyone will reap the benefit of this projects once we finish," Cabral said.
Aside from the project itself, SMC is also undertaking a P2-billion initiative to clean up and rehabilitate the Pasig River.
The company's goal is to extract some three million metric tons of silt and solid waste from the river, to improve the flow and carrying capacity of the river, in order to mitigate flooding.
"From today and throughout construction, we will clean up the river. We estimate to remove three million metric tons of silt and solid waste. And even when we start operating the expressway, we will continue to dredge and clean up the river because we know that no matter what, garbage will still make their way into the river," Ang said.
"Though PAREX, we will solve traffic and congestion, provide jobs for thousands of Filipinos, boost productivity, improve people's daily commutes, address flooding, and save the Pasig River itself. More than that, we can also encourage more people to be active and healthy. This is what it means to help make Metro Manila truly livable again," he said