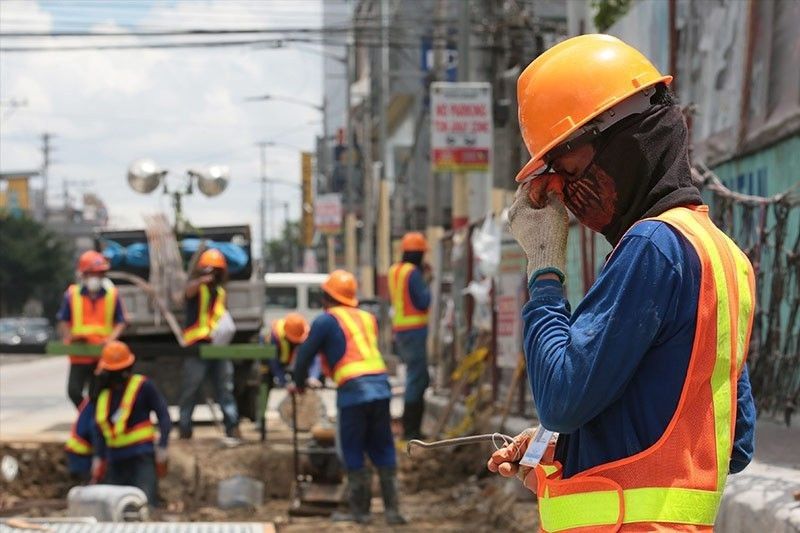 Worker presses his forehead as he is seen at a road reblocking activity in Caloocan on Apr. 30, 2020.
The STAR/Michael Varcas, file
DTI urges construction sector to tap overseas opportunities
MANILA, Philippines — The Department of Trade and Industry (DTI) is urging the construction industry to go beyond the domestic market and tap opportunities overseas in order to thrive post-pandemic.
During the Philippine Overseas Construction Board Virtual Construction Conference Monday, Trade Secretary Ramon Lopez urged the sector to consider opportunities available in the global market.
"That's why while construction opportunities in the domestic market are abundant due to the Build Build Build program, the industry needs to be versatile to take advantage of the opportunities in the global market," he said.
He said the country's participation in free trade agreements (FTA) would provide an avenue for economic activity and job creation for the construction industry.
For local construction services, he said the Philippines was able to secure liberal arrangements in foreign markets, including 100 percent foreign equity participation in activities like general construction work for buildings and civil engineering.
"Philippine-based businesses are guaranteed this arrangement through its existing FTAs with ASEAN (Association of Southeast Asian Nations), Australia, China, the European Free Trade Association, Hong Kong, India, Japan, Korea, and New Zealand. These presently provide Philippine construction-related companies the opportunity to do business in these markets and provide their services to these countries on a non-discriminatory basis," he said.
With the Philippines part of the Regional Comprehensive Economic Partnership covering ASEAN members plus Australia, China, Japan, South Korea and New Zealand, he said Filipino construction firms may offer services in countries part of the trade deal.
He said the DTI is also helping domestic players sustain their operations by exploring and promoting partnerships with foreign counterparts to reskill and upskill workers.
"We are also helping Filipino construction companies increase their economies of scale and expand their scope of services by actively encouraging and supporting activities that lead to the export of technical and managerial expertise," he said.
He said the DTI is pushing to achieve the goals of domestic market liberalization and protection of rights of workers and domestic companies under the Philippine Construction Industry Roadmap.
In addition, there is legislation which seeks to amend restrictive economic provisions of the Philippine Constitution and other initiatives that would relax foreign participation in economic activities.
"This would provide a more conducive investment climate, increase job opportunities, foster more competition, and further spur economic growth in our country," Lopez said.
Last year, he said, total construction spending declined to P2.2 trillion or 13 percent of gross domestic product (GDP) from P3.2 trillion or around 17 percent of GDP in 2019, with fewer workers allowed to work on project sites amid the pandemic.