Vaccination day in Quezon City
CROSSROADS TOWARD PHILIPPINE ECONOMIC AND SOCIAL PROGRESS
-
Gerardo P. Sicat
(The Philippine Star) - April 21, 2021 - 12:00am
People are curious how the vaccine rollout is coming along. I had my first jab last April 16 in Quezon City. Though vaccines are, at this point, still in short supply, it is important to understand the way in which they are being dispensed.
As a service, I will describe my experience.
Appointment. As a resident of Quezon City and a very qualified senior, it would be a breeze if I could secure an appointment.
I chose the way of the anonymous common citizen. The internet would be most useful for the purpose. Through the app which Quezon City uses, you talk to a machine.
Another way is to get application forms from the local barangay. There are other ways.
The internet address is https:/app.ezconsult.io. At first, I found access to the app very frustrating. I tried my security-safe password with a special character. It turned out it just wanted a simple password.
It is poorly designed (I think) because it lacks a user-friendly feedback mechanism. With persistence, I was able to get an appointment, which specified, on my own choosing, a given time and location that was nearest my residence.
Quezon City uses public schools for its rollout of the vaccine. Among several places spread across QC, I chose Pinyahan Elementary School. If nearby surroundings did not block the view, the SSS and the QC capitol buildings could be seen from it.
Vaccination. There are several stations manned by clerks and technicians with specific tasks to verify the applicant's information.
Those with specific appointments were allowed easy gate entry where vaccination forms to be filled were distributed. There is a waiting area for walk-ins, which could be a trying experience. This is outside the processing area, by the gate area to the school's ground.
The first station is the most trying. It is also where one can fill up the vaccination form. Be positive about waiting, lining up, and specific questioning about one's health status prior to getting vaccinated.
Access to the first station advanced slowly to the clerk's window, as in the game of musical chairs. Beyond this station, the processing moves at reasonable speed because there are more windows and attendants.
By this stage, the processing is under the high roof of the school's gym or public gathering area. Electric fans swirl in strategic places to create a breezy atmosphere. The chairs in all station waiting areas are well distanced, and the air is sufficiently comfortable.
The second stage looks into the medical accuracy of the answers to the form after the applicant's blood pressure is first taken-and-recorded by an attendant.
The third stage checks the accuracy of the appointment made for vaccination. At this point, the vaccination can be disapproved if the appointment letter is imperfect or wrong. A QR (for quick response) code was provided to the applicant when the appointment letter was sent. Presenting a print of this code (which is a unique electronic image) to the window attendant enables quick confirmation of the vaccination appointment.
If all works well, this was when a second appointment card is provisionally given to the applicant.
The last stage of verification is the window where final approval-for-vaccination is given. Here, a technician (a doctor or med-tech) reviews the applicant's medical issues through question and answer. Critically, the applicant should bring recent medical information. If assessment of the medical condition passes, an approval on the vaccination application is stamped.
Sinovac vaccine. Vaccination is done in a room outside the processing area. The vaccine available is Sinovac. It is a two-shot vaccine, the second administered after a month's wait.
To choose the first most available is a strategy that I was determined to take and that, I hope, others will follow. Early protection could be a life-changing decision!
My son, who accompanied me, took a photo of me being injected at the final window.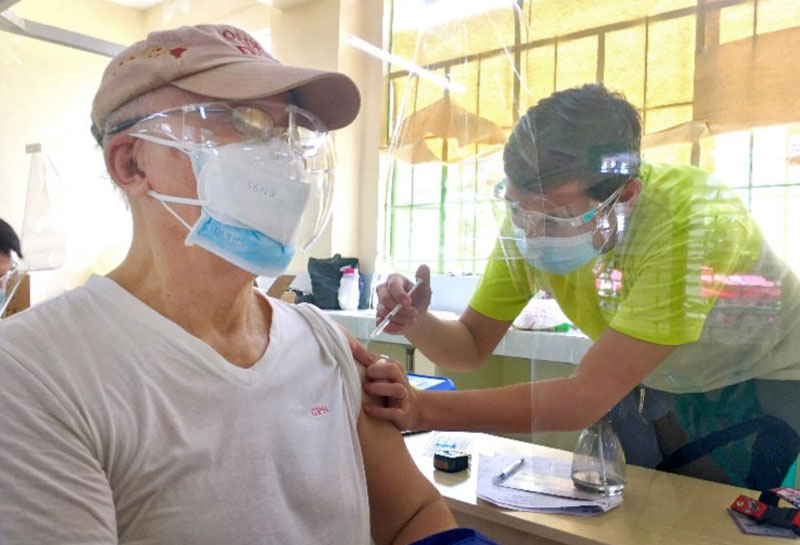 GPS being vaccinated.
After the vaccination, my blood pressure was taken again by a medical technician. All those vaccinated were made to wait about 20 minutes for medical observation. Afterward, we were free to go.
Chancy walk-ins. I asked my son Keith, a film-maker who knows of friends in the industry lost to the pandemic and who is just above half-my-age of 85, to drive me and to accompany me to the Pinyahan Elementary School.
Observing that walk-ins are allowed, he also filled in his application. He could not get vaccinated, but if he returned after 3 p.m., some no-shows in their appointments might free vaccines designed for use on that day. After taking me home, he returned and, after a much more trying experience, luck hit and he was vaccinated. It could have been a very frustrating wait.
* * *
My congratulations to Quezon City Mayor Joy Belmonte and her administrators!
For archives of previous Crossroads essays, go to: https://www.philstar.com/authors/1336383/gerardo-p-sicat. Visit this site for more information, feedback and commentary: http://econ.upd.edu.ph/gpsicat/
(Parking in the area is a big problem because it is a crowded community with narrow streets. But it was not impossible, even if it meant a long walk to the gate.)