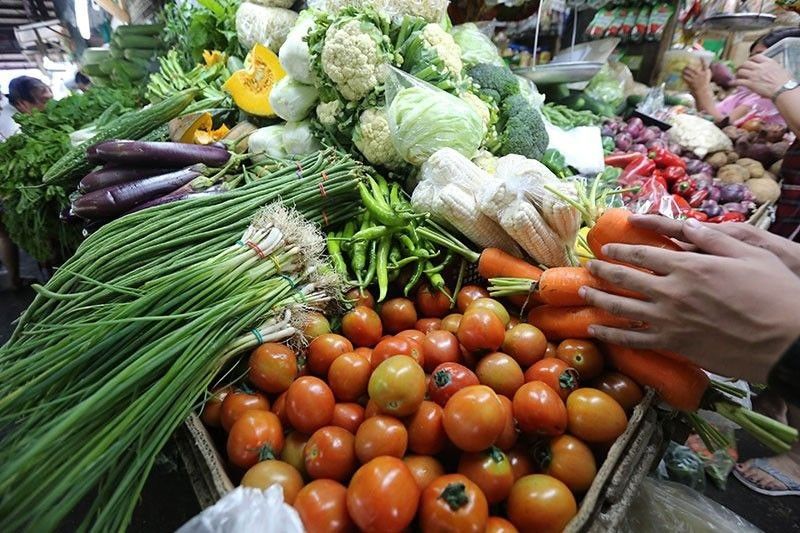 The consumer price index rose to 2.5 percent in June, from 2.1 percent in May and 2.7 percent in June 2019.
STAR/Boy Santos, file
Inflation accelerates to 2.5% in June
MANILA, Philippines ? Inflation accelerated to 2.5 percent in June after four consecutive months of slowdown, driven by increases in the cost of transportation, particularly tricycles, which hiked fares by more than a hundred percent to recoup losses during the lockdown and cope with limited passenger carrying capacity, according to the Philippine Statistics Authority (PSA).
The consumer price index rose to 2.5 percent in June, from 2.1 percent in May and 2.7 percent in June 2019.
This brings the year-to-date growth in inflation to 2.5 percent, still well-within the government's outlook of two to four percent for this year.
Acting Socioeconomic Planning Secretary Karl Chua said the "moderate increase in inflation" indicates a recovery in consumer demand alongside the gradual reopening of the economy.
He noted, however, the need to ensure that commodity prices remain stable to preserve the purchasing power of Filipinos, especially those in the bottom income households.
"Although inflation is expected to remain within the target range of two to four percent this year, we need to closely monitor possible upside risks to inflation as select economic activities are now resuming, although at reduced capacities. This is to comply with guidelines and protocols set to contain the spread of COVID-19," Chua said.
"It is also essential to increase the utilization of high-yielding and early maturing varieties of crops and adopt disaster-resilient farm technologies and practices in order to ensure stable food supply and prices in the months ahead."
The main source of the uptrend was the return of the transport index to positive growth territory at 2.3 percent in June from a decline of 5.6 percent in May.
This, in turn, was driven by the double-digit hike in tricycle fares during the month as operators jacked up fares to recoup losses during the two-month lockdown and to compensate for the limited number of passengers they can carry because of social distancing measures to limit the spread of COVID-19.
In June, tricycle fares accelerated by 26 percent compared to the 6.6 percent growth in May.
Economic activity gradually resumed with the easing of quarantine measures in June after a severe two-month lockdown, driving food and fuel prices, as well as transport index higher.
According to National Statistician Dennis Mapa, the minimum charge per passenger in tricycles increased by as much as 44 percent in the National Capital Region (NCR) in June. For example, the minimum charge of around P12 per passenger in May rose to around P17 in June.
Year-on-year, meanwhile, tricycle fares in June rose by as much as 129.3 percent.
"It is possible that because of social distancing guidelines, they can only accommodate one passenger. This is true not only for NCR but also in other major cities in the regions," Mapa said.
With limited transportation option especially for low-income workers, tricycles became one of their primary modes of transportation in June when mobility restrictions were loosened.
"Tricycle is the mode of transportation of low-income households and it contributes a significant increase in the overall transport index," Mapa said.
A slight uptick was also seen in the index of alcoholic beverages and tobacco at 18.5 percent in June from 18 percent in May because of the increase in the prices of cigarettes, beer and brandy.
Likewise, the growth in the consumer price index of housing, water, electricity, gas and other fuels to 0.4 percent in June from 0.2 percent in May as prices of LPG, kerosene, and fuelwood in increased in June from May.
The heavily-weighted food and non-alcoholic beverages index registered a slower growth of 2.7 percent in June from 2.9 in May as prices of cereals, flour, bread, fish, fruits and vegetables rose slower.
Prices of milk, cheese, and eggs remained stable while prices of rice and sugar remained on the decline.
Faster growth, meanwhile, were seen for the prices of corn, meat, as well as oils and fats.
Mapa said growth in the headline rate in the coming months would be influenced by the further spike in several items in the food basket such as meat, prices of which which grew by 3.4 percent in June from 2.1 percent in May.