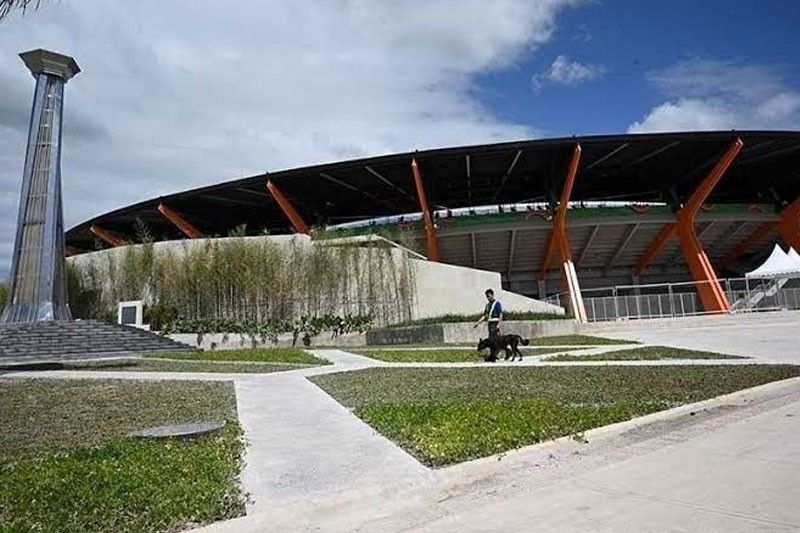 Photo shows the New Clark City Athletics Stadium in Pampanga. The stadium, which served as one of the key venues of the Southeast Asian Games in 2019, was constructed through public-private partnership.
AFP/Ted Aljibe, file
Commentary: Why GOCCs have a role to play in PPPs
MANILA, Philippines — The benefits of public-private partnerships (PPPs) are particularly attractive during this time of pandemic, when a significant portion of government resources is being channeled to fight the coronavirus disease-2019 (COVID-19). In the first part of this series, we discussed the need to explore alternative financing mechanisms for key infrastructure and why it is worthwhile to look at PPPs. Now we look at a sector of government that can step up and help deliver these projects: government-owned and -controlled corporations (GOCCs).
From cash cows to development agents
Having grown significantly in recent years, GOCCs have become an important tool for economic development and a key source of public funds. As of 2018, there are 120 GOCCs under the coverage of the Governance Commission for GOCCs (GCG) with total assets amounting to P7.9 trillion. That year, state companies generated an impressive total adjusted comprehensive income of over P225.4 billion and remitted P35.4 billion to the government as dividends. This does not even capture the contributions of the myriad of other GOCCs outside the purview of the GCG, tasked to oversee state firms' operations.
Apart from supplying funds to our national coffers, GOCCs can play a role in supporting infrastructure development. GOCCs are, in fact, ideal project implementers due to their corporate structures, established governance systems, strategic asset holdings, independent operating budgets, and developmental mandates. These unique features enable GOCCs to be more dynamic when working with the private sector, allowing them to undertake projects for which their national department and local government counterparts may not have the same financial and legal wherewithal. Their developmental mandates particularly afford GOCCs more flexibility to take on projects that would otherwise be financially unviable.
Additionally, some GOCCs, like the Tourism Infrastructure and Enterprise Zone Authority (TIEZA), have their own PPP and joint venture (JV) guidelines which prescribe streamlined approval processes. The solicited project procurement process from advertisement to contract signing can take as little as 6.5 months under the newly-issued TIEZA JV guidelines vis-à-vis the comparable timeline of 11 months under the amended build-operate-transfer (BOT) law. Charter provisions of GOCCs like the Bases Conversion Development Authority (BCDA) likewise allow them to bid out projects in a more efficient and timely manner.
In view of the country's immediate infrastructure needs in sectors such as health, transport, water, energy, agriculture, and logistics, GOCCs with specific expertise in these industries such as Philippine Heart Center for health, National Irrigation Administration for farm services, National Electrification Administration for power and National Housing Authority for settlements, are well-positioned to participate in PPPs.
Case studies
The engagement of GOCCs in infrastructure development is nothing new. Historically, GOCCs in other countries have played a critical role in accelerating infrastructure investments. During the early stages of South Korea's development, state firms were instrumental in building core infrastructure that subsequently helped to spur private sector investment and economic growth. More recently in 2015, Indonesia embarked on an ambitious five-year $477 billion infrastructure development program and relied heavily on GOCCs to invest in key sectors such as power, transport, and water. In both these countries, GOCCs were seen as effective vehicles for project implementation in light of their higher tolerance to regulatory and financial risks.
There are also success stories for GOCCs locally. In 2003, the National Kidney Transplant Institute (NKTI) implemented its landmark hemodialysis project via a PPP lease arrangement with Fresenius Medical Care AG. The project not only increased the capacity of the hospital, but also turned it into a model for renal care in Asia. The PPP arrangement reduced project risks to the government, enabled NKTI to acquire top-of-the-line dialysis equipment, and most importantly, expanded service delivery to patients at little to no additional cost.
In 2015, the Mactan Cebu International Airport Authority, together with the transport department, granted a P17.52 billion, 25-year concession for the development, operation, and maintenance of the Mactan-Cebu International Airport to the GMR Infrastructure–Megawide consortium under a build-operate-transfer structure. Completed last year, the award-winning airport boasts of state-of-the-art airport facilities and increased passenger capacity from 4.5 million in 2014 to 12.5 million in 2019.
In 2016, water regulators at the Metropolitan Waterworks and Sewerage System broke ground on the Bulacan Bulk Water Supply project, designed to meet the growing water needs of various water districts in Bulacan. The consortium of San Miguel Corp. and Korean firm Korea Water Resources Corp. was responsible for the financing, design, construction, and maintenance of the project. When completed, the project is slated to expand service area and household coverage and reduce the average water tariff of water districts from P19.83 to P8.50 per cubic meter, benefitting residents across 24 localities.
Currently, BCDA is likewise working with the private sector to develop New Clark City, an up-and-coming regional transport and investment hub. It has built sporting and accommodation facilities which were used during the recently concluded Southeast Asian Games. Lately, BCDA has put these structures to good use by converting them into quarantine facilities for COVID-19 patients and suspects.
Cautionary tales
Not every GOCC-led infrastructure project has been a success, however. Irregularities marred the contract between Manila International Airport Authority (MIAA) and the consortium of Piatco and German firm Fraport AG for the construction of the Ninoy Aquino International Airport (NAIA) Terminal 3 in 2002. A legal battle ensued for many years, costing the government money and precious time in building additional airport capacity. The delays here contributed to NAIA notoriously being labelled one of the world's worst airports.
If the success stories serve as a guide, these less-than-stellar examples can help us avoid previous missteps. Governance must be strengthened further and here we find that GOCCs are making good progress, following the passage of Republic Act 10149 or the GOCC Governance Act of 2011. transparency should be observed so that the public can be confident that these PPPs ultimately serve to benefit them.
Years of underspending in much-needed infrastructure is taking a toll on Filipinos. The present health crisis has only exacerbated the challenges we face. Now is the time for government and the private sector to work together toward the common goal of uplifting the lives of Filipinos. On the side of government, GOCCs can take the lead. Not only are they well-equipped to pursue PPPs, as we have endeavored to show, but PPPs can help them better carry out their mandates too.
This is the second article of a four-part series on the increasing importance of public-private partnerships in supporting the government's infrastructure agenda amid the present COVID-19 pandemic.
Ma. Angela Ignacio is a Managing Director at Polestrom and a former Commissioner of the Governance Commission for GOCCs, the agency that regulates state companies. Raya Buensuceso is an analyst at Polestrom and was formerly a research fellow at the Asia Center of the Milken Institute, a US-based economic and policy think tank. Polestrom provides advisory services for infrastructure projects in the Philippines and emerging markets.