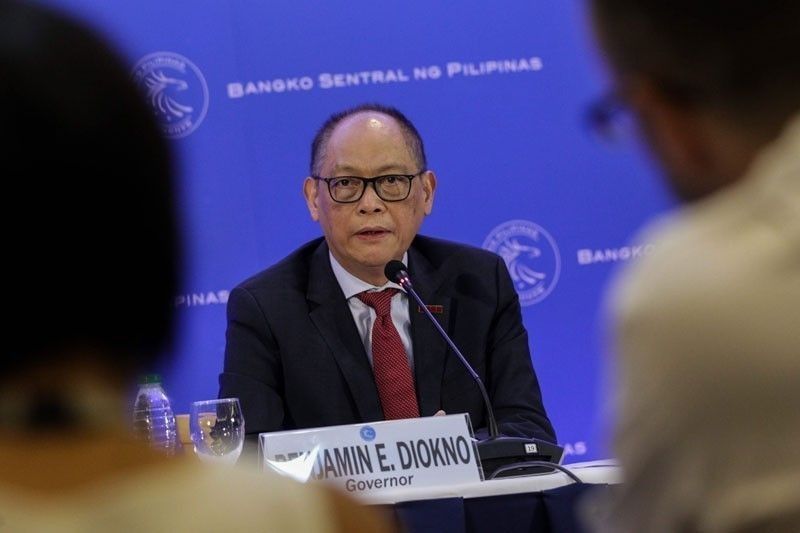 This file photo shows Bangko Sentral Governor Benjamin Diokno.
Geremy Pintolo/File
BSP delivers fresh monetary stimulus vs COVID-19 impact
MANILA, Philippines (Update 3, 5:47 p.m.) — The Bangko Sentral ng Pilipinas (BSP) slashed key rates aggressively on Thursday, a tad short of rolling back tightening measures to control inflation two years ago, as focus shifts to powering the economy battered by the coronavirus disease-2019 (COVID-19) outbreak.
Barely an hour after a bloodbath at the Philippine Stock Exchange, BSP Governor Benjamin Diokno announced a 50-basis-point (bps) cut to the central bank's overnight reverse repurchase facility, bringing it down to 3.25% effective Friday.
The latest action brought the key rates, used by banks to price their loans, back to their levels in May 2018, when the BSP under Diokno's predecessor embarked on a tightening cycle to temper a decade-high inflation.
Thursday's decision was also a fulfilled promise of a fresh monetary stimulus for the dovish Diokno, who as early as Tuesday signaled he is ready to deploy a new round of rate cuts to offset a potentially massive economic impact of COVID-19 and the drastic government response to lock down Luzon.
"The uncertainty over the potentially protracted pandemic poses significant downside risks to aggregate demand," Diokno said in a statement.
"The Monetary Board noted that while the enforcement of quarantine measures could help in slowing the spread of the virus, the resulting disruptions to industries and private spending are likely to reduce economic growth in the near term," he added.
Foreign investments and remittances from overseas Filipinos, which are among the Philippines' crucial dollar-earners, are also likely to take a hit due to COVID-19, a matter considered by the BSP on making the cut.
Through a rate cut, Diokno hopes to encourage banks to lend more, while consumers and investors borrow more, enticed by lower interest in loans that follow the movements of BSP's policy rate.
Apart from slashing the cost of money, the central bank also waived penalties charged on banks missing their reporting requirements or required reserves, a move meant for lenders to pass the benefit to their clients. Single borrower limits, which puts a cap on the amount a borrower can source from one bank, are also lifted for the time being.
"The detailed guidelines on these monetary measures and regulatory forbearance items will be issued by the close of business today, 19 March 2020," Diokno said.
Despite already delivering a massive rate cut, the central bank is still likely to ease rates further. "Overall, we are pencilling in 125bps of additional easing, bringing the policy rate down to 2.00% by the middle of the year," Alex Holmes, economist at London-based Capital Economics, said in a commentary.
"It also looks likely that central bank will use other tools to help the financial sector and businesses that are being hit hard. The bank alluded to this in its statement today, saying that it is considering 'a range of other supplementary measures,'" he added.
Elsewhere in the region, BSP was more aggressive on cutting rates than Bank Indonesia, which settled on a 25-bps reduction on Thursday, also to cushion COVID-19 effects.