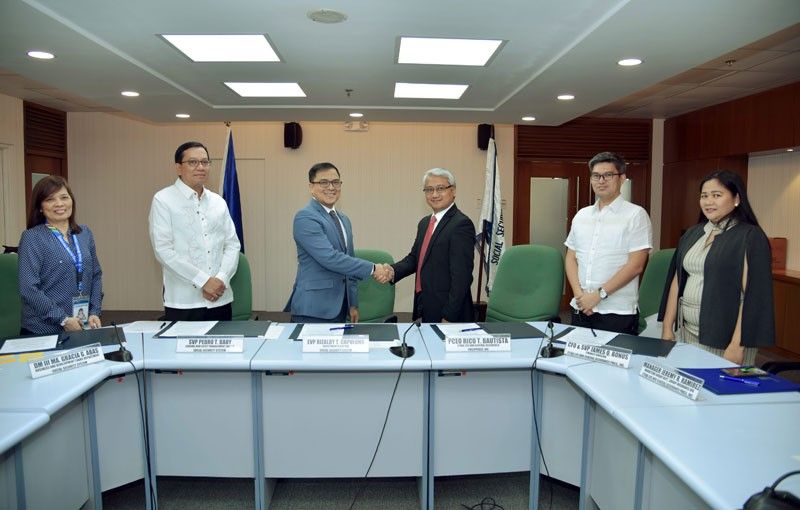 In photo are (from left) SSS business and development loans department manager III Ma. Gracia Abas, SSS lending and asset management group senior vice president Pedro Baoy, SSS investments sector executive vice president Rizaldy Capulong, Etiqa president and chief executive officer Rico Bautista, Etiqa chief financial officer and treasurer James Patrick Bonus, and Etiqa Group marketing department manager Jeremy Ramirez.
SSS continues partnership with insurer
MANILA, Philippines — State-run Social Security System (SSS) yesterday said it has continued its partnership with a local insurance firm to provide protection to pensioners who are borrowing from the pension fund.
In a statement, SSS said it has signed a memorandum of agreement with Etiqa Life and General Assurance Philippines Inc. last week for the implementation of the SSS' Pension Loan Program (PLP).
Etiqa, formerly known as AsianLife & General Assurance Corp., has been the credit insurance partner of SSS since the launch of the program in September 2018.
The PLP aims to provide immediate financial assistance to pensioners who are in need of additional cash aside from their basic monthly pension.
Under the enhanced PLP program, pensioners may borrow a maximum loanable amount of P200,000, depending on their basic monthly pension.
Borrowers are also covered by group credit life insurance which secures the loan in case of their death. This means the outstanding balance of the loan shall be deemed paid regardless of the number of months left for the payment.
To qualify for the program, retiree-pensioners should be 85 years old or below by the end of the loan repayment term, and have no outstanding loan balance and benefit overpayment deductible from their monthly pension.
They must also have no existing advance pension under the SSS calamity package, must be receiving their regular monthly pension for at least one month, and must have an "active" pension status.
Borrowers have the option to pay their loan in six, 12 or 24 months, with the first monthly amortization to be due on the second month after the loan is granted.
According to data from the SSS, the pension fund was able to extend P3.53 billion in loans to 105,365 pensioners since the PLP's launch in September 2018 until Jan. 30 this year.
The SSS said its Diliman branch released the highest amount of pension loans as of Jan. 30 at P155.08 million for 4,388 approved applications.
The most number of approved applications came from SSS Bacolod, with 5,137 approvals equivalent to P132.76 million.