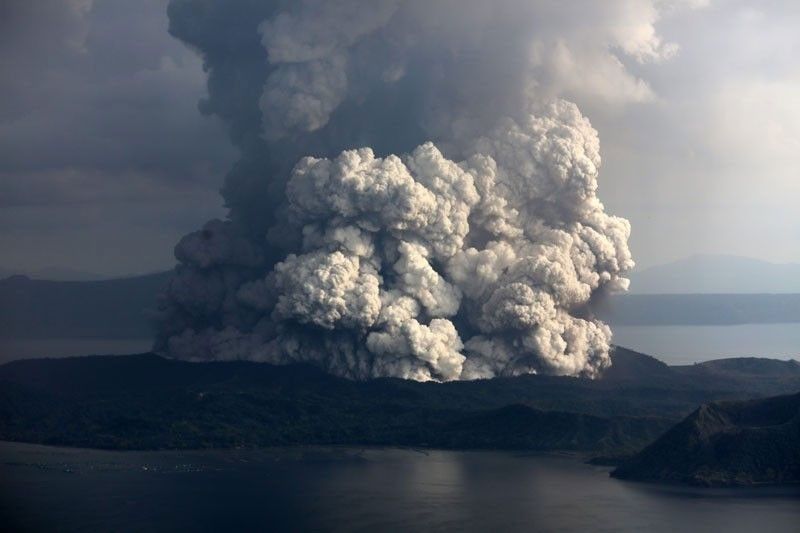 In the aftermath of the eruption last Sunday, markets were closed Monday and classes and work in government offices were suspended.
Russell Palma
Taal eruption won't derail 2020 growth target — NEDA
MANILA, Philippines — The destruction brought about by the eruption of Taal Volcano in Batangas is unlikely to derail the growth outlook for the year because of its limited scale and impact, but may pose a risk to inflation, the National Economic and Development Authority (NEDA) said.
In the aftermath of the eruption last Sunday, markets were closed Monday and classes and work in government offices were suspended.
The province of Batangas has also been placed under a state of calamity as thousands of residents were evacuated.
"It's an inflation risk just like any other calamity and its aftermath," said Socioeconomic Planning Secretary and NEDA chief Ernesto Pernia.
"There will be some negative effect, but at its current scale and intensity is not enough to derail GDP gross domestic product growth target. However, the unpredictable behavior of Taal Volcano is just like other risks and uncertainties impinging the economy," he added.
Pernia was in Batangas yesterday to participate in an interagency meetings and to assess the economic impact of the disaster.
Preliminary assessment of economic impact (in terms of gross value added) in Batangas alone has so far amounted to P7.63 billion, he said. This pertains to the measure of the value of goods and services produced in an area within an economy minus the cost of inputs.
The cost of damage to public and private property and goods have not yet been included, Pernia noted.
The interagency Development Budget and Coordination Committee (DBCC) forecasts growth in 2020 throughout 2022 to settle at a range of 6.5 percent to 7.5 percent.
Inflation, meanwhile, is expected to settle between two to four percent this year.
Alert level 4 remains raised over the vicinity of Taal Volcano, meaning a hazardous eruption is imminent, necessitating total evacuation of the surrounding areas.
Victor Abola, economist of the University of Asia and the Pacific (UA&P), said the expected economic impact of the eruption would be similar to a strong typhoon.
"Just to put this in perspective, this eruption is similar to a strong typhoon. We have 20 typhoons every year, sometimes more. This is very localized," he said yesterday during an economic briefing hosted by First Metro Investment Corp. (FMIC), the investment banking arm of the Metrobank Group.
"There will be an immediate effect on consumption spending because people will be displaced but as soon as the government cleans up, we can presume that assistance will be provided to them as well as other countries that commiserate with us in these types of tragedies," he added.
Meanwhile, other growth engines of the economy will remain functioning such as consumer spending and infrastructure spending.
"A big part of consumption spending is not confined to this area," Abola said.
Rabboni Francis Arjonillo, FMIC president, said the Taal eruption would be an immediate concern for the economy in the event of a cataclysmic explosion.
"Compared to the Pinatubo eruption, which had a global effect, this one is still localized," he said.
"Unless there is a cataclysmic explosion, then we might see a different scale of impact on the economy," he added.
Officials of the Philippine Institute of Volcanology and Seismology (Phivolcs) have also warned that a hazardous eruption could unleash a volcanic tsunami, than can affect Taal Lake and nearby bodies of water.