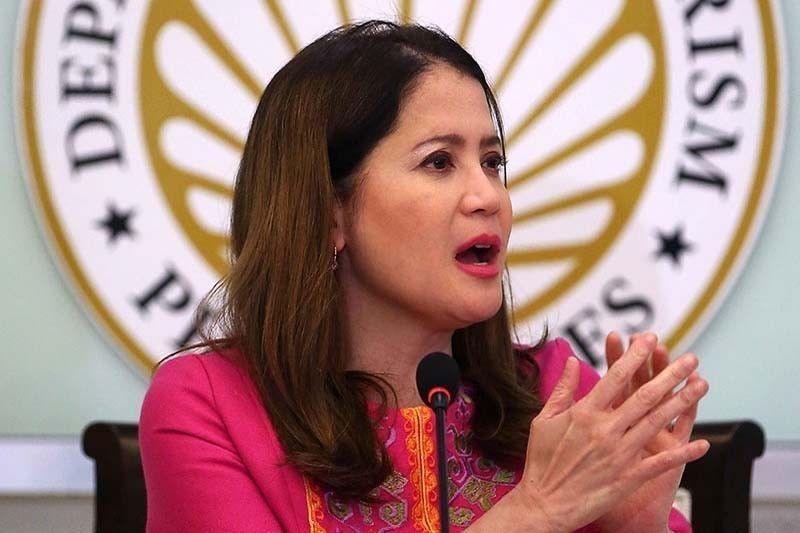 The DOT chief said the country is on track to meet its tourism receipts target for this year of P564 billion under the National Tourism Development Plan.
The STAR/Miguel De Guzman, File
Philippine tourism sector must develop destinations, high value products
MANILA, Philippines — The development of more destinations as well as high value products are some of the opportunities the Philippine tourism sector should capitalize on, an executive director of a tourism school said.
"The low hanging fruits seem to be number one, developing more destinations linked by a more cohesive value chain so that tourists stay longer and spend more, and number two, develop high value products that can be made by local communities in those destinations, such as high quality handicraft (wood carvings, fabrics, delicacies that can be transported etc.)," Fernando Roxas, executive director of the Asian Institute of Management Dr. Andrew L. Tan Center for Tourism (AIM-DALT) told The Star.
Roxas emphasized the need to encourage tourists to spend more while they are in the country.
He said that in the Philippines, shopping just captures about 15 percent of the share in a tourist's budget, only half the global average of 30 percent.
"This means that we lack high value souvenirs, local goods etc., to offer visitors," he said.
Former Tourism secretary and Philippine Exporters Confederation, Inc. (Philexport) trustee Mina Gabor earlier said the country is losing out on potential tourism exports due to the lack of souvenirs in some destinations.
"When you look at all the top tourism clusters that are promoted, every single destination of those clusters, have souvenirs content that are not being used," she said.
Meanwhile, Roxas said generating more revenues from tourists will aid the tourism sector's sustainability efforts.
"Our concerns for sustainability are better addressed by increasing revenues from tourists rather than aiming for larger arrivals which exacerbate our carrying capacity," he said.
"Because we live in an archipelagic nation, our ecology is fragile, with little scope for economies of scale – our airports are congested (there are) and not enough hotel rooms. The focus of the strategy should be getting a larger share of pocket from the tourists we already have," he said.
Department of Tourism (DOT) Secretary Bernadette Romulo-Puyat earlier stressed the importance of generating tourism revenues.
"Of course (arrivals) numbers are very important but, for us, the revenues how much was earned is more important," Puyat said.
The DOT chief said the country is on track to meet its tourism receipts target for this year of P564 billion under the National Tourism Development Plan (NTDP).
Tourism receipts have already reached P379 billion from January to September this year, around 67 percent of the full-year target.
Puyat also said that the DOT is boosting its efforts to generate more revenues as it plans a number of initiatives to encourage tourists to spend more.
Among these efforts is the launch of the first Philippine Fun Sale in March next year where in all malls will hold sales together for one month.
Puyat said the nationwide sale would attract tourists to come into the country, as well as encourage spending from local tourists.
Based on data from the DOT in 2017, shopping was the number one activity done by tourists visiting the country, with 51.60 percent of tourists taking part in it.
Shopping is also where tourist spend a large amount of money on, as it amounts to $20.90 dollars of the Average Daily Expenditure Per Capita in 2017 of $125.65.
The DOT earlier emphasized that building up shopping tourism in the country is part of the equation to spur economic growth, create millions of jobs, livelihoods and enterprises and help the Philippines become a globally recognized quality destination.