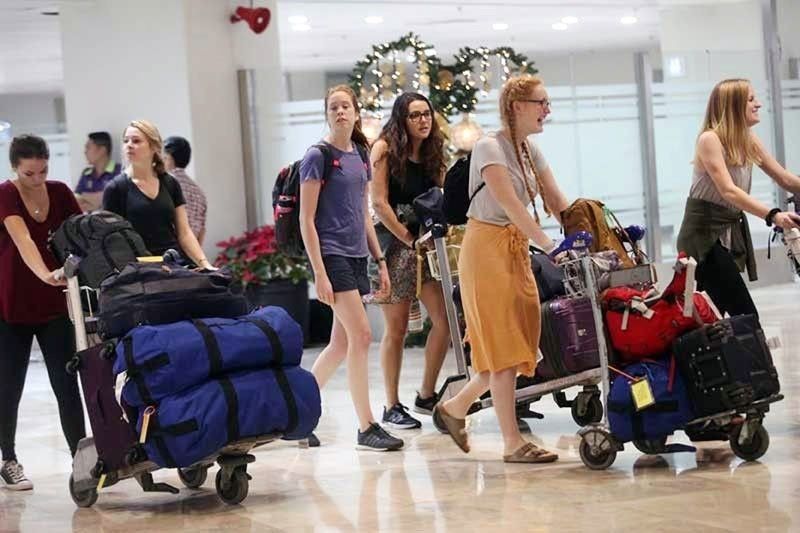 Based on DOT data, international visitors from January to October grew 15.04 percent to 6.8 million from 5.9 million in same period last year.
STAR/File
Tourist arrivals increase 15% in 10 months
MANILA, Philippines — Improved air connectivity, intensified marketing and promotions boosted foreign tourist arrivals in the first 10 months of 2019 to 6.8 million, the Department of Tourism (DOT) reported.
Based on DOT data, international visitors from January to October grew 15.04 percent to 6.8 million from 5.9 million in same period last year.
Tourism Secretary Bernadette Romulo-Puyat attributed the gain to improved air connectivity and intensified marketing promotions including the refreshed "It's More Fun in the Philippines" campaign, budding relations with other countries, as well as the growing recognition of the country's sustainable tourism advocacy.
"The collective efforts and resolve of the whole tourism industry have paid off with the continued increase in our visitor arrivals and tourist receipts as well as recognition from major international award giving bodies," Puyat said.
Korea remained the country's top source market in the period with a total of 1,609,172 arrivals, a 21.75 percent increase from year ago.
The DOT added that this is expected to further increase following the signing of the five-year tourism cooperation program between the Philippines and Korea, which aims to introduce joint programs and activities that will bolster two-way tourism promotion and align tourism efforts between the Philippines and Korea, facilitate deeper and meaningful interactions between Filipinos and Koreans, and strengthen overall cooperation of the two countries on matters concerning tourist safety, security and quality assurance.
China was the second largest source market with a total of 1.5 million arrivals, a 41.13 increase from last year.
The US landed on third spot with 872,335, a 2.53 percent growth from the same period last year.
Japan remained at fourth place in the list with 569,625, followed by Taiwan, with 282,220.
The DOT reported that 98.77 percent of October arrivals or 630,666 visitors were made via air.
It added that Manila, through the Ninoy Aquino International Airport, served as the main gateway welcoming 396,446 tourists.
Cebu, which was recently included in the United Nations Educational, Scientific and Cultural Organization (UNESCO) Network of Creative Cities, followed suit with 131,217 arrivals.
The Mactan-Cebu International Airport Terminal 2 recently earned the top prize in the Completed Buildings-Transport Category at the recently-concluded World Architecture Festival.
Moreover, air arrivals from Kalibo totaled 59,467.
Air arrivals from Clark reached 35,236 while the rest of the airports yielded 8,300 arrivals.
Under the National Tourism Development Plan (NTDP), the country is targeting to hit foreign arrivals of 8.2 million this year, a 15 percent rise from the 7.1 million arrivals in 2018.